America Needed Good Couscous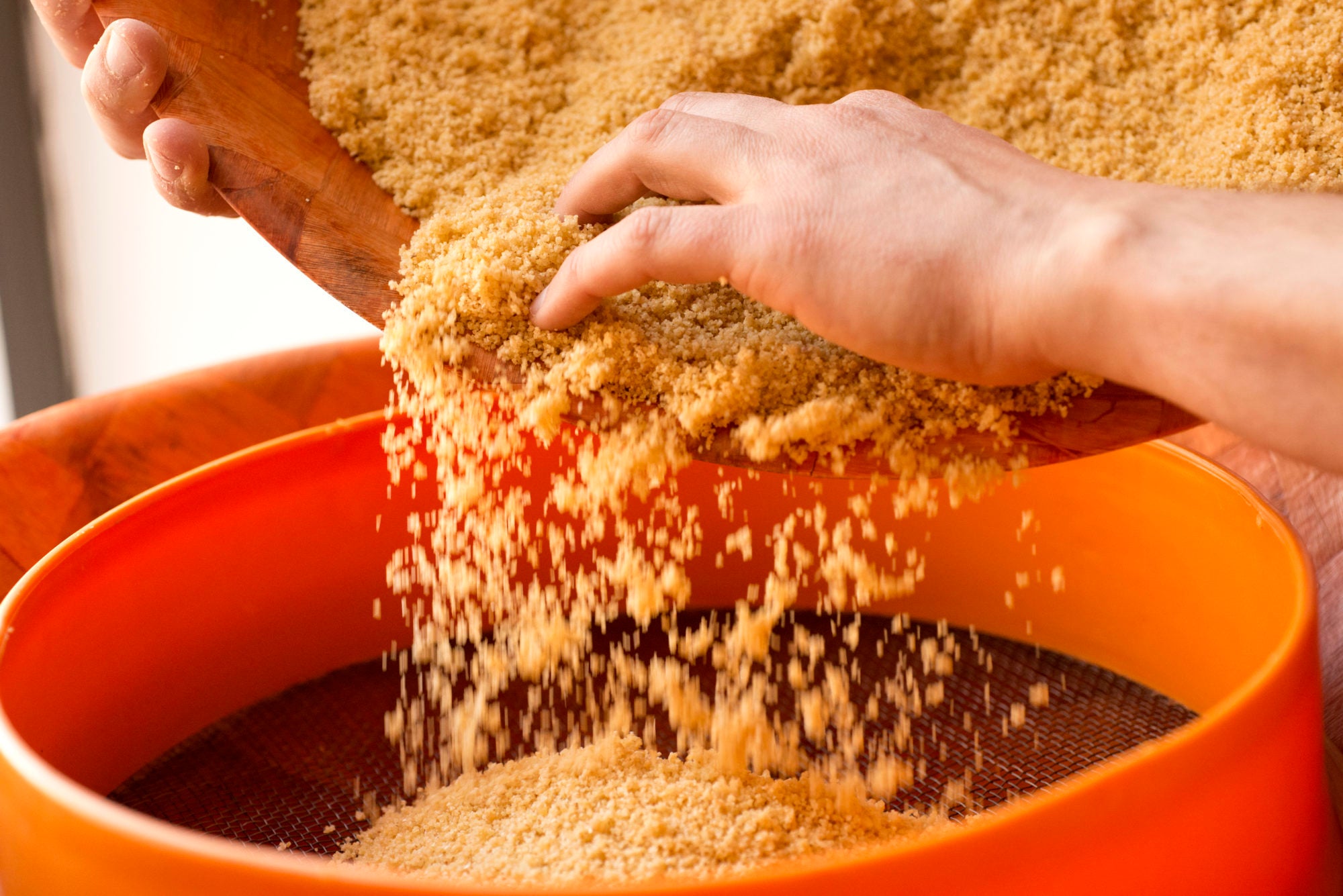 Ron and Leetal Arazi from NY Shuk want you to think of couscous as a meal's nutty, flavorful main attraction—not just another side.
When I show up to Ron Arazi's brightly lit Brooklyn home for a private tutorial in the art of making couscous, I'm greeted with a firm handshake and a kind, open kitchen. Ron's day job is running NY Shuk—a food company that produces pantry items from Middle Eastern Jewish cuisines—with his business partner and wife, Leetal. But for the past few years, he's also been teaching intimate classes to under a dozen students at a time in his home kitchen using his communal counter as a place to spread his love of the North African staple known as couscous.
In Berber, a language spoken by many Maghrebi nations (Morocco, Algeria, Libya, Tunisia), small steamed spheres of semolina are called couscous, a word that means "well-rolled" or "rounded." I now think of them of as "well rounded."
Ron learned the handmade method of couscous from his mother when he was a kid. She works in the traditional Moroccan way, intermittently flicking drops of water off her fingertips, while in syncopation, with the same hand, sprinkling salt onto heaps of durum wheat in a large, flat-bottomed bowl. Once the grains are moistened just enough, they create compact clumps, which, with a little pressure applied, can then be gently rolled until they miraculously become couscous.
Ron has modernized his mother's technique by utilizing a spray bottle filled with salt water (about 1½ tablespoons to a quart) so that he can keep his hands to the task. "I wouldn't call it technology," says Ron, "but it makes the process easier." Another modification is the grain he uses. Rather than using any old semolina, he makes his couscous with a special semolina from Hayden Flour Mills out of Arizona. The company is known for its freshly stone-milled flours; after testing grains from across the country, Ron settled on Hayden because of its pleasingly toasty aroma, like warm bread with sweet butter, and its hearty and wholesome taste. This particular style of semolina is milled to a size coarser than other flours. Ron jokes he likes this bigger size because it's "idiot-proof" to work with, but really, it's about the texture and tooth.
In the U.S., most people have a narrow sense of what couscous is. There's Israeli couscous, which is less of a couscous and more of a pasta. And then there's the run-of-the-mill couscous sold by big stores, which is basically flavorless little wheat beads. The truth is, each couscous-producing country has its own ideal grain size and shape, and everyone's family makes it a little differently. Tunisian couscous is very fine. Morocco's version is a bit larger. The Arazis' is in between, a coalescence of couscous's latitude.
While the Arazis say they're from Israel, it's way more complicated than that. Ron's family is from K'far Saba, whereas Leetal's is originally from Rehovot. Leetal's paternal grandmother was born in Turkey. Her mother, Joy, and her grandmother came from Cleveland by way of Eastern Europe. Ron considers himself part Moroccan, his mother's heritage, but his father was born in Lebanon and moved to Israel in his mid-20s.
After the Israeli Declaration of Independence in 1948, the government strategically placed immigrants throughout the country according to their backgrounds. There, Algerian communities and Tunisian ones were all separate and all with their own pantry. It's similar to the Ashkenazi and Sephardic sects of Judaism, two distinct ethnic branches that have been partitioned for generations. While one's origins are Eastern European, the other has its past in the Iberian Peninsula, Northern Africa, and the Middle East, but they're both inherently of the greater Jewish diaspora. While they share a common culture, their food cultures diverged.
This was the inspiration for NY Shuk, the company the Arazis created when they moved to Brooklyn's Crown Heights from Israel half a dozen years ago. "A shuk is a place in Israel where culture and commerce come together. It's where you get the good stuff, a one-stop shop," says Leetal.
In addition to couscous, the Arazis make a subtly spicy homemade harissa and vibrant za'atar blends of wild oregano, sumac, and sesame seeds. Then there's an aromatic Baharat spice mix of black peppercorn, cinnamon, allspice, cumin, and rose petals; a no-meat-required shawarma rub (coriander seeds, cumin, paprika, garlic); a golden-hued Hawaij consisting of turmeric, cumin, black peppercorn, and cardamom; tangy ruby ground sumac berries; and a silky smooth and piquantly salty preserved lemon paste.
When the couple got to New York City from Israel, they were surprised to find such a shortage of good couscous, which was important to the definition of who they were. "It's like how people perceive Jewish food in New York City as bagel and lox, knodel [matzo balls], and pastrami. Couscous is also Jewish!" exclaims Leetal. "It's our Jewish food."
So they continued to make couscous for themselves, realizing this may be their calling. This evolved into a couscous stand at Smorgasburg in 2013. A friend, chef, master spice blender, and fellow Israeli, Lior Lev Secarz, was so enamored of the food that he introduced them to restaurateur Daniel Boulud. Suddenly the Arazis' couscous was being sold to Boulud's namesake restaurant.
Even though it fit in fine in this Upper East Side echelon of fine dining, couscous is an egalitarian food. It's welcoming and warm—and making it requires more time than it does money. "I need one whole day to make couscous," says Ron. Each pound of semolina yields approximately twice as much couscous, and this doubling is apparent in each pass of grain through a shaking sieve. Ron adds heft to each couscous with each sweep through the semolina sandbox, so that they build onto each other like little granular snowballs. If that's not enough, he'll take a handful, rubbing the grain between his hands as if starting a small fire.
The next stage is to size the couscous through a tammis. NY Shuk sells a wire mesh one that has a particular crosshatched gauge to create their signature size/shape. This helps the couscous cook uniformly when it's packed into the top of a two-part couscousier, or steamer (the base contains a steaming liquid while the top holds the grain). Ron walks me through the four-step, two-hour-long steaming process. Most Moroccan cooks will steam their couscous over broth, but Ron doesn't do that. He only uses water, not wanting anything to get between the flavor of the grain.
Ron had begun another batch on the stove top earlier that morning, mainly so there would be couscous to eat as I arrived. When he lifts the lid, steam wisps out in front of the kitchen window; he hands me a spoon filled with tender couscous. It's bouncy and unexpectedly chewy, like featherweight al dente pasta. I take another spoonful, trying to curb my appetite as I know we're about to sit for lunch. Ron takes my empty plate, filling half with couscous. He then heaps on a healthy portion of roasted eggplant stew, spiced with Baharat, layered with braised beef shank and bone marrow, and simmered in tomato and their stockpile of harissa. Leetal brings over a few fresh salads, one of shaved fennel and its fronds, tossed with torn mint and their preserved lemon paste, as well as a tomato "salsa," made with more harissa, celery, and capers. All laid out on a festive oil-skinned tablecloth, the bowl of couscous sits central, more than double the volume of any other bowl there. Leetal tells me it's not a side: You don't need to sauce it or mix your plate all together; couscous is the star.
Before we eat, we clink small stubby glasses of arak, a white, cloudy anise-flavored liqueur from Lebanon, and toast this shared experience. "Cooking has a geographical birthplace, but it travels," Ron says as he spoons another scoop of couscous onto my plate.