All Rise for the Justice of the Pies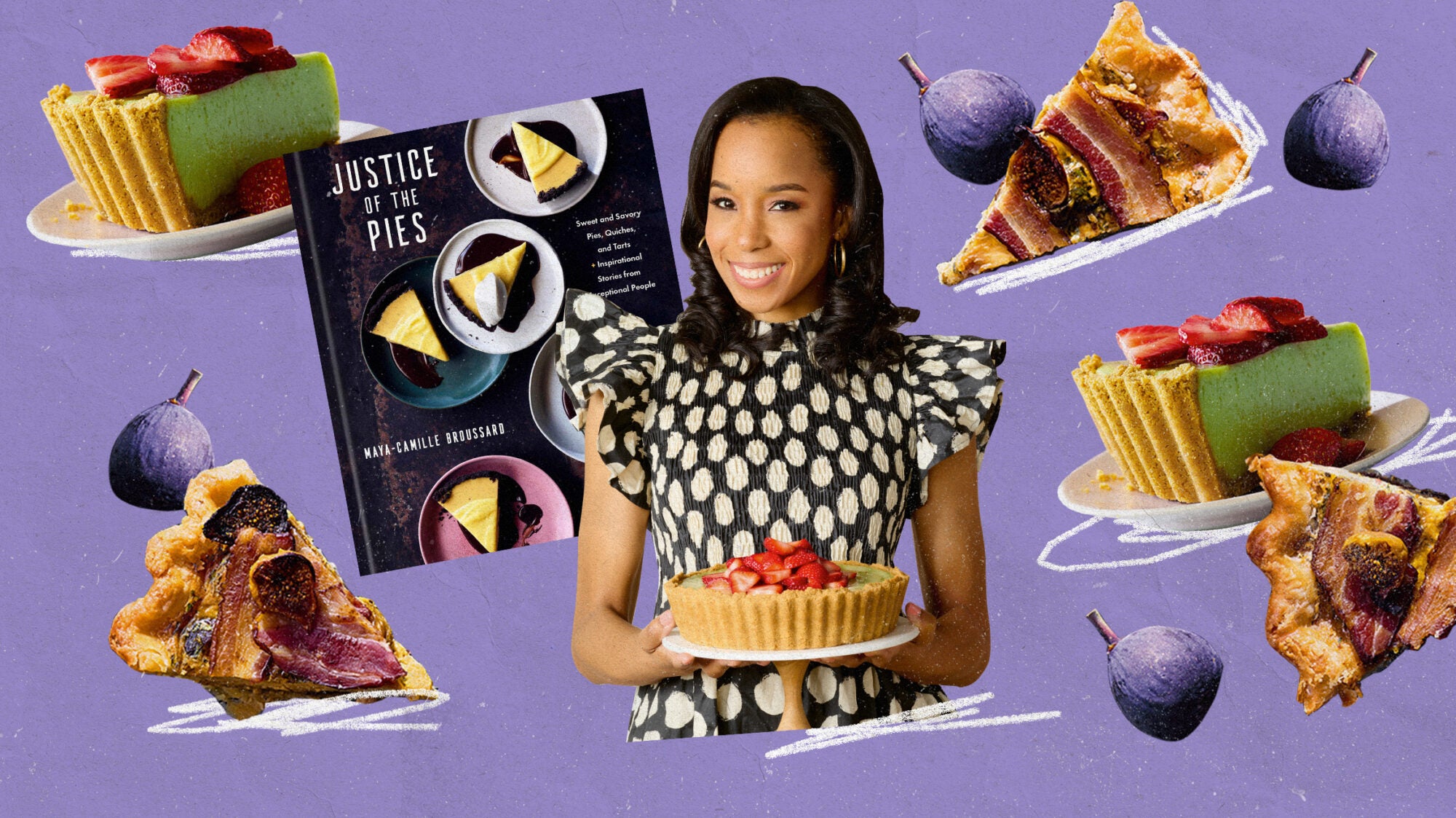 Baker and cookbook author Maya-Camille Broussard celebrates all types of pie, and challenges the very definition
Spoken aloud, "pie" is a word that lingers near your teeth. You draw out the vowels—piiiiiiie—as if it's the dish itself you're savoring, not the syllable. "It almost sounds like drooling when people say it," says Maya-Camille Broussard, the prodigious baker behind Justice of the Pies, a beloved Chicago-based bakeshop. "People just don't talk about other desserts in quite the same way."
Founded as an homage to her father, a criminal defense lawyer with a true proclivity for pie baking, Justice of the Pies is more than a bakery. On top of selling Broussard's inventive quiches, pies, and tarts, the Garfield Park shop has a significant social justice component. Since 2017, the bakery has been hosting its signature I Knead Love workshop several times a year. The one-day course provides elementary-school-age children from lower-income communities with lessons in basic cooking skills and essential nutritional info (as well as encouraging creativity and joy in the kitchen). 
Growing up, Broussard says pie was a household staple. "It was my dad's favorite thing to make and eat," she shares about her father, who passed away in 2009 and who inspired the store's founding. "We called him the Pie Master." On Saturday mornings, he'd don an apron with the words "Skinny People Make Bad Cooks" emblazoned across the front, then get to work sifting flour and boiling berries down into a paste.
While her father's cranberry apple pie is a menu mainstay, Broussard's own creations take center stage. Customers can expect everything from a savory blue-cheese-praline pear pie and peach-herb cobbler to strawberry basil Key lime pie (a fan favorite). After years of fielding recipe requests from local customers, she's finally ready to share her culinary wisdom with the broader public with Justice of the Pies, a debut cookbook to be released in October.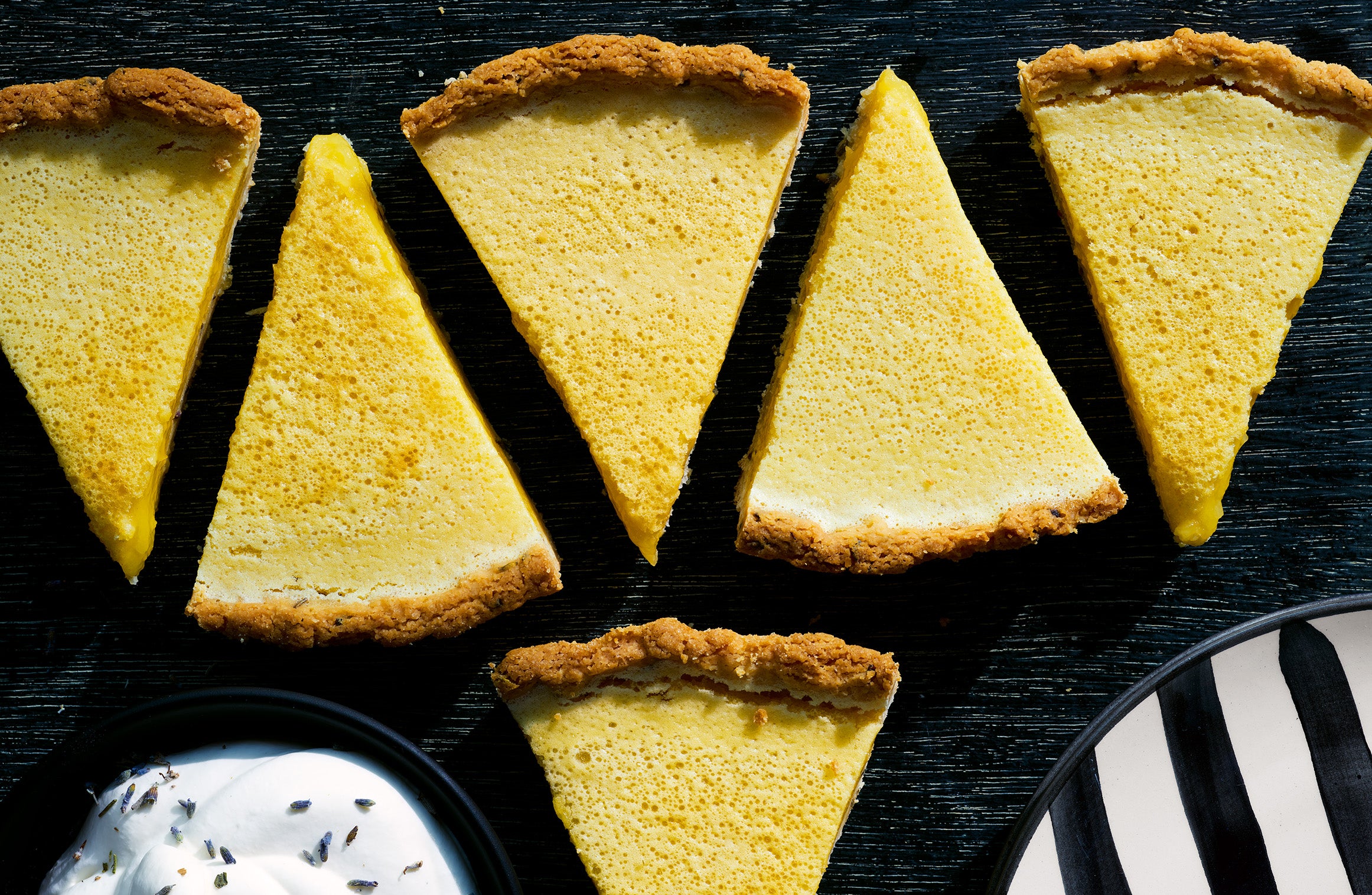 The book is designed to challenge your very definition of what a pie can be, encompassing everything from tarts and quiches to whoopie pies and salmon Wellington). Broussard also prefaces key recipes with profiles and interviews featuring the community organizers, creators, and stewards of social good who have inspired her and, in turn, her recipes.
Each highlighted dish is created with ingredients or flavor profiles that speak to the interviewee's mission: Brandied banana butterscotch pie pays homage to Kleaver Cruz, founder of the Black Joy Project, by nodding to brandy and bananas' central roles in African history. Open-faced pizza puffs—a nutritious riff on a classic Chicago fast-food order—are a tribute to Tanya Lozano, the woman behind nonprofit health care initiative Healthy Hood Chicago. Cauliflower patties are a nod to disability rights activist Claudia Gordon's Jamaican heritage.
"Pie is this universal thing. It's the people's food. It's not elitist; it's for everyone," says Broussard. "No matter what country you visit, you'll find some kind of pie on offer. Maybe in Colombia, it's a meat pie with a cornmeal crust. In Jamaica, you could call a beef patty a hand pie. Maybe it's the sweet potato pie your grandma made growing up. Every culture has its pies—and everybody eats and enjoys them. They're a truly great equalizer."
Ahead of her book launch, I sat down with Broussard to chat about perfect crusts, family recipes, and bringing more creativity into the kitchen.  
Your book is set up to broaden our very notion of what exactly constitutes pie. So, what makes a pie a pie?
If I had to give it a hard definition, I'd say it's anything with a crust. That's why quiches and tarts are certainly pies—but so are empanadas and savory meat pies. Pizza is pie, galette is pie, beef Wellington is pie. In my book, you'll see recipes for coconut curry chicken pot pie and lavender lemon tart and carrot cake whoopie pies. It's really all across the map. But like I said, pie is the people's food. There's something in there for everyone.
Of course, that's not to say pie is a simple food. Crust is the hardest part of baking. Crust day at the bakery is always the most frustrating, because it's the one thing you have to get right to make a successful pie—and there's a lot of delicate science to it.
Folks have been asking for your pie recipes for years. What inspired you to finally take the plunge and release a cookbook?
Ever since I started the bakery, my pies have been one of a kind. They're my original recipes, and they're just not offered anywhere else. So, you know, you can get a classic Key lime pie anywhere, but you can't find my strawberry basil Key lime pie anywhere else. Same with my brandied banana butterscotch pie or my ginger-carrot quiche.
When people love a pie, they always want the recipe. It's just instinct: You want to be able to make it for yourself. So people have been asking for my recipes forever. And eventually, it just dawned on me that this is my art form. I make these unconventional pie varieties, and I want these recipes out in the world with my name on them. I want folks to be able to try these recipes at home and to know that they're my original creations. And for years, I've only been doing that on a small local scale. But now, this cookbook will make my pies national—global even.
Where do you find your inspiration for new, unconventional pie recipes?
Sometimes, I'll go out to eat, and I'll be inspired by the cocktails that I have with dinner. Or sometimes, I'm traveling, and I smell or taste something amazing, and I think to myself, "How can I make that into a pie?" But for the most part, I'm inspired by people around me. Sometimes, I'm moved by the work they're doing in food, so I think about their projects when I'm cooking. Sometimes, I'm just moved by thinking about their roots, or their families, or their cultural backgrounds and the ingredients that speak to them. The people in my book are folks who work to positively impact the lives of others, and that is so inspiring to me. It's what makes me want to bake.
How did you come up with the premise for your I Knead Love workshops?
When I was conceptualizing Justice of the Pies, I knew I wanted to do something to help fight food insecurity. My dad grew up in the projects, and his father was an alcoholic—which meant that, often, my grandfather was buying drinks rather than groceries. Food was a scarce resource in that house—and trauma like that is generational, so my dad passed it down, too. In turn, I developed my own food issues. In my house, withholding food was a punishment. He learned that behavior from my grandfather. So I wanted to help break those kinds of cycles of trauma for kids in low-income neighborhoods. I wanted to help children become more self-sufficient in the kitchen so that they could make themselves food when they were left home alone, or so they'd know how to thaw something that'd been left in the freezer—and how to make a meal out of it. Sometimes, a parent has no choice but to work multiple jobs in order to support their family. They're not neglecting their children—but it would be amazing if their kids had a better sense of how to navigate the kitchen.
What makes your cookbook so distinct from other cookbooks?
Yes, it has tons of fun, creative, unconventional pie recipes—recipes from the bakery that lots of people love. But it's also a feel-good cookbook because it highlights the work other people are doing to positively impact the lives of others. And you get to see the link between a person's beautiful story, the good they're doing in the world, and an original recipe. That's a beautiful thing.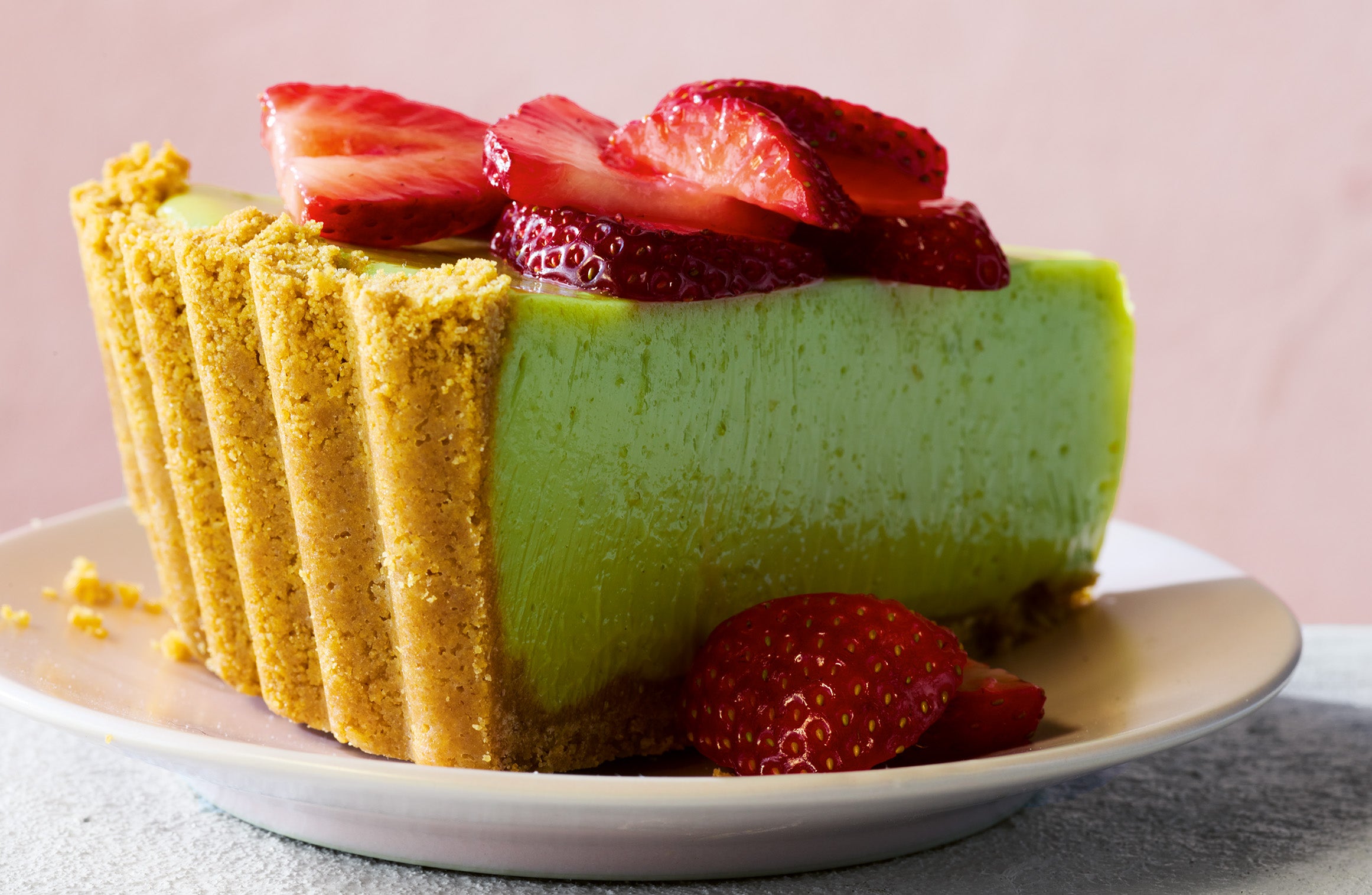 3 EXCITING RECIPES FROM JUSTICE OF THE PIES: