All Hail the Asian Supermarket: An American Institution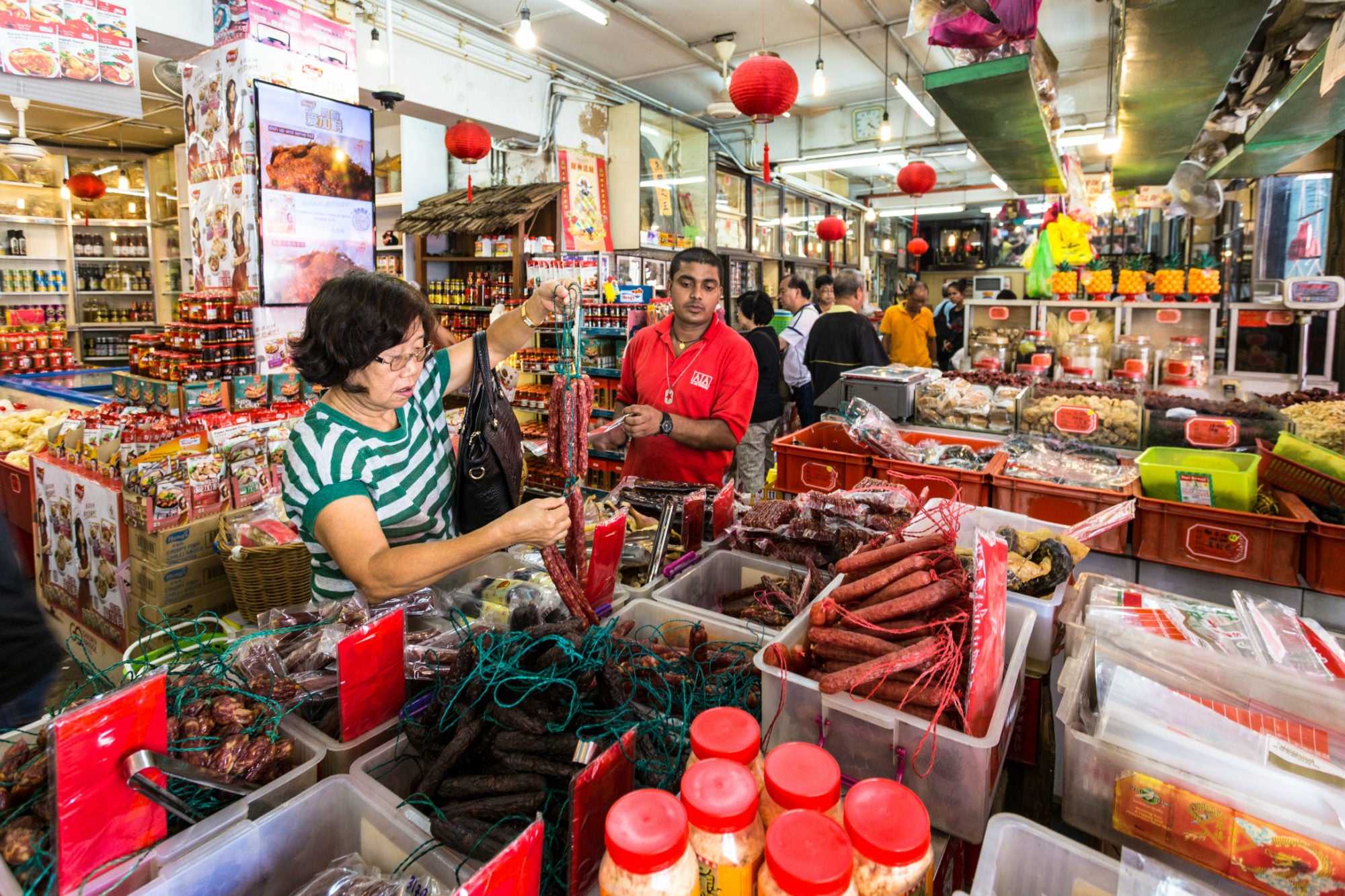 A generation of kids of immigrants who moved out to the suburbs have a deep love for these places.
When my mother moved to New Jersey in the early 1980s, it was the first place where she couldn't shop for food like she'd done all her life. Having lived only in large cities—Taipei, San Francisco, and New York—her everyday fresh produce, meats, and pantry staples like rice and sauces could be purchased in small shops or stands you'd travel to by foot. So when I was a toddler, she'd often take me in her hand-me-down Buick station wagon to a place that I regarded with the same delight as Disneyland: the Asian supermarket.
While she loaded up for the next couple weeks, I had a shopping cart child-seat view of the action: Around one corner, blue crabs rustling from wooden baskets threatened to poke anyone who came too close with their outstretched claws. Silvery whole fish were swiftly netted from tanks, killed, and gutted, while clams and abalone lay on ice in their pearlescent shells. At the butcher counter, mountains of ground pork were scooped up beside mahogany lobes of pork liver, translucent sacks of honeycomb tripe, and black chickens wrapped in cellophane. Other aisles reeked of dried seafood. Cuttlefish snacks—a stringy, fishy jerky that my mother would devour in front of the TV—and dried shiitake mushrooms were always dropped into the cart (and omnipresent in our kitchen cupboards). In the produce section, the smell of fresh scallions, bundled like towering green haystacks, overwhelmed leafy greens, elongated gourds, and fresh bamboo shoots that resembled a mythical beast's horns.
This wasn't the Indiana Jones and the Temple of Doom ride at Disneyland, but Kam Man Foods of East Hanover, New Jersey, a branch of a small chain that was founded in 1972 in New York City as the first Chinese supermarket on the East Coast, according to their website. And every trip there held new thrills. As we got older, my brother and I would wander the aisles independently, ogling the landscape of Japanese and Korean candies. Sometimes we got to take these treats home—like cookie sticks dipped in chocolate, fruit-flavored jellies in plastic cups, and rolls of hawthorne berry flakes. Sippy boxes of guava juice were the pride and joy of school lunches the week after we went to the Chinese supermarket. Other weeks, it might be starfruit. Instant ramen with elaborate flavor packets. Or the time my mom decided to bring home a live turtle as a pet for my brother and me (we ended up letting it go in the town creek a few days later after it wouldn't eat anything; my parents were always bad with pets).
I am not alone in my nostalgia for the Asian supermarket. But whether it was for H Mart ("A Korean Tradition Made in America," as the motto goes), Patel Brothers (the largest Indian supermarket chain in the United States), or a number of other regional or independent Asian supermarkets that were founded in the 1970s or '80s, a generation of kids of immigrants who moved out to the suburbs have a deep love for these places.
"America post-1965 brought a wave of people that were here to settle and, like, make kids," says Jennifer 8. Lee, author of The Fortune Cookie Chronicles. She explains that the first wave of Asian immigrants was mostly men who were here to work, send money home, and eventually move back to Asia. Then came anti-immigration laws and limitations on what work immigrants could do in America. Eventually, the Immigration and Naturalization Act of 1965 eased restrictions on immigration from Asia—and pretty much everywhere that wasn't part of Western Europe.
"This suburban Asian-American experience is much more common after the 1960s and '70s. It's sort of the boom in Asian immigration," says Ellen Wu, director of the Asian-American studies program at Indiana University, Bloomington, and author of The Color of Success: Asian Americans and the Origins of the Model Minority. She attributes the rise in suburban Asian-American living during this period to both the changing U.S. economy and immigration patterns from Asia. "So what you're getting are people from Asia who are working tech jobs or STEM jobs," she says. So not manual laborers but high earners. And they were not just settling in the suburbs of coastal cities: "Think Houston and Dallas, places in New Jersey or the suburbs of Chicago."
Much has been said about the first Asian-American restaurants and how they sprang from a combination of anti-labor acts and a predominantly male population without families. But once families were able to come to America from all over Asia, a new food-business genre took off. Families need a place to buy groceries—and the small "international" aisle of products at typical American supermarkets doesn't cut it for many immigrants.
"You always have to figure out, where do you get good soy sauce?" Lee observes, noting that some brands of Asian food products in America have fake or random characters that are just there for appearances and therefore not really intended for immigrant consumers.
For those in suburbs or rural areas, a taste of home might require hours-long road trips. That didn't stop Natalie Pattillo's family, who moved from Singapore to a small town in Texas in 1999. They would drive two and a half hours to the closest city with an Asian supermarket, bringing coolers to store perishable foods over the drive home.
"It was nostalgic; it made me feel connected to Singapore," says Pattillo of the supermarket. "Of course, after the trip I'd look forward to my mom making fish curry." She says that the store catered to many different Asian cuisines and that her mother could find everything she needed for her Malay cooking.
"I've actually bought curry leaves at H Mart," says Nik Sharma, who is the author of Season and blogs at A Brown Table. He first encountered Asian supermarkets in America when he moved from India to Ohio for college and says that some products found at Asian supermarkets tend to be more flavorful as well as less expensive than their counterparts at Western supermarkets. "I've done comparative taste tests, and for example, Indian cardamom has a shell that's much greener" at Asian groceries, he says.
"It's the only place in the city that I've found fresh fenugreek, which is kind of a big deal because it's an important flavor and it's hard to find," says Louisa Shafia, author of The New Persian Kitchen, of her local Asian grocery in Nashville.
Perhaps no one supermarket in the country better accommodates multiple immigrant cuisines than Buford Highway Farmers Market in Atlanta. Opened by Korean immigrants in 1974, it was the area's first Asian market. Its founders' son, Harold Shinn, decided to expand beyond that. "Sometime in the mid-'90s when the economy was booming and we had a massive influx of immigrant labor, it seemed a very opportune time to pursue a food product that would appeal to that customer base," Shinn said in an interview with Southern Foodways Alliance in 2010. Today, his family's store is a 100,000-square-foot food shopping mecca, selling foods from throughout Asia, Latin America, Eastern and Western Europe, and essentially the world over.
While this may be atypical in size and scope, just the concept of one store where you could purchase all kinds of food products—meat and seafood, dry goods and sauces, produce—under one roof is a unique experience for many Asians who arrive in America. Also, the concept of bargaining for groceries is big in many Asian countries, while here it is not.
For Jason Wang, chef-owner of Xi'an Famous Foods, grocery stores in America held a different kind of novelty: "You could just grab it off the shelves? You could steal it? That was my impression," he says. Wang moved to New York City with his family from China in 1997, when he was eight, and supermarkets were unheard of before then. But in China, dishonest vendors could more easily rip you off, Wang says. "I would trust the food here more. It's definitely harder to bypass the rules here."
Despite how stringent or American it is here compared to in Asia, I always felt that the Asian supermarket was a markedly different experience than going to the local American supermarket growing up. Different products aside, it was always more visceral to the senses—especially the scents. "It's a comforting sort of smell to me," says Wu, who grew up in Indiana with parents from Hong Kong and Taiwan. "Even in the newer, modern [groceries], you've still got the smells."
That old-world stink continues to waft through cities and suburbs throughout the country. Pretty much anywhere there's a major university, you might get it. Wu says the current growth of Asian supermarkets is part of a bigger story, which is a growing number of international students from Asia, and in turn, businesses and services catering to them.
Lee has been hosting a dumpling-making party in concurrence with the Sundance Film Festival in Park City, Utah, for the last several years. Previously, she and friends smuggled hundreds of dumpling skins on their flights, as there was nowhere to buy them locally. But that all changed last year, when a new Asian supermarket, called Chinatown Supermarket, opened in nearby Salt Lake City.
"I was really excited when I found this," she says. "It was like, oh, we've arrived!"