The Age of Radicchio Is Upon Us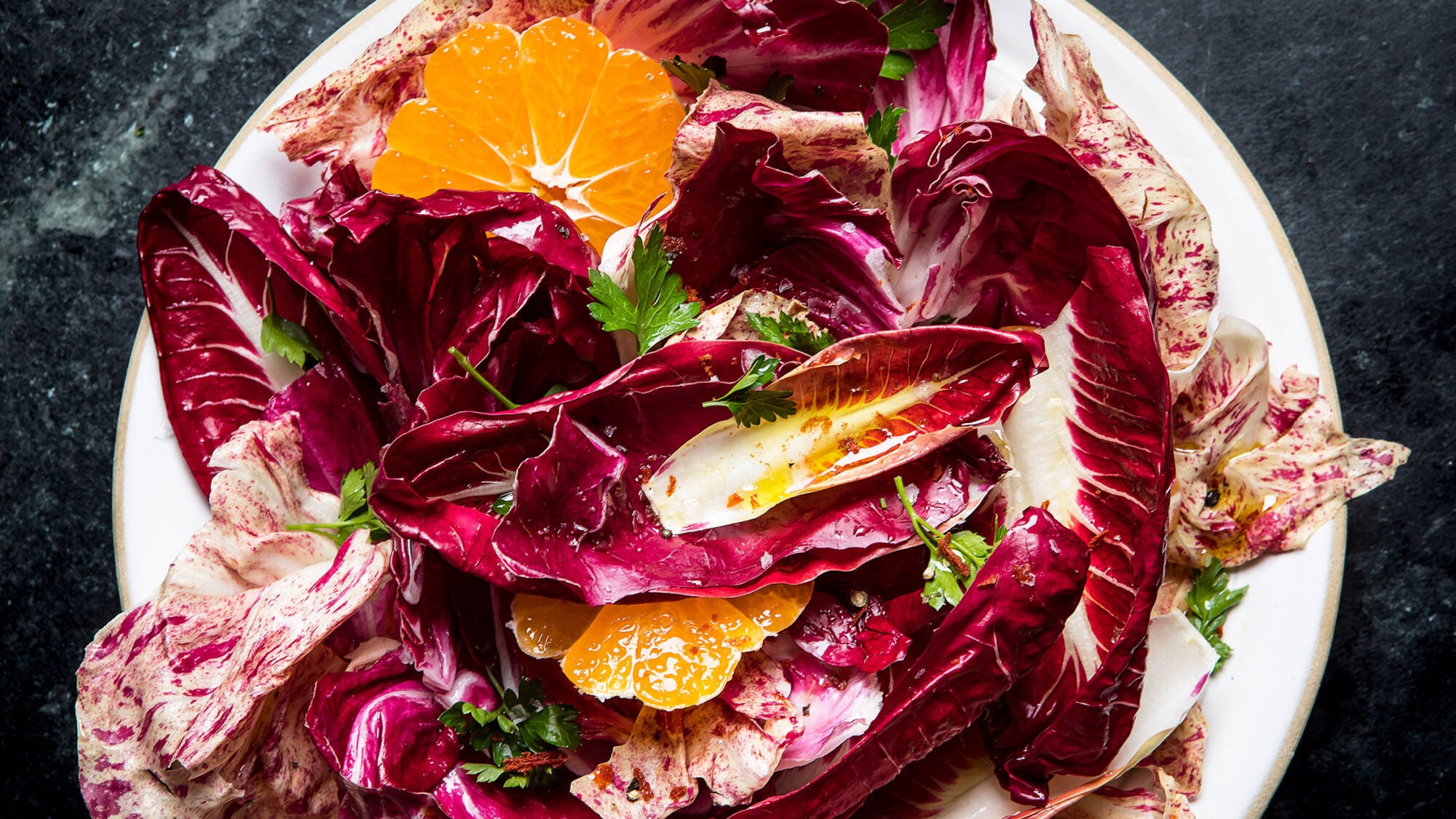 Reassessing our relationship with the aggressively bitter, emphatically purple chicory.
Whether or not you've noticed it, radicchio's beginning to creep into your salad greens. The cabernet-hued chicory is slowly edging the baby kale and butter lettuces off the plate—landing on restaurant menus, in magazine spreads, and flowing down the Technicolor waterfall of Instagram. Maybe you tasted it at Angler in San Francisco, where whole heads of radicchio seasoned with a concentrated radicchio XO sauce became a favorite among diners, or in New York City at Via Carota, where radicchio gets softened on the grill and paired with goat cheese, currants, and pine nuts.
Or perhaps you've seen the overlapping layers of olive-oil-rubbed radicchio radiating from within a rustic tart crafted by pastry chef Natasha Pickowicz for the pages of the New York Times Magazine. Maybe you've picked up a copy of Samin Nosrat's watershed book Salt, Fat, Acid, Heat and seen the recipe for roasted radicchio with Roquefort. And our dinner-party commander in chief, Alison Roman, suggests basing salads around a few heads of torn radicchio for dramatic effect. (Both of her cookbooks, Dining In and Nothing Fancy, include radicchio dishes as well.) 
For anyone who grew up in Italy, where bitter chicories have been prized for centuries—for both their flavor and digestive properties—the sudden uptick in Americans' interest is puzzling. Same goes for those who bow at the feet of Marcella Hazan, who espoused the idea that radicchio is the "most magnificent vegetable" in her 1997 book Marcella Cucina. 
"Radicchio has always been it; people just haven't known," says Jack Algiere, farm director at Stone Barns Center for Food and Agriculture. But for the mainstream American palate, a population that covets the sweet and mild, radicchio's bitterness—a byproduct of lactose, which the plant uses to prepare for seed development—has historically been off-putting. So why all the hype now?
"It's just so strikingly beautiful," says Raquel Pelzel, whose recently published cookbook Umami Bomb includes a tempting recipe for a green bean and charred radicchio salad. Chioggia, the most commonly found radicchio variety in America, shares the shape and dusky blush of a red cabbage with leaves that, like bok choy, turn snappy and white toward the core. According to Algiere, there are hundreds of other varieties—in Italy, you even find wild versions growing in pastures—and a great many of them are visually dazzling. "You see these versions like castelfranco and sugarloaf that have all these different speckles in lovely rosette colors," he says.
"I'm not surprised that after decades of so many American menus featuring the same few leafy vegetables—for a while it was romaine, then arugula, then kale—chefs are branching out," says Stacy Adimando, author of the new cookbook Piatti, which contains a recipe for charred radicchio and corn salad. "These bitter lettuces bring a lot of color, spice, and variety to dishes and menus during [autumn and winter], when what's on the farm stands tends to be less diverse and more muted."    
In the age of Instagram, when images are often consumed as hungrily as the food itself, a dish's—or, in this case, a vegetable's—star power isn't always directly linked to its flavor. But radicchio's rise happens to synchronize perfectly with a moment when American consumers are slowly coming around to more challenging flavors—flavors with funky, sour, and spicy profiles. That openness now extends to the bitter flavors that we taste in things like hoppy IPAs, intensely dark chocolate, turmeric, and tahini. "Once people recognize that bitterness is an entire category, that changes everything," Algiere says. "Besides, radicchios are not just bitter. They have these buttery, oily textures and a bright, complex sweetness underneath." 
Algiere values radicchio for its flavor, but also for the niche it fills as a crop that flourishes during the winter. "It grows best in the colder months, making it one of the great seasonal joys of the crop system," he says. 
"Serving radicchio is about partnering it with the right sidekicks," Pelzel says. "Like the juicy tanginess of citrus…a sharp and salty hit from shaved parm, or the funk of blue cheese. Radicchio is more about the composition than the singular." Adimando, meanwhile, views grilling as a gateway to radicchio and other bitter lettuces. "The leaves are delicious with a little char on them, and cooking the vegetable naturally mellows some of its bitterness and softens its bite," she says. Roasting or broiling radicchio with copious amounts of olive oil, or stirring the softened leaves into risotto à la Marcella, are also time-tested preparations.
Radicchio's rise happens to synchronize perfectly with a moment when American consumers are slowly coming around to more challenging flavors—flavors with funky, sour, and spicy profiles.
With the concurrent efforts of a few great farmers and a few enthusiastic chefs, a vegetable like radicchio can quickly transform from a cultural particularity to a mainstream sensation. One need only think about kale chips or cauliflower "rice" to understand the power of culinary groupthink. To that end, a network of farmers and chefs in the Pacific Northwest have taken on the role of radicchio ambassadors. They recently celebrated the second annual Chicory Week—a Seattle-based festival designed to, as their website puts it, "promote the heck out of radicchio." One festival partner, the Culinary Breeding Network, even brought a stack of handmade zines dedicated to the vegetable. 
From a consumer's perspective, adding new produce to the repertoire is a universally good thing. For the grower, however, such a quick ascent can have drawbacks. "It can take seed companies years to stockpile enough seeds to keep up with demand," Algiere says. In the case of kale, which American farmers grew 60 percent more of in 2012 than 2007, large-scale growers bought out swaths of the existing kale seed, leaving smaller growers in the lurch. "If it's just a fad and not sustained, it can be disruptive," he said. 
Whether radicchio's star will rise dramatically enough to cause a bum rush on seeds, or, say, influence Beyoncé's sartorial choices, remains to be seen. But either way, American tables are certain to get a lot more bitter in the coming years—and that is actually pretty sweet.