After a Luxurious 250 Years, Caviar Returns to Its Humble Roots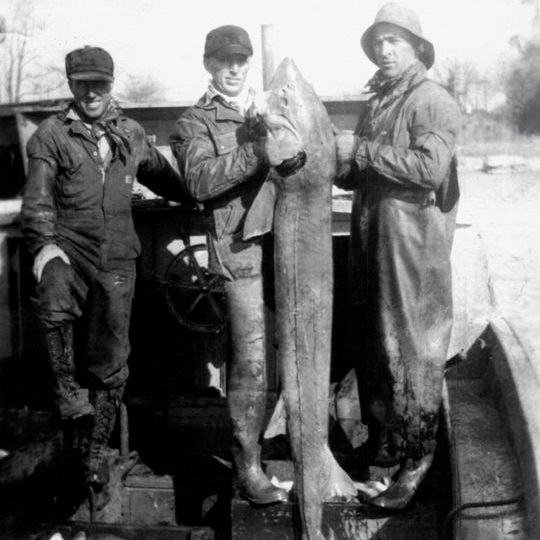 Caviar used to be a sustaining meal eaten by the working class. How did it come to be such a symbol of extravagance?
Unless you grew up in an Eastern European household in which cured fish eggs were slathered on black bread for an afternoon snack, or a Taiwanese home in which mullet roe were pan fried and served over rice, it's hard to fathom that the ultimate culinary status symbol began as a staple of many blue-collar homes and rowdy saloons. Caviar had its place at the table well before its star turn atop the blini.
But today, as quality affordable roe from domestic fish like trout, bowfin, and hackleback gains popularity, more chefs are selling it as an everyday ingredient—smeared on Pullman toast alongside a pile of fries or dolloped on scrambled eggs. With so much pomp baked into our culture's perception of caviar, I wondered whether this mini movement to knock it off its mother-of-pearl pedestal could eventually translate to a can of roe in every American pantry.
Caviar rose to ubiquity in 12th-century Russia as a lunch or snack of the working class, costing roughly the same as butter. According to Inga Saffron's 2002 book Caviar: The Strange History and Uncertain Future of the World's Most Coveted Delicacy, peasants and working men would press most of the liquid out and slice off slabs of the near-dry caviar to bring in their lunch pails to share. Because of its high protein and low calorie content, and because many believed sturgeon roe had medicinal properties, it was dispensed daily to children and the sick.
By the 1800s, caviar was so plentiful in Russia that popular cookbook author Elena Molokhovets suggested home cooks use it to decorate sauerkraut to appear as if it were "strewn with poppy seeds" in her 1861 cookbook, A Gift to Young Housewives.
Sturgeon swam in abundant numbers in American rivers in the early 1800s, too—helped by a relatively low human population that wasn't yet after those glistening little eggs. That started to change in the mid-1800s with an influx of immigrants, including many caviar-loving Germans in the Midwest.
American caviar production and export reportedly began in the early 1870s, with a German immigrant named Henry Schacht, who started a business catching sturgeon on the Delaware River in New Jersey. He treated his caviar with German salt, exporting much of it to Europe for a dollar a pound. Other entrepreneurs soon followed, and by the end of the 19th century, the United States was the largest exporter in the world.
Because caviar had become so plentiful, certain saloons dispensed it for free as a salty gimmick to encourage drink sales.
"Just like today, you had a variety of kinds of saloons back then," says Chicago-based historian Liz Garibay, who founded the 16-year project History on Tap. "Lower-end ones just might serve peanuts. Nicer ones might offer snacks rooted in German food culture…like simple cheese slices, onions, celery, pickles, bread, mustard. And some would have served caviar because of its easy availability."
But as the population soared along with growing U.S. demand for caviar, availability diminished rapidly. "By the 1890s and well into the 20th century, caviar would have only been available at very high-end taverns, and more realistically, only at swanky hotel bars or restaurants—definitely something only for high society," Garibay adds.
Prices had become so exorbitant by the 1960s that suppliers started seeking less-expensive domestic alternatives, like salmon roe, lumpfish, and later whitefish gold caviar. Meanwhile, decades of overfishing and illegal poaching had brought both the Caspian caviar industry and prehistoric fish with the coveted eggs to the brink of extinction, leading to bans by United Nations' conservation council and Caspian Sea states on the export of wild caviar to Europe around 2000.
By the time the U.S. Fish and Wildlife Service outlawed beluga caviar imports from the Caspian Sea in September 2005, Americans had long since fallen for the $200-an-ounce delicacy, slurping 60 percent of the world's beluga caviar exports, according to The New York Times.
However, the ban on wild caviar proved a boon for the farmed sturgeon industry in the early 2000s, as producers spanning areas such as Italy, Iran, and California started seeing payoff after years of investment—coaxing sturgeon to maturity and improving the quality of farming and processing. Plus, chefs who once snubbed farmed sturgeon started jumping on the farm-raised-fish bandwagon.
Even domestic caviar from species like American white sturgeon (the largest native species) now rivals the quality and price of wild sturgeon roes of the past. Native species from trout to salmon to bowfin produce tasty roes at a fraction of the price, too—something chefs are latching onto with an accessible luxury angle.
Henrietta Red, a restaurant in Nashville, offers half an ounce of silvery-gray Tennessee paddlefish roe (often called "gateway caviar" because of its buttery, earthy flavor) with sour cream, spring onions and crackers for $15. Caviar service at Ariel Arce's Air's Champagne Parlor in New York starts at $18 for half an ounce of reddish-black, mildly tangy bowfin roe with crème fraîche and chive chips. Arce also slathers it on toasted brioche with whipped egg for $20.
Mike Simmons is the chef-owner of Cafe Marie-Jeanne in Chicago, which sells Italian bottarga, smoky, sunset-orange steelhead trout roe, and bowfin roe on toast for $12 to $20 or atop scrambled eggs for a few extra bucks.
"People feel fancy when they eat it," he points out. "It's a good way to feel, out with your pals, having bubbly, eating toast slathered with caviar. You survey your moment in life, and it's pretty good."
Specialty foods stores like Eataly, seafood markets, and direct-to-consumer online shops such as Caviar Star sell everything from $500 farmed Calvisius white sturgeon to $5 golden whitefish roe. Don't forget the Technicolor orange salmon roe in little clear jars at most supermarkets.
"The cheapest I've found is $6 for an ounce," says James Beard Award–winning sommelier Belinda Chang. "Honestly, I've never had a bad jar." She looks for perfectly spherical roe with no leakage, which suggests poor processing or handling. She'll dollop it on potato chips with sour cream to fancify an appetizer, or slather it on thick brown bread with butter for lunch. "That's honestly my favorite way to eat it."
But will this growing accessibility translate to a tin of trout roe in every American home kitchen? Simmons isn't sure.
"I don't think it's deep enough into American eating culture for it to be in every home kitchen. I'm from Texas and used to go fishing as a kid. We used salmon eggs to catch fish, which are—guess what—caviar! So when my dad comes into the cafe and looks at the steelhead roe, the first thing he says is, 'What is that bait doing on toast?' He still eats it, of course."
Lead image of sturgeon fishermen on Lake Erie courtesy of RJ Norgard.