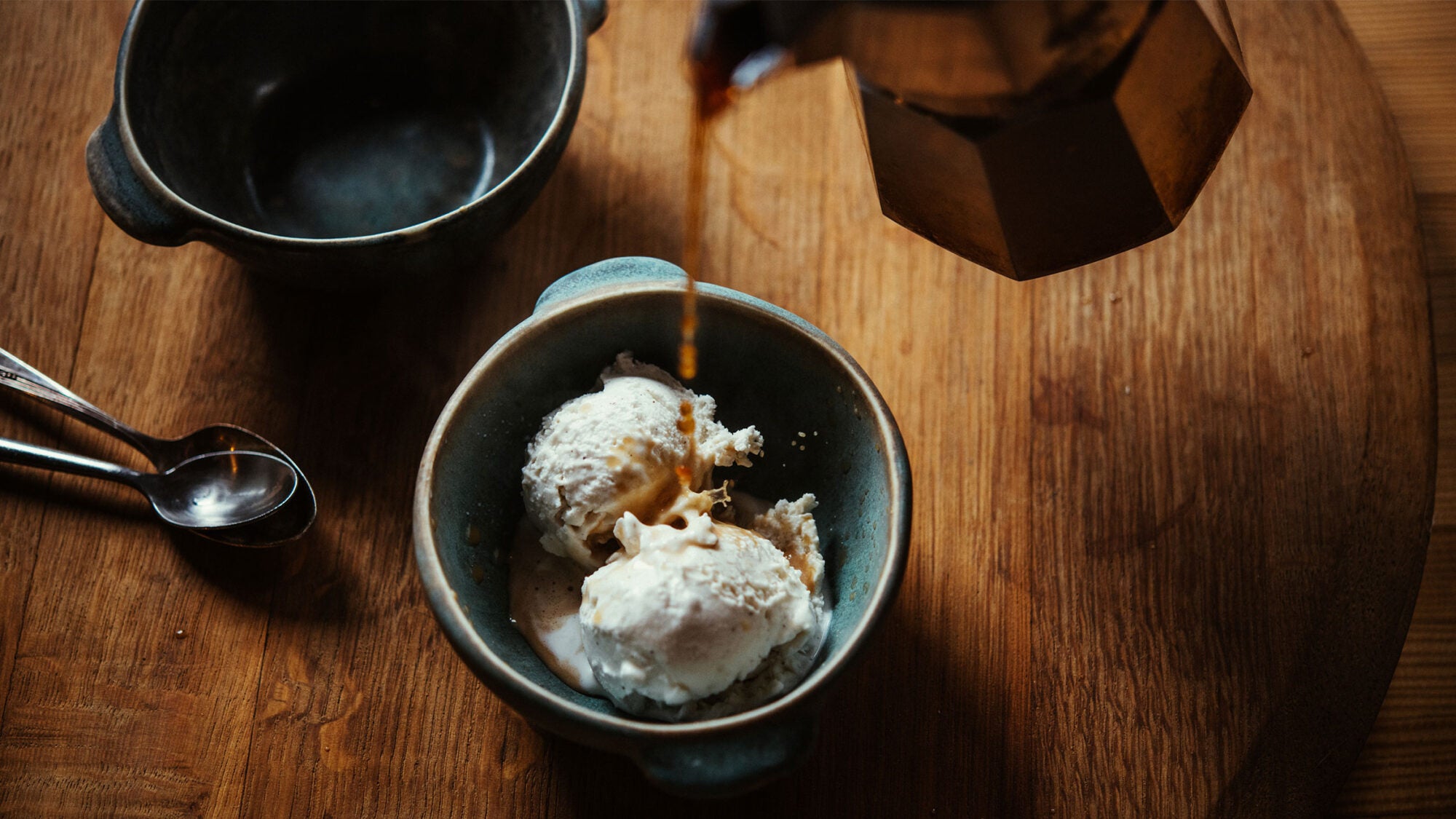 It's gelato and espresso, but so much more.
As satisfying as it is to carefully arrange rosettes of Honeycrisps for a tart, or knot cardamom-scented dough into perfect banded buns—okay, mainly for the Instagram flex—I prefer the demure joy of assembling a dessert without really cooking anything. After all, simplicity doesn't have to mean one-note austerity. Enter the affogato, composed of two of Italy's finest exports: espresso and vanilla gelato.
This aromatic coffee-dessert crossover hardly even counts as a recipe—just doctor a scoop of milky gelato with a shot of hot espresso. When they meet, mild vanilla gets woken up by the intense coffee, while the contrasting hot and cold temperatures play off of each other like dipping into a Sapporo onsen in the middle of February.
While pulling an espresso the same way your favorite coffee shop does is a near-impossible task at home without a proper (and expensive) machine, a stovetop moka pot is a solid stand-in for the real thing. And if you prefer the French press or pour-over route instead, just make sure you're brewing something strong (so double the amount of grounds you normally use)—and only pour an ounce or two so that you're not melting all of the ice cream.
The infallible two-ingredient template does leave room for creative license, and the affogato has ushered in the next generation. At the gelato-focused Caffè Panna in Manhattan, you'll find them reconfigured as small sundaes, piled high with whipped cream and toppings like ribbons of Sicilian pistachio drizzle or crumbles of graham cracker brittle, complete with a sidecar of espresso to be added à la minute. Drip Affogato Bar, based in New Orleans, takes inspiration from shared Italian roots—dosing coffee ice cream, cocoa powder, and mascarpone whipped cream with espresso to channel tiramisu. San Francisco's Sightglass Coffee pairs their single-origin brews with ice cream flavors like candied honey lavender and sea salt caramel.
Given the minimalism of an affogato, the quality of ingredients is what makes the difference between so-so and superb. If preparing at home, use the same high-quality roasted beans you would reserve for the Chemex, and spring for a premium-dairy ice cream or fior di latte gelato, the golden standard of milk. Then, assemble at the last possible moment to ensure maximum temperature contrast—to avoid ending up with a puddle of lukewarm cream.
There's an affogato for every mood, whether you abide by its true format or not. Give it a Vietnamese spin and trade the espresso for the even-fuller-bodied New Orleans–style coffee fortified with chicory, and round it all out with streaks of condensed milk. Whisk together a small cup of bright matcha for something gentler, then break into a pint of nutty black sesame or toasted rice ice cream. Keep with the original duo of espresso and vanilla gelato, but spike it with almondy amaretto for a sweeter buzz. For a low-effort, high-reward dessert for a crowd, brew a carafe's worth of double-strength coffee to pass around and set up a station for cakey and crunchy add-ons and various ice cream pints. Whether it has two ingredients or ten, just make it your own.