Adobo Seasoning and the Art of Puerto Rican Dry Marinade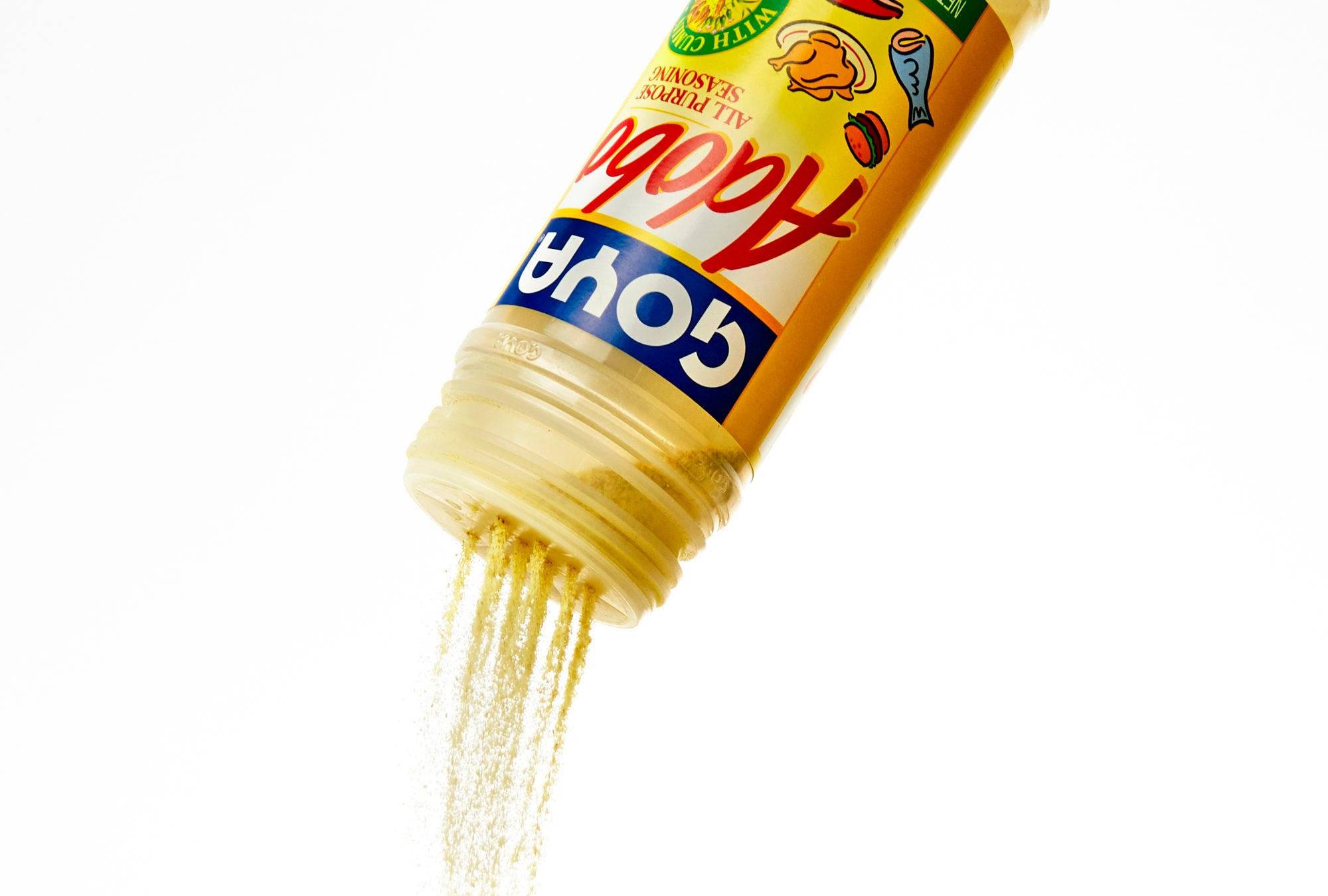 Why are plastic canisters of Goya adobo seasoning so ubiquitous in Puerto Rican kitchens? Because the spice blend goes well with pretty much everything.
When my parents got divorced, my dad didn't know how to cook, but he knew how to shake a giant jar of Goya Adobo. He'd pour shocking amounts onto pork chops before they hit the grill, then add some more to the mashed potatoes. For a time, he was a real-life version of a Jennifer Lopez parody video, all but guzzling the blend of salt, granulated garlic, tricalcium phosphate, oregano, black pepper, and turmeric.
Goya launched the product in 1966 and now makes at least 10 varieties, some with coriander and annatto, others with bitter orange or saffron, still more with less sodium or no pepper. Each label features illustrations for its suggested use: a burger, fish, turkey, steak. Other spice brands have made their own versions, but Goya has always reigned, likely because the company, started by Spanish immigrants to the U.S. in 1936, was inspired by the influx of Puerto Ricans to New York City in the 1940s to focus on importing its kitchen staples specifically, eventually opening a processing center in the city of Bayamón.
They're synonymous with Puerto Rican flavors, and that's why I grew up with the red-topped version in my house at all times: for seasoning the ground beef in my mom's empanadas, with an assist always from the brand's similarly salty sazón, a blend of garlic, onion, cumin, turmeric, black pepper, and salt made red by achiote, a seed used for its color. Both are what I use when I make my vegan version of those empanadas, filled with red beans. I shake my own Costco-size jar onto vegetables as they sauté for easy flavor. It's always next to my stove, hanging out with the kosher salt and olive oil.
"Adobo" comes from the Spanish word adobar, to marinate. Most blends include garlic, pepper, salt, and oregano, and there are new versions on the market that boast organic spices and less sodium, such as the one by New York–based brand Loisa. Some chefs and home cooks even make their own as a way to customize and tweak the spice blend's balance beyond the flavors sold in the plastic canisters.
In Santurce, a neighborhood of San Juan, Puerto Rico, chef Mario Juan cuts the black pepper. At his Lote 23 sandwich truck, Pernileria Los Proceres, they make a blend composed of kosher salt, garlic, ají dulce, cumin, dried oregano, fresh oregano brujo, and coriander. A far cry from the supermarket one he'd occasionally sneak tastes of straight from the jar as a kid, his mix leans heavily on the garlic and oregano, creating sort of a cross between adobo and a traditional pernil (slow-roasted pork shoulder) marinade. The oregano brujo, a large-leaf version of the herb, is used fresh and in large quantities because it's a hearty plant; the ones growing in front of Pernileria survived Hurricane Maria and don't require much tending.
All it takes to make your own is a food processor. "The spices are ground, toasted, and mixed in thoroughly with the salt," he explains. "We leave it out in a large container, not under refrigeration, and we use it in the course of a couple of weeks."
He and the cooks at Pernileria utilize what they jokingly refer to as a "solera system" of aging used often in wine, rum, and vinegar production, in which some of the last batch is incorporated into each new one by never letting a container get empty. This allows the flavors to meld as the salt cures all the peppers, garlic, and herbs.
In A Taste of Puerto Rico, Yvonne Ortiz includes her instructions for a four-tablespoon blend as the first recipe in the book, showing you can't get a taste of the island without it. The recent release Coconuts & Collards, by Von Diaz, puts three varieties—chicken and seafood, pork, and beef—right after the sofrito, the island's foundational cooking sauce.
Diaz didn't grow up with the dry supermarket blend. Her mother and grandmother weren't into its high level of saltiness. "I love salt, but since we didn't have spice mixes at home I never got in the habit of using them," she tells me. "Now, in my own kitchen, I'd rather adjust my seasonings from dish to dish."
This was shocking to some, which drove home for her just how common it is to simply pick some up at the grocery store. "A Puerto Rican friend once insulted me for not having adobo seasoning in my pantry, saying, 'Tu no eres Puertoriqueña!' ['You are not Puerto Rican!']" she recalls. "I was crushed—and confused. I came to realize that my family's reliance on homemade seasonings and spices isn't all that common."