A Tropical Take on Crêpe Cake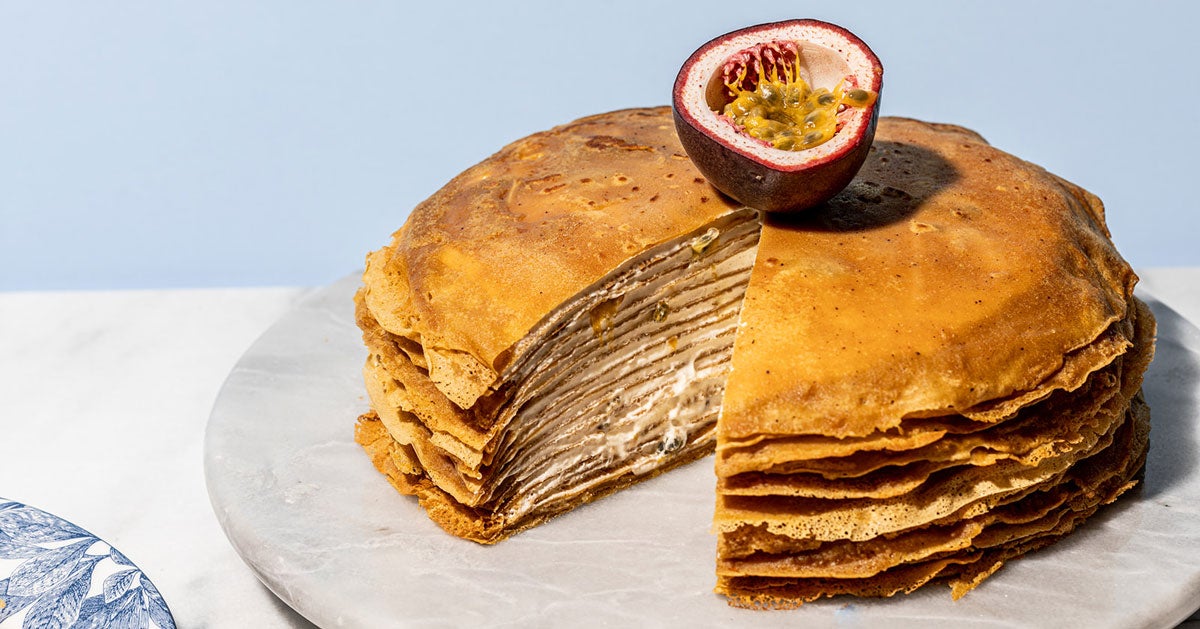 The delicately layered French dessert gets a hit of passion fruit and a touch of molasses.
Crêpe cakes (also known as mille crêpes) are unapologetically maximalist. The stacked cake is lofty by design—more is more when it comes to layers of alternating crêpes and cream—and extra cream is dolloped on each slice before serving. After a quick scroll through Pinterest, it's clear that crêpe cakes have become an art form unto themselves—appearing with ombre or rainbow color schemes, slivered strawberries carefully nestled into each layer, and as colossal three-tier wedding cakes.
Achieving the thousand-layer look (realistically, it's usually closer to 15 or 20 actual crêpes) is no small feat—but with careful planning and plenty of resting time between steps, it's more doable than the highly technical result would indicate. There aren't even any ovens involved, and if a few of your crêpes turn out a little asymmetrical, or if a couple of them tear a little on their way out of the frying pan, no one will be the wiser once they're stacked into a tall tower.
In this recipe by Laurie Ellen Pellicano, molasses-sweetened crêpes are spiced with a touch of nutmeg, allspice, and mace. The simple batter quickly comes together with the whiz of a blender, and after a rest in the refrigerator (at least one hour, but up to 24), it's ready to hit the pan. Meanwhile, a tropical curd to flavor the cream filling is scented with zested and juiced orange, lemon, and lime, then spiked with passion fruit liqueur.
Once the curd is cooled and set, it's folded into a tangy, crème fraîche–based whipped cream to complement passion fruit's bold sourness. Going layer by layer, each crêpe gets a slather of liqueur-spiked cream and fresh passion fruit as it gradually reaches its final form—an impressively striated cake fit for any afternoon tea break.