A Tale of Two Sesame Pastes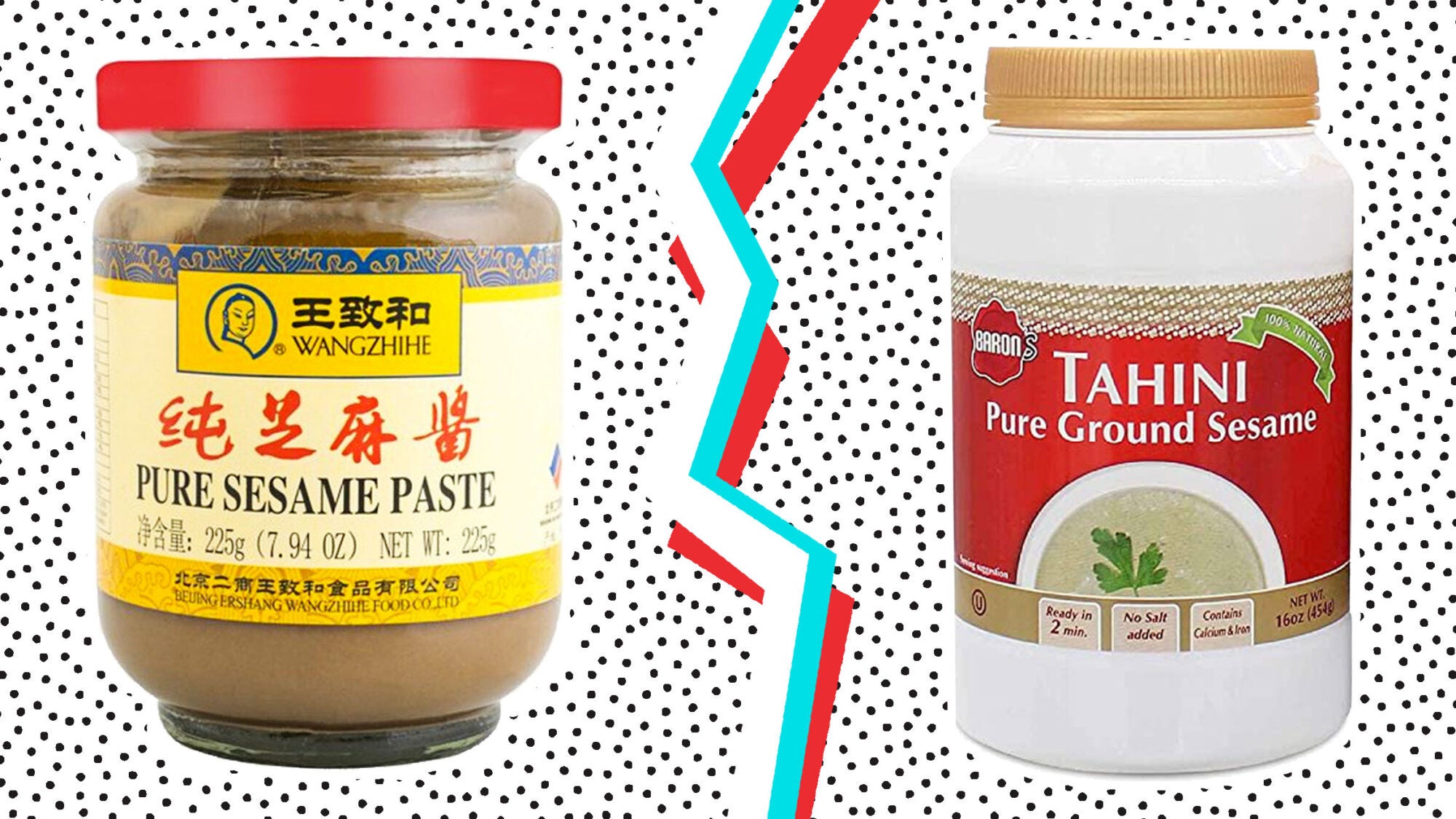 Knowing the difference between tahini and Chinese sesame paste goes a long way in the kitchen.
Maybe you know it as tahini, or maybe you call it plain old sesame paste. As many of us already know, that jar of nutty, creamy, mind-bogglingly versatile liquid gold is the answer to better homemade hummus and can kick frozen dumplings into high gear when the flavor-packed paste meets minced garlic, soy sauce, and a heaping spoonful of spicy chile crisp.
While recently playing refrigerator Tetris after a big biweekly grocery haul, I took a closer look at two half-used jars that sat side by side—one imported from Israel that reads "tahini," the other purchased from a Chinatown market by way of Taiwan with "zhi ma jiang" (Mandarin for sesame paste, though it literally translates to sauce) written on it. Both were very obviously sesame paste—with their dirty blond tinge and toasty aroma—but I couldn't just recklessly use one in place of the other. Or could I? With my tunnel vision, tahini was exclusively for lemon juice–sprayed sauces and topping falafel, although it was also fair game for chocolate chip cookies or swirled brownies. The zhi ma jiang label, with its characters "芝麻酱" largely emblazoned across it, was a subconscious reminder that its uses were destined for savory dumplings, boiled wheat noodles, and hot pot sauce.
How much could those jars really differ? Well, it turns out, quite a bit.
Chinese sesame paste is made with hulled seeds that are roasted before they're ground into a thick, coarse paste that takes on a dark tanned hue. On its own, its flavor is similar to unsalted peanut butter with the intensity of fresh-pressed sesame oil. The concentrated, more robust nutty flavor pairs well with deeper twangs of umami—hence the affinity for going toe to toe with the queen of umami herself, soy sauce.
Tahini, on the other hand, isn't as straightforward. There's raw tahini that's more astringent, since the seeds are left untoasted in their natural state before grinding them to a paste. Other versions are lightly toasted—resulting in a mellow taste with a touch of bitterness. The color, which can vary across brands, generally stays on the paler end of the spectrum, more akin to a sandy beige.
When deciding which one to use, it's not always a one-for-one swap, though there are solutions to substitution. I've found that using tahini in recipes heavy on Chinese ingredients doesn't always deliver that smack of deep, nutty sesame flavor that holds up to acidic rice vinegar and pungent garlic cloves. But if tahini is all that you have, you can compensate with a drizzle of sesame oil or a spoonful of peanut butter to mimic those deeper flavors. On the flip side, Chinese sesame paste in hummus can be overpowering—which is honestly not always a bad thing, and it's something I am going to try soon. But chickpeas are there for a reason to lead the dance. The paste mixed into shortbread, however, is a different story—the more sesame, the better.
More on the World of Sesame Paste
What to Buy