Shepherd's Pie of the Sea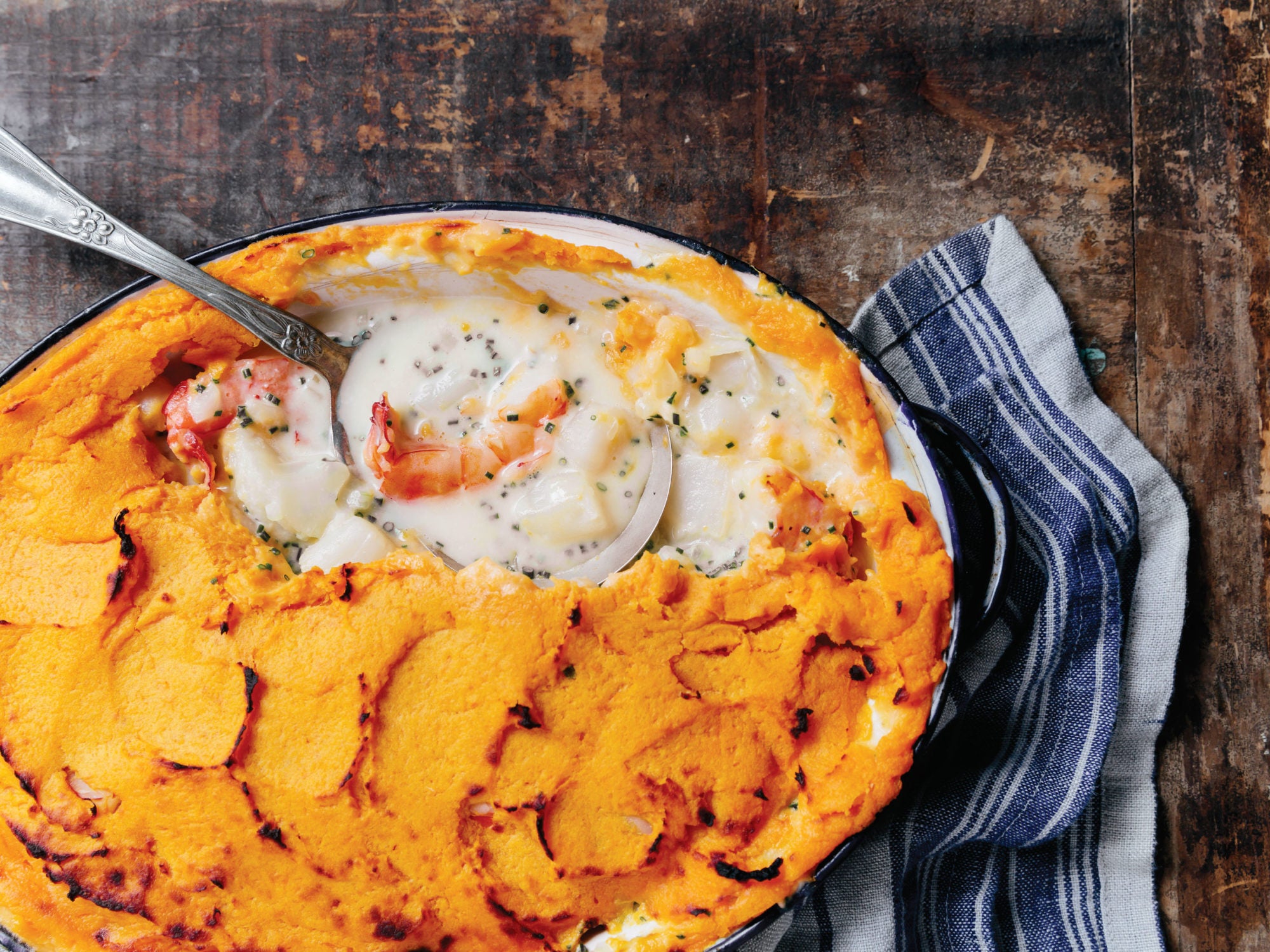 If it ain't broke, don't fix it. But if a classic potato dish could use a little color and a little sweetness, why not turn to the sweet potato?
Irish fish pie, a sort of fisherman's version of shepherd's pie, combines milk-poached fish and an herby béchamel, blanketed with a creamy mashed potato topping. It is worth hunkering down with a Guinness on a rainy afternoon in a pub in Dingle, but for weeknights, or even dinner parties, I've found the original to be a bit overbearingly monochromatic.
As TASTE's resident potato columnist, you might ask why I would turn my back on the classic starchy white nightshade in favor of its sweet eponymous counterpart in this instance. It is because I just spent the last couple years writing a whole book on sweet potatoes and found that they are an excellent substitute, and in some cases an improvement (I'm talking to you, gnocchi), where white potatoes are typically used.
Swap white potatoes for sweet potatoes in Irish fish pie and they'll amplify the natural briny sweetness that exists in fresh fish and shellfish. Sweet potatoes' light sweetness plays off the fish without taking center stage, and the bright orange topping offers a bit of visual variation.
To nail a fish pie, it is essential to individually poach the cod, shrimp, and scallops to ensure each is perfectly cooked. In addition to even cooking, simmering the fish helps to draw out any water from the flesh that would otherwise dilute and eventually help to split the béchamel as it bakes below the sweet potato topping. Feel free to substitute any mild, white-fleshed fish for the cod, and shucked clams for the scallops.
Thickening the poaching milk with beurre manie yields a fish-scented béchamel, something akin to creamy clam chowder base. The béchamel is poured over the cooked fish before the whole casserole is topped with sweet potato puree. I find that piping the sweet potato onto the casserole is the easiest way to seal in the filling, though carefully spreading it with some patience also works.
After a quick bake and rest, scoop the pie generously into shallow bowls. Like most casseroles, no side dish is necessary, but a tart salad is always nice alongside. And Guinness, naturally, is the perfect pairing.