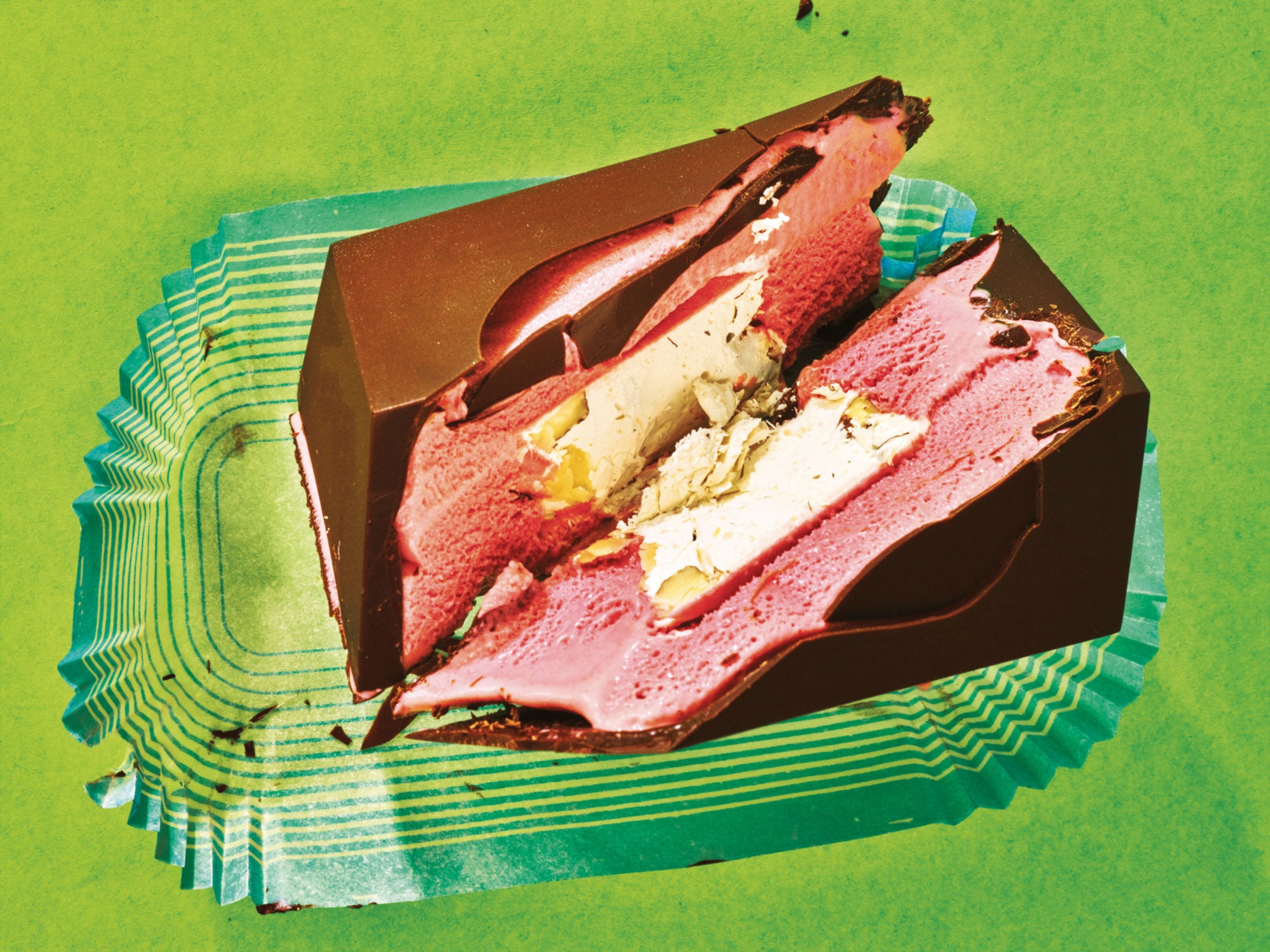 In her new cookbook, Kitty Travers gives you a taste of the London ice cream shop where she scoops flavors like pea pod, carrot seed, and guava.
One summer a few years ago, Kitty Travers received a delivery of some nectarines that were so ripe, they were close to exploding with fragrance and flavor. Her first instinct was to capture this momentary expression of perfection by turning it into ice cream, skipping the added sugar and lemon juice entirely. The resulting custard was "almost flavorless," and Travers was, to use a British idiom, "gutted." But she learned a valuable lesson: "Without acid and sugar, you can use the nicest fruit in the world and it won't do anything."
Travers has been selling inventive frozen things to a loyal cadre of London-based devotees since 2008, the year she founded her company, La Grotta Ices. On weekends, she sells her ices alongside a railway-arch fruit stand at the city's Spa Terminus market, but she only emerges to do so in early spring once the weather is warm enough (eaten below a certain ambient temperature, ice cream doesn't melt in the right way). She insists on making bespoke bases for specific fruits, adjusting levels of sugar and fat to best encapsulate flavor—an approach she defines as "commercially unviable, but more enjoyable." Ice cream is fun, of course—but that doesn't mean it can't also be taken very, very seriously.
American ice cream lovers looking to benefit from her wisdom can rest easy: No flight to the U.K. is required. Released this month, La Grotta: Ice Creams and Sorbets is a distillation of three decades of ice-cream-making (and -eating) experience. It contains plenty of useful tips, some learned the hard way, like the time Travers had to flush away liters of lily of the valley ice cream upon realizing that it was highly poisonous. It also contains some of the zaniest flavor combinations you've probably encountered in an ice cream book: recipes for Pigeon Fig and Pineau des Charentes, Tomato and White Peach, or Pea Pod ice cream are the fruits of a lifetime's obsession.
Travers's search for the perfect ice cream may have started by chance in Cannes nearly 20 years ago with a chance encounter with a glacière whilst waitressing, but in the ensuing decades her fascination has become all-encompassing. It was a chance inheritance from her grandmother, Mary Poppins author P.L. Travers, that started her on the path to turning this passion into a brick-and-mortar enterprise. She used the money to attend culinary school in New York; stages and jobs with the likes of Gabrielle Hamilton, Fergus Henderson, and Alice Waters followed. She left London institution St John to found her company; in its early days, everything was made at home, in two bedroom-based freezers.
The ice cream shops that have inspired her in this endeavor are dotted around the globe: Cannes, of course, but also Salvador in Brazil, Puglia in Southern Italy, and an unprepossessing place in Ostia, the "really tacky beach outside of Rome," where they offer a pine nut flavor with the base made with toasted pine nuts ("maybe the best ice cream I've ever had in my life"). She is as happy to talk about American super-premium ice cream as she is Scottish white ice cream or saffron-infused Syrian ice cream with a clotted-cream base; vacation planning now starts with the ice cream and works backward from there ("It's such a fun way of traveling around, trying ice cream wherever you go"). Simply put, Travers is endlessly, endearingly, effusively enthusiastic about her subject of choice—a simple question about her favorite fruit can result in a lengthy digression about a trip she took last year to a town on the Lombardy-Piedmont border with an "amazing" citrus collection, complete with a convoluted history involving (deep breath) a lakeside Medici villa, a garden full of prized exotica, and unscrupulous fishermen with a penchant for transporting the occasional illicit cutting back to the mainland.
A decade-plus into the business, not much has changed: The ices may be made in a slightly more salubrious South London workshop these days, but global expansion is hardly on the agenda: As competitors from the U.K. and abroad have started to make their way into the London market, La Grotta has remained determinedly small in scale. Indeed, in an age of extremely online brands, La Grotta stands out for its modest digital footprint: no website, just an Instagram page with a few thousand followers, advertising the latest batch of flavors and the handful of similarly small-scale retailers where they will be sold. Quality, not quantity, is plainly at the heart of the enterprise, from the tiny "shed" in which she works (actually a converted greengrocers) to the petite scoops served (when it's warm enough out) at the Spa Terminus concession for £3 ($4) a pop.
A love of this sort of business model seems to have been instilled in Travers almost from birth—she remembers being cycled around on the back of her father's bicycle to his "favorite little places… little Italian delis run by old men." Now, as an adult, she tries to make it to Italy at least once a year.
La Grotta has Italophilia baked into its very name, and Travers is quick to place the Italian way of life in opposition to how the majority of people live in her native Britain. British supermarkets, for Travers, are the great homogenizer—the antithesis of life in Italy, with its myriad regional differences, its myriad "little small family places." It's no surprise, really, that this is where she has found her inspiration for La Grotta: "It couldn't be a really successful big company because everything's [carefully] chosen, and one week I'll have these oranges in that taste a certain way, and they might never be like that again."
Travers has a strikingly lucid and multisensory memory for fleeting moments like this. She describes eating a perfect peach—how it "just has that smell"; how it "stings your nose a bit with the fuzz"; the true challenge of her ice cream making is to capture the whole fruit, in all these multifarious aspects: "the memory associated with the aroma and the flavor is so strong it can take you right back to where you tried it…. Each ice cream is about that little moment." One such moment might be a glass of blood orange juice in Catania, Sicily, so vigorously squeezed that the essential oils had formed "a cream, like a cappuccino cream on top of it" and which tasted "like ice-cold strawberries and tangy oranges—incredible." Another, closer to home, is the dairy near where she teaches in Nottinghamshire: milk like "a dream," milk that "tastes very different to supermarket, homogenized stuff—flavors that you don't realize we're losing."
La Grotta: Ice Creams and Sorbets is the logical continuation of this desire to keep things homemade—and in contrast to any number of fancy restaurant tomes currently saturating the market, here the fact that recipes will not be prepared in a professional kitchen is a feature, not a bug. The nice thing about making it at home, Travers contends, is that you get to enjoy "the best way you can ever eat ice cream"—savoring "the freshly churned texture fresh out of the bowl." The home cook doesn't have to use any ingredients to stabilize the ice cream over time or keep the texture scoopable at extreme textures. "You can really control it," says Travers.
"Control" isn't usually a word associated with ice cream, something that by its very nature is always tending toward molten chaos. But it makes a weird kind of sense when Travers says it, because keeping things close, and personal, and handmade, is such a part of who she is. Perhaps it is why she originally wanted to become an artist. "A lot of being an artist is a reaction to something," she explains. "You might make a painting as a reaction to something, and my reaction to plants and Italy is to make an ice cream. That's my way of being an artist, I suppose. Going to art school, I knew I was interested in stuff like that, but this is the combination of taking what I really like and spitting it out the other end—and it happens to be edible."