A Smothered Steak That Spans Generations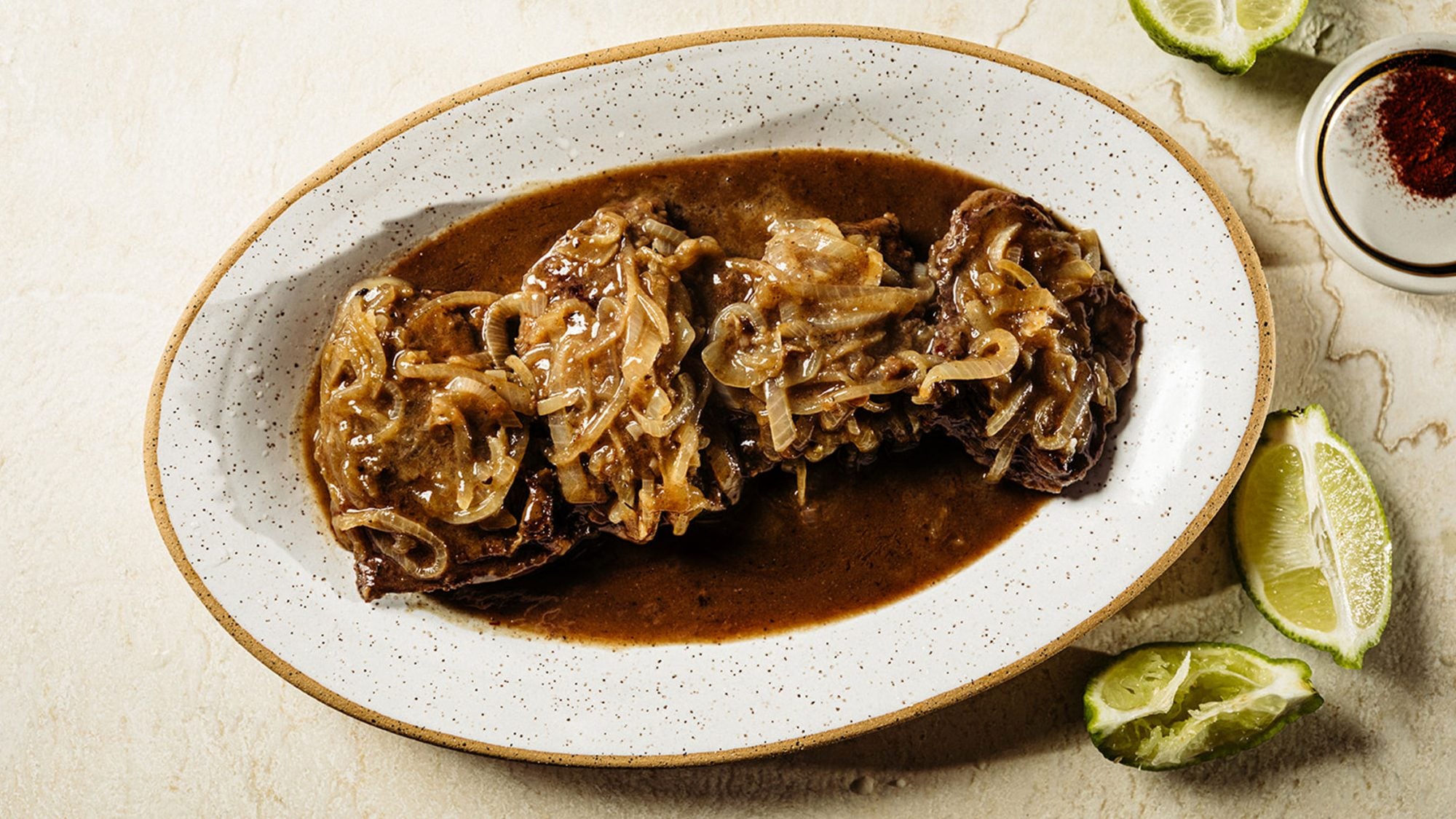 Retracing the steps and muscle memory of a recipe from Jim Crow–era Louisiana to 21st-century Northern California.
My grandfather, or "Shorty," as we called him, was a small, quiet, dark-skinned man from Jim Crow Louisiana. He learned to cook by hearing, touching, seeing, and tasting the culinary traditions that were passed on from generation to generation.
As wonderful as his gumbo and his stewed okra were, his smothered steak was my first food revelation. That first bite, and the initial discovery of a beautiful flavor that resides just beneath the surface of an unassuming brown exterior. A beauty that reveals itself, bite after bite, as a torrent of aromatic compounds seamlessly woven together by time and love. The warmth of a mouth provides just enough heat to melt the tender, gravy-coated beef on the palate. Even the rice is given new life by bathing it in the radiance of the gravy.
My grandfather must have felt this same revelation with his own first bite as a child. That shared experience, generations in the making, is an heirloom that, as a new father, I would love for my son to have. I want to create the indelible food memories and traditions he will cherish and, in time, seek to re-create for his children. Shorty, unfortunately, died before I had a chance to learn the skills and knowledge he inherited. So the smothered steak that I make in my own kitchen now, in San Francisco, is an interpretation of a cherished memory and a bridge between my past, our present, and my son's future.
Smothering is a Cajun, Creole, and soul food cooking technique of forming a light crust on a tough cut of meat and then slowly simmering it in a flavorful broth until it's tender. A light dusting of seasoned flour accelerates the browning of the meat, forming the crust and supplying the dish with a lovely depth of toasted flavor. Traditionally, smothered steak is cooked in a cast iron pan or a Dutch oven to evenly distribute a low, gentle heat. As the cooking liquid reduces, the flour thickens into a final, luscious gravy. The meat with gravy is served over a starch; Shorty used long-grain rice, but mashed potatoes or grits work, too.
Although the basic steps of this dish are simple, what I can never replicate is how Shorty's Black experience shaped his cooking.
Although the basic steps of this dish are simple, what I can never replicate is how Shorty's Black experience shaped his cooking. I cannot imagine the strength his generation of Americans summoned to maintain their humanity in the post-slavery era of lynching and Jim Crow laws. From that strength grew a self-confidence that shined in his cooking.
By comparison, my own Black experience as a third-generation Californian has been less harrowing. I went to an elite Catholic high school, followed by college and graduate school at elite public institutions. I was privileged enough to quit my research career to pursue my passion of cooking. Yet, as great as my opportunities were, there was always a mental tax that comes with being one of the few dark faces in white institutions. I paid it by internalizing other people's simplistic thoughts about what is too Black, not Black enough, or too white. As I matured, I freed myself from carrying the burden of meeting someone else's expectations. My Blackness and my self-confidence are a celebration of everyone who suffered and sacrificed for my opportunities.
Shorty's and my divergent life experiences are evident in our cooking approaches. Shorty was blessed with generational knowledge of how to make smothered steak from humble ingredients, and he fine-tuned his technique with decades of practice. In lieu of that wonderful culinary education, I summoned the wealth of knowledge I gained as a scientist and a chef to modernize his dish, while simultaneously honoring the essence of what made it so special.
The umami (read: MSG) notes in Shorty's recipe were probably added by rehydrating a bouillon as the base of the gravy. I bypassed the bouillon in favor of a combination of beef and chicken stock, and I amplified the beef flavor by using tallow as my cooking fat and infusing umami into the dredge through salt, porcini, mustard, onion powder, black pepper, and cayenne. Shorty's version was gently simmered on the stovetop from start to finish. My modernized recipe begins with a sear, followed by sous vide cooking to coax out the skirt steak's hidden velvety texture, and is finished with a gentle simmer.
When I cook my version, I imagine how Shorty would have first tasted smothered steak more than a hundred years ago in Louisiana, his grandmother applying her craft over a simple wood fire stove and filling the room with love and hope. My thoughts then turn to my childhood in Los Angeles and eating in my grandfather's '70s-styled kitchen. I remain in awe of the deliciousness he was able to harness in that space with a simple, inexpensive cut of meat. I fantasize about cooking my version of his dish for him. He would jokingly wonder why my kitchen looks like a science lab, but I hope that he would taste how much I learned from him. I dream about the first time my son will eat smothered steak; he will be about the same age I was when I first ate Shorty's version. He won't understand what that moment will mean to me until later in his life, perhaps when he teaches his own child this dish.
Despite the modern techniques and knowledge I used to articulate my version of smothered steak, there is deep love and appreciation of gifts I inherited from past generations. That love and appreciation will always serve as an inspiration for me, as a chef, a biochemist, and a Black man—but most importantly as a father.
In Don't Call It Comfort Food, a TASTE essay series, writers share the recipes (and not-recipes) that define comfort for them. In last month's column, Charisma Madarang wrote about the after-school memories of comfort in a mug.