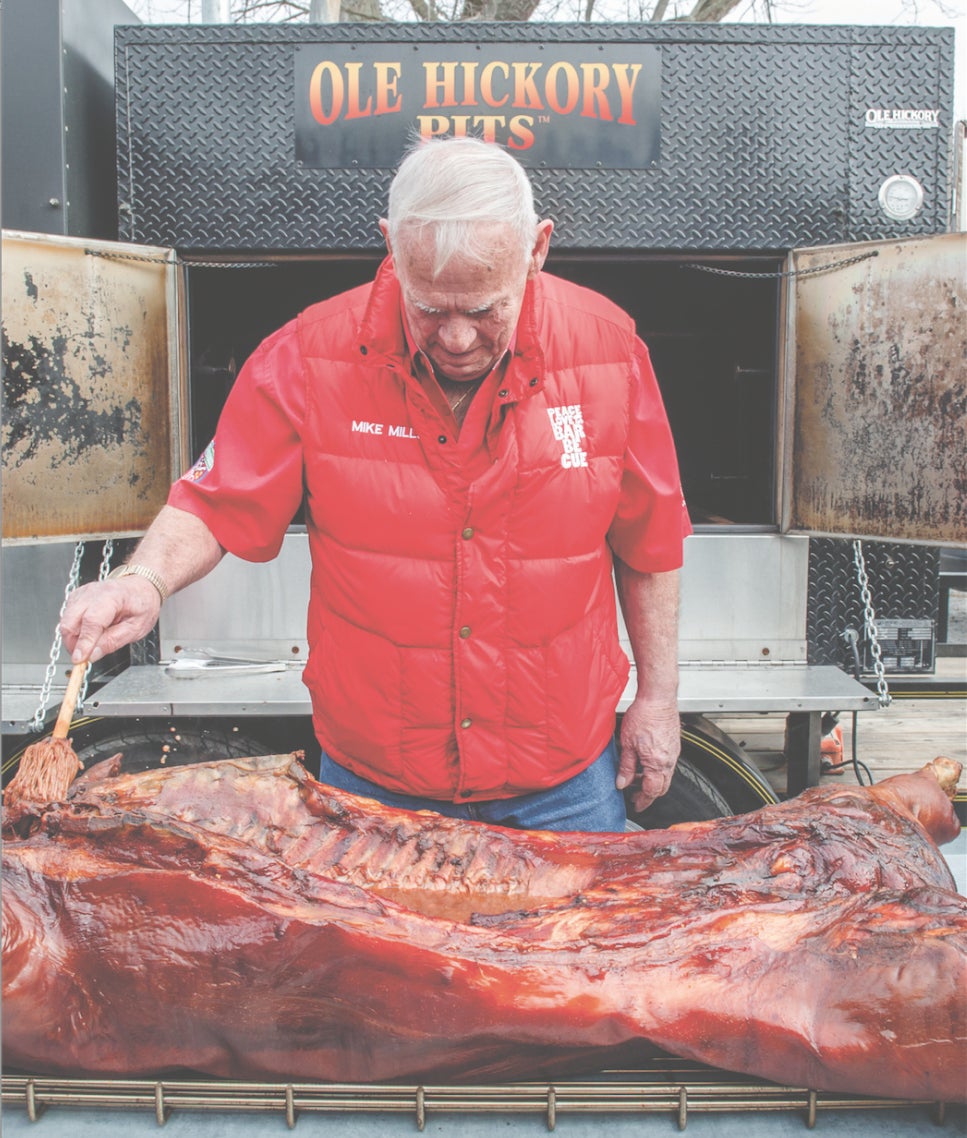 "You don't see the spaghetti people doing this," says competition barbecue boss and pit educator Mike Mills of the passion of his followers. A new book introduces secrets of at-home smoking.    
Mike Mills knows a thing or two about impressing barbecue judges. After all, he's won three Grand World Championships at Memphis in May, America's premier barbecue cook-off. But please don't ask him for tips on cooking championship-quality 'cue at home.
This has nothing to do with trade secrets. He just knows that competition techniques aren't meant for the backyard. "Judges are taking just one bite of each entry, so that bite has to be a burst of flavor," Mills writes in Praise the Lard: Recipes and Revelations from a Legendary Life in Barbecue, the new cookbook he co-wrote with his daughter Amy. Contestants simmer ribs in honey and apple juice, poach chicken in butter and inject salty broth into "one-bite" brisket. "If you ate an entire serving of some competition barbecue," Mills warns, "you'd probably have a stomachache."
Instead, Praise the Lard advocates for barbecue "in all its natural glory"—a no-nonsense approach focused not on gimmicks or gadgets but on solid fundamentals. And you couldn't ask for more authoritative sources than Mike and Amy Mills, a powerhouse father-and-daughter duo with some of the most influential voices on today's barbecue scene.
They've garnered a room full of competition trophies, built a flourishing restaurant business, mentored a generation of new barbecue cooks and transformed tiny Murphysboro, Illinois (population 7,811) into a barbecue destination. Praise the Lard adds a new chapter to that legacy by setting its sights on the backyard.
"Nothing tastes better than the barbecue you cook in your backyard," the Millses assert firmly. "This is as true for seasoned pros as it is for those who are new to the flame-taming game." And so they set about offering a "sermon on smoke," covering everything from selecting your wood and formulating spice rubs to knowing when to remove the meat from the pit.
Ultimately, their approach is grounded in the notion of hospitality—using fire-cooked meats and tempting sides to bring people together. And that means everything from brisket and pulled pork to garlic-buttered ribeye steaks. The recipes are geared less to wow guests (there's neither sous vide tenderloin nor monstrous bacon-smothered concoctions) than they are to satisfy them, whether it's opening with "Devil's-in-the-Details" deviled eggs ("always the first thing to disappear off the Southern buffet table") or closing with Church Cookbook Peanut Rolls, an old-school treat found almost exclusively in southern Illinois.
This concept of fellowship and community is what drew Mike Mills into the barbecue world in the first place. Back in 1985 he was operating a dental lab in Murphysboro and decided to buy a local bar and grill as a sort of side gig. The goal, he explains, was to create the kind of gathering place where he'd want to hang out, a place where people would feel good and warm.
Mills had been cooking chicken and ribs in the backyard for years, and he started serving barbecue a few times a week at the bar. It quickly became the main attraction.
In 2002, the Millses headed east to help Danny Meyer open the acclaimed Blue Smoke in New York City, and the following year they helped launch the first Big Apple Block Party in Madison Square Park, introducing the masses to traditional regional barbecue. After establishing a second 17th Street Barbecue outpost in 2004 in nearby Marion, Illinois, they turned their energies toward mentoring other entrepreneurs.
Through OnCue Consulting, Amy advises restaurateurs across the country on the business side of barbecue operations. In 2011, the Millses staged the first Whole Hog Extravaganza, an annual industry conference that brings dozens of aspiring barbecue pitmasters and restaurateurs to Murphysboro, where they learn hands-on from some of the best in the business.
One theme underlies their advice to industry insiders: Barbecue is not just a business, it's a calling. Or, as Mike told the gathered crowd at one of their industry events, "you don't see the spaghetti people doing this."
That notion of barbecue exceptionalism carries over to the backyard, for nothing draws a crowd faster than meat cooking on a pit. For those who want to go whole hog, Praise the Lard offers an entire chapter with detailed instructions for procuring, prepping and cooking a whole pig. For those preferring more coursed-out cooking, there's a chapter devoted to upscale dinner party fare like prime rib roast or coffee-crusted beef tenderloin.
But the core of the book focuses on the fundamentals, including 17th Street's signature baby back ribs along with pork shoulder, chicken and brisket.  For those ready to branch out, there are slightly more esoteric entries like pit-smoked pastrami and caramelized Midwest-style pork steaks, which are first slow smoked then finished with a high-heat sear and a light mopping of sauce. Throughout, the authors insist on using the highest quality of ingredients, and they promote a made-from-scratch mentality—whether that's grinding your own meat for beer brats and burgers or simply blending your own spice rub.
All in all, Praise the Lard is a serious barbecue primer that doesn't cut corners, but it's still accessible to even a novice backyard cook. Its guidance covers everything from selecting wood to knowing when the meat is done, and it details common pitfalls to avoid, all delivered with a healthy dose of wit. (Mike Mills on whether to wrap meats with aluminum foil: "I used to wrap my ribs, until I learned how to cook 'em right.")
The best cookbooks do more than just catalog recipes and tips. They establish a guiding philosophy for their authors' style of cooking. In Praise the Lard, Mike and Amy Mills do precisely that, advancing a theory of barbecue hospitality that's expressed succinctly in this equation: "Barbecue = Food + Family + Love."
That's the kind of culinary math we can all get behind.