A Pot, a Pan, and a Plan for the Planet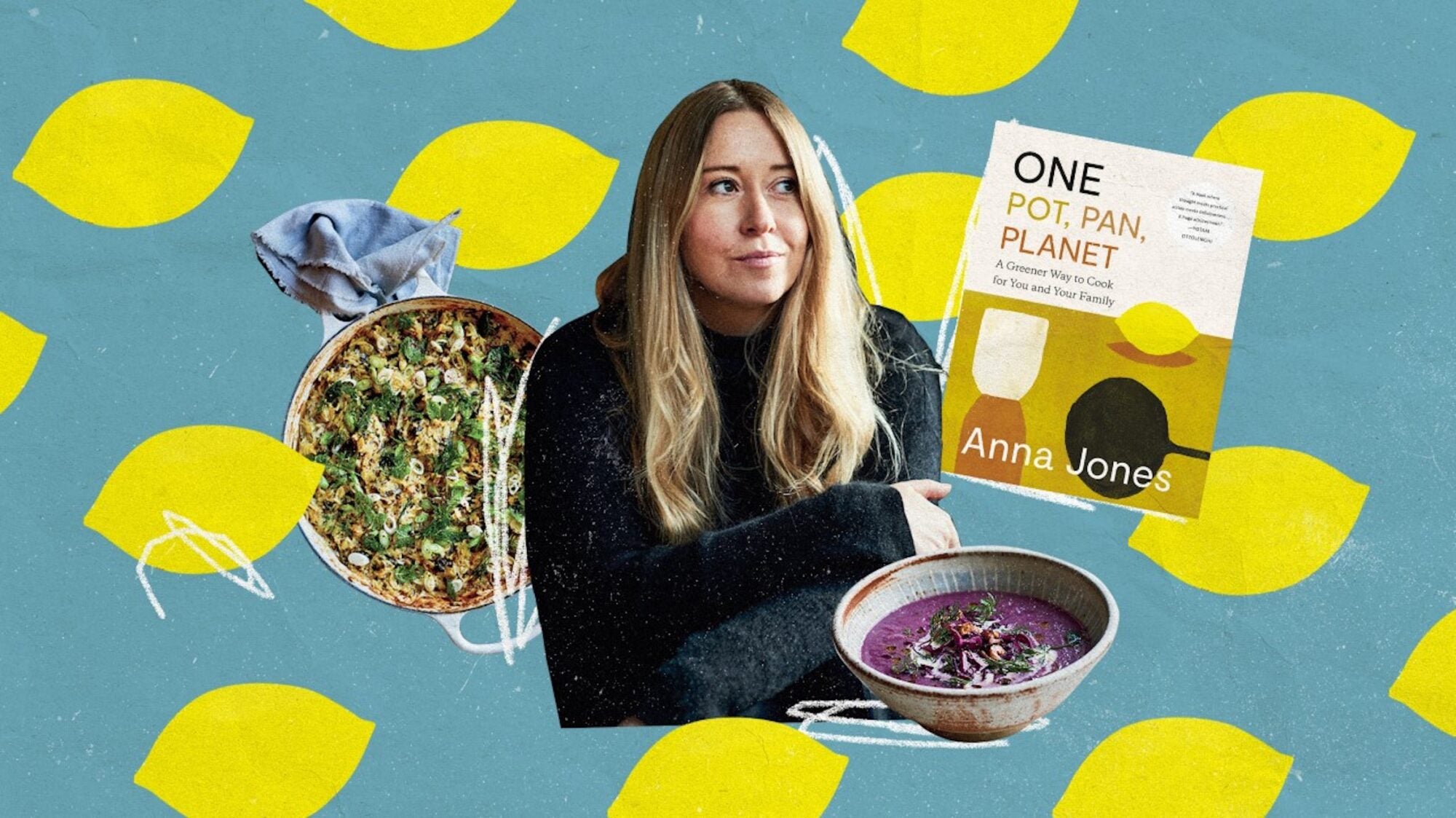 In her latest cookbook, Anna Jones lays out a wholistic, minimalist, totally doable plan for cooking sustainably.
What defines our current era of home cooking? Is it an aspiration toward mindful eating? An eye for verdant vegetables? Maybe it's all those things, mixed with a healthy dose of realism about climate crisis?
Over the course of her first three cookbooks, A Modern Way to Eat, A Modern Way to Cook, and The Modern Cook's Year, English author Anna Jones has grappled with this question. It's a topic we talked about when Jones was a guest on the TASTE Podcast three years ago, and it's a topic that Jones has returned to, with great purpose, in her latest cookbook, One: Pot, Pan, Planet.
One: Pot, Pan, Planet provides a wholistic, feasible, and flexible plan for how a home cook can think about the massive, daunting question of eating sustainably. There are tips for growing your own food, using up odds and ends in the refrigerator to avoid waste, and promoting biodiversity through your buying habits. And for the busy home cook who just wants to get dinner on the table without running to the store for a package of chicken parts, there are big, herby pots of baked orzo in yogurt, sticky flash-fried tofu, and hearty bowls of red cabbage soup.
Your previous books have all put an emphasis on seasonal cooking that highlights fresh fruits and vegetables. What made you decide to write about one-pot (or pan) recipes in this book?
Each book I write builds on the last. You never stop learning in the kitchen, and that's what I love so much about food and cooking. This book takes all the things that I have talked about in my previous three books and that are important to me when it comes to the kitchen—from putting plants at the center of my table to eating seasonally—and builds on them. When I sat down to write this book, I knew sustainability, along with great recipes, was going to sit at its center.
When I started looking into how we cook and the changes we can make as individuals in the kitchen, a big piece of the conversation that had not yet had much attention is the energy we use when we cook. About one-third of the energy we use in our homes is used in the kitchen, so reducing the number of appliances we turn on when we cook and reducing dishwashing saves energy. It's also a simple and life-friendly way to cook. That's why I decided to build the book around recipes that can be cooked in one pot, one pan, or one tray.
As you write, eating in an environmentally conscious way is about more than just avoiding meat or fish. It's also about how we're sourcing plant-based ingredients. How do you strike the balance, when you're writing a cookbook on this topic, between giving people impactful advice and giving people advice that's feasible for them to follow?
All the information on the climate crisis, and what we as individuals can do, can feel overwhelming. While we need to be real about the seriousness of what's going on, I think it's important to focus on one manageable step at a time. We make 35,000 decisions a day; that's a lot of potential for making a change. What we need, of course, is a systematic change in our food system led by our governments, but each small choice we make matters, and it is up to us to make different choices as well as demanding action from those who hold the power and purse strings.
Our food system has the single biggest impact on the climate. It affects every inch of our planet and every creature on it. If we want to help slow and, one day (hopefully), begin to reverse climate change, it is widely agreed that the most powerful thing we can do is eat fewer animals and more plants. For you, that might mean one meal a day without meat, or it might mean fine-tuning your vegan diet. However it looks, start from where you are, and don't look back. Change comes from what we do next. Try to make sure as many of the food decisions you make line up with how you want the world to look.
Were there any vegetables or fruits that you flat-out avoided in your recipes because of their effects on the environment?
The main thing I try to focus on is eating fruit and vegetables that are in season. What those are will depend on where you are in the world, so in all the recipes, I have tried to give alternatives for vegetables that can be used as the year passes from spring to winter, so that each recipe is always doable. In this book, I did steer clear of avocados, as in the UK, where I am, we can't really (apart from the short Italian season) get hold of ones that are not flown in. Also, I think there are enough recipes for avocados out there. We've hit peak avo on toast now.
One of the biggest takeaways in the book for me was your section about what you call "the protein question," where you look at all the ways people can get the protein they need without meat. What do you think are some of the biggest misgivings we have as a society about protein?
I think we've become a bit obsessed with protein. In some ways, it's easy to see why. Protein performs a vital role in every cell in our body. It's needed to build and repair tissue, and it's a building block of our muscles, skin, and blood. For a long time, meat has been seen as an important source of protein in the Western diet, but for those of us who put vegetables at the center of our plates, how do we know if we are getting enough? This is still one of the questions I get asked the most. The truth is, on average in the UK, where I live, we eat almost double the protein we need, and it's a similar story in the United States.
Some research has shown that vegans do require a higher protein intake because of the way our bodies process plant protein. Even then, a daily intake of one gram per kilo of body weight is recommended. There are, of course, plenty of plant-based protein sources. Pulses, beans, quinoa, nuts, seeds, and whole grains are all brilliant ingredients for a diet rich in nutrients, fiber, and protein.
A perpetual dilemma for me when cooking from cookbooks and following recipes is that I often wind up buying everything I need for one recipe, but then I wind up with odd amounts of leftover ingredients. I loved making the Preserved Lemon and Herb-Baked Orzo from your book recently, and I had some assorted herbs leftover. What's your favorite way to use up a bunch of odds and ends of herbs that you have lying around?
A big part of this book is looking at how we tackle food waste. Part of that is in the recipe writing—I try, in all the recipes, to use up a whole bunch or a whole packet so that there's not an annoying last little bit leftover, but that's not always possible, as ingredients differ so much.
For the herbs that you mention specifically, here are a few tips: I store herbs in glasses filled with a little cold water, as you would flowers, and keep them in the milk/bottle compartment in my fridge. This means I am met with an amazing smell every time I open it, it reminds me to use them, and they last longer. You can also chop and freeze herbs in ice-cube trays or reusable bags. Or make a green herb salad using soft herbs as if they were salad leaves—a mixture of a few is nice, and it'll be the most exciting salad you've ever eaten.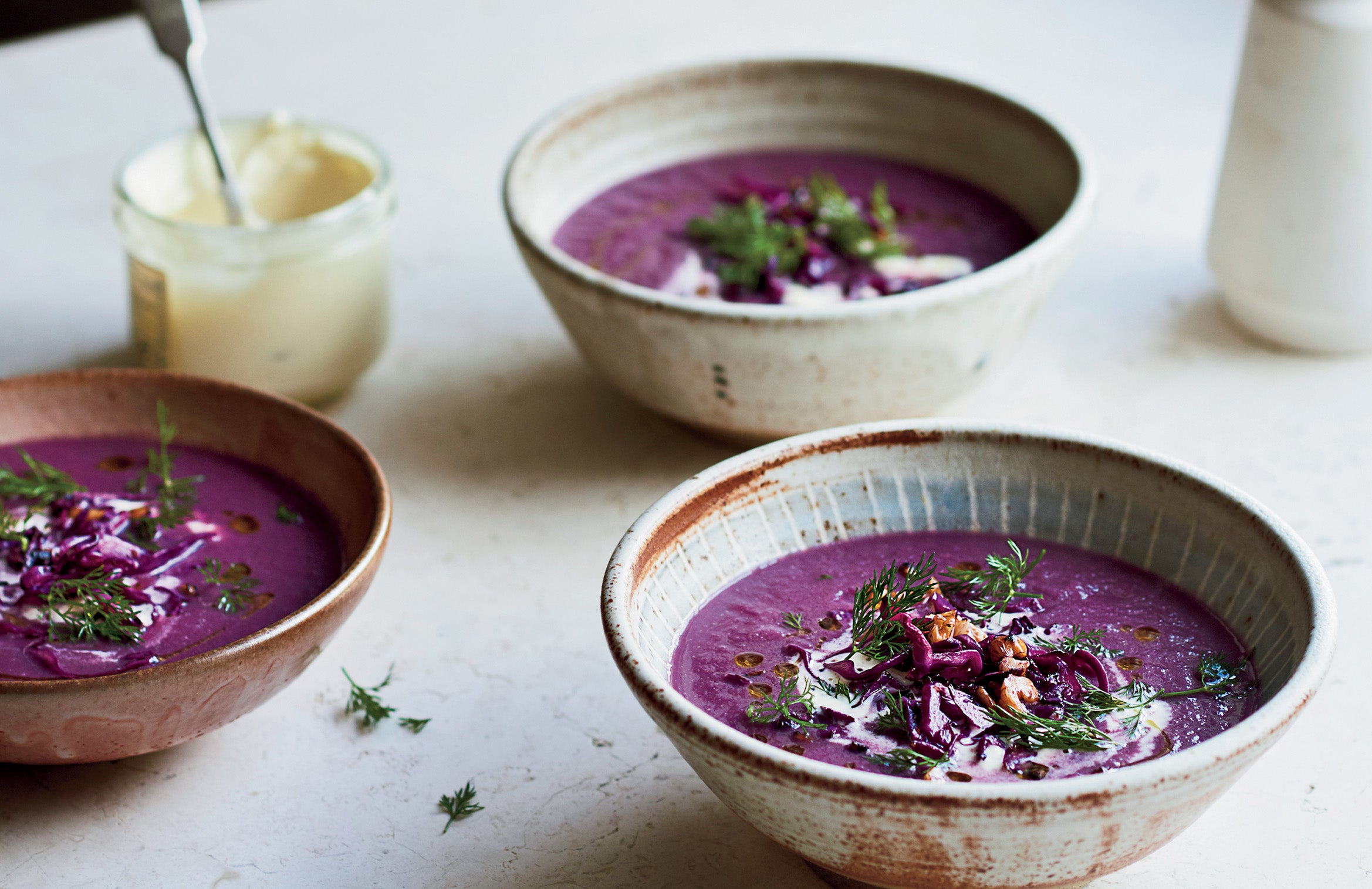 THREE EXCITING RECIPES FROM ONE: POT, PAN, PLANET:
Winter Red Cabbage and Apple Soup
A sweet, earthy, caraway seed–flecked soup that can be made creamy with a swirl of crème fraîche.
Quick Squash Lasagna
A few shortcuts make this butternut squash lasagna a feasible weeknight project for a chilly winter night.
Preserved Lemon & Herb-Baked Orzo
With a smattering of herbs and a few pantry ingredients, this one-pot yogurt-baked orzo can be yours.