A New Dawn for Grandma Cooking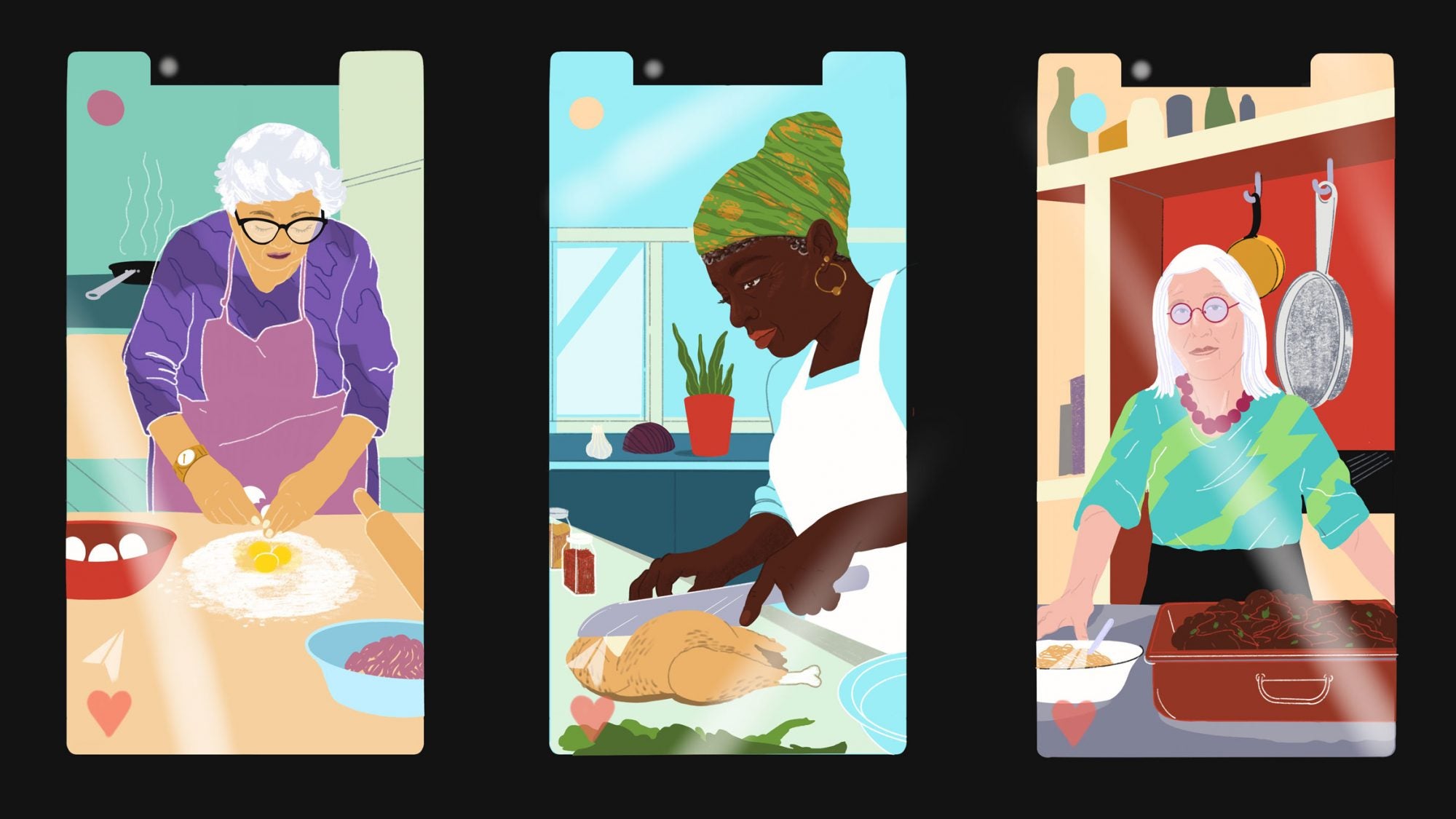 Behind every buzzy, viral internet recipe, there's a grandma who was doing it first.
"You don't want me in your book," an English grandma warned Anastasia Miari and Iska Lupton, authors of Grand Dishes: Recipes and Stories from Grandmothers of the World. Demurring that her husband was the one with the career, and she was merely an improvisational cook, the 75-year-old grandmother of 16 in fact had a fascinating life story. In her 20s, she moved with her husband, a military doctor, and their two babies to Uganda. She traversed Tanzanian villages delivering iodine capsules to local women and prepared warming peanut stew for hospital patients' lunch using stray chickens that wandered into the ward.
"Lots of these women don't get listened to much anymore after 50, when their stories are actually epic," says Lupton, who spent four years traversing the globe with Miari to collect recipes and life stories from 70 different grandmothers for the book. "Their recipes are so tried and tested, developed over years and years. And, as we learned, they're so much about context."
Grand Dishes was published in June, and it's only the latest in a flurry of recent cookbooks devoted to matriarchs laboring behind the scenes in kitchens worldwide, from Hawa Hassan's In Bibi's Kitchen: The Recipes and Stories of Grandmothers from the Eight African Countries That Touch the Indian Ocean, to Vicky Bennison's Pasta Grannies: The Secrets of Italy's Best Home Cooks, which is based on her popular YouTube channel.
Still, the recognition is only recent. "Granny cooking is taken for granted, and it's somehow not considered 'proper cooking,' though of course it is," Bennison says. "I think, in the temple of gastronomy, it's the wise women who were the oracles, but it's the merchants, the stall holders, who've been given the acclaim."
Indeed, for decades, we've been on a steady—decidedly masculine—diet of celebrity chefs and competitive cooking shows set to bombastic music with high drama. Meanwhile, the proliferation in food media of recipes featuring a revolving door of trendy ingredients—offering little in the way of historical or culinary context and rarely any interconnection besides knocking us sideways with umami, spice, or acidity—have rendered us restless flavor magpies, ever seeking what's next.
Granny cooking, meanwhile, yanks us squarely back home.
Granny cooking, meanwhile, yanks us squarely back home. Simple techniques—passed down and honed until they become muscle memory—lay the groundwork for many dishes that have become canon in food media. Long before restaurants touted $300 farm-to-table tasting menus and Sam Sifton extolled the joy of recipe-free cooking in the New York Times, family matriarchs cooked and preserved ingredients from their backyards out of necessity and frugality—and relied on look and feel over weights and measures. Finally, the grannies are getting their due—even going viral on YouTube—though they'd probably scoff at this notion.
Bennison created the Pasta Grannies YouTube channel in 2014 to record 80-plus-year-old women making fresh pasta in Le Marche, Italy, where she has a home. The last generation, as Bennison notes, "who really didn't have a choice about getting food on the table" and were forced into a life of domesticity (and, in some cases, professional cooking), the women in this age group have held court in kitchens throughout Italy, yet they have remained mostly absent from cooking media.
Watching Pasta Grannies is soothing and rhythmic, the visual antithesis of the frenetic chopping and yelling of cheffy TV. The many nonnas profiled mix and knead flour and eggs with zen-like assuredness until the dough is smooth and shiny. Back and forth, they roll up and unfurl the thinning circle of butter-colored dough on the rolling pin, rotating and gently stretching it until it resembles starched linen. "What's the term—'ASMR'?" Bennison laughs. "It's beautifully automatic, like watching laundry."
Bennison routinely fields emails and YouTube comments from viewers who say watching Pasta Grannies helps them through anxious moments or transports them back in time to their own grandmothers' kitchens. Viewership soared by 60 percent at the start of the pandemic, as people sought the virtual warm hug of hanging out with family and learning a gratifying, accessible culinary skill. "It's not hard to achieve some level of competence with pasta-making," Bennison notes. After just a few episodes, you can discern that they usually start with 200 grams of flour and three eggs.
"It is the best way to learn how to make pasta without traveling to Italy," agrees Oakland chef Dominica Rice-Cisneros, for whom the show offered not just a salve during lockdown but real cooking advice. Rice-Cisneros's own restaurant, Bombera, prioritizes hiring Latina women in their 50s and 60s from underserved neighborhoods, together with younger staff who learn from their decades of expertise in making corn tortillas a mano—a once-rich tradition in Los Angeles and the Bay Area that all but died off in the early 2000s. Since opening her first restaurant, Cosecha, in 2008, she sought to honor this long-unappreciated art. Employing señoras to mentor younger Chicanos sparks intergenerational knowledge-sharing about cooking and celebratory traditions.
"We take a lot of pride in those conversations and in reconnecting people to those histories," she says. Plus, there's something about grandma energy that commands instant respect and keeps young cooks in line. "With the señoras, everyone is on their best behavior—the language, everything—just by having them in the room. There's this sense of, 'she's not my grandma, but she is somebody's grandma.'"
It's hard not to feel respect and gratitude for a meal that's rooted deeper than what someone felt like whipping up that day.
Meherwan Irani, chef/owner of Chai Pani in Asheville, North Carolina, likewise started hiring Indian aunties in 2012, while planning the second, Decatur, Georgia, location of his Indian street-food restaurant. "My [then–chef de cuisine, Daniel Peach,] and I had just come back from India, and Dan had an epiphany that, hands down, the best food we ate was in people's homes, cooked by aunties. Indian women are the culinary backbone of India, yet it's men that dominate the commercial kitchens!"
A term of endearment and respect for moms, aunts, and grandmas, the aunties in Chai Pani's kitchen aren't all granny-age—a few are in their 30s. But their approach to hand-rolling and folding hundreds of rotis and samosas daily demonstrates "the simple joy of repetition and mastery" that often gets lost in the monotony of restaurant cooking. Irani recalls one auntie marching over and sticking her hand into a listless batch of dosa batter to jump-start fermentation with "the natural bacteria of her hand." When his own mom took up a three-month residency to train the line cooks, she'd lovingly whack the tattooed bunch with a towel to correct them, and scold, "Don't Americanize it," when they made a dish too spicy. "Everybody listened," he says.
Miari relates a similar tough love when discussing her own yiayia, who inspired Grand Dishes and has lived her whole life on the Greek island of Corfu. "She has always been very stoic and quite a force to be dealt with; she had a very hard life," Miari says. "The food she makes is the only way I can see that she cares and loves me."
It's hard not to feel respect and gratitude for a meal that's rooted deeper than what someone felt like whipping up that day. For our long-wanderlusting souls, there's also grounding consistency in these enduring dishes—"edible batons," as food writer Mina Holland put it in the Grand Dishes introduction. Grannies' self-assuredness in handling ingredients is a tangible outcome of living—through revolution and ingredient shortages, through moving borders, through marriage, war, and death. Feel the pasta dough until you start to understand the right hydration level. Get your whole face in there to smell the fish for freshness. Don't you dare throw away those beef trimmings.
"We've gotten so used to following recipes resolutely that we're not questioning the steps of the journey," Lupton says. "With granny cooking, each element is so considered. You can't rush it; it's about doing everything right."