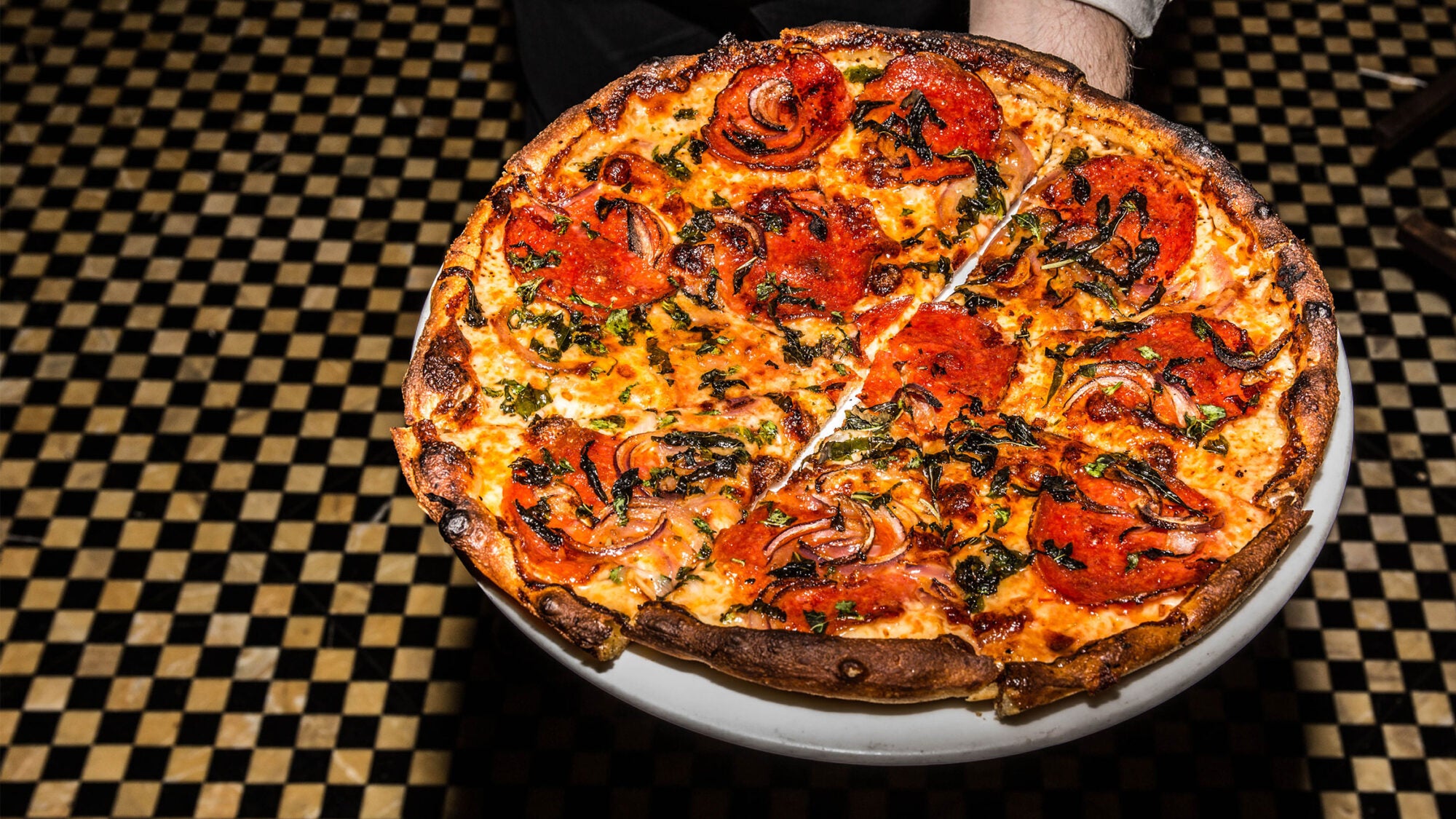 We already knew the slice was recession proof. Now we're learning the parlor is pandemic-proof, too.
During tough moments in our nation's history, pizza has always been there. American soldiers stationed in Italy during World War II ate pizza in droves, introduced to the GIs through local street vendors. When President Barack Obama and his Cabinet were hunkered down in the Situation Room during the 2011 Osama bin Laden raid, they ordered pizza to get through the night. Amid the 2008 economic crisis, pizza parlors posted booming sales. "It is the thing that people go to in times of need," says Scott Wiener, the director of Slice Out Hunger, a nonprofit dedicated to providing hunger relief in the form of pizza. 
Now, during a once-in-a-generation pandemic, pizza is once again answering the call. Slice, a quickly growing app that runs takeout and delivery for 12,000 independent pizzerias across the country, saw orders almost double between April and May, and the trend has continued at a similar pace through the end of the year. 
"Pizza has a place in the American ecosystem as a valuable, accessible, fast option on a national scale," says Slice founder and CEO Ilir Sela. Sela, who founded Slice in 2010 after seeing a growth opportunity through his family's pizzeria on Staten Island, not only observed a massive uptick in demand during the pandemic, but also an increase in new businesses wanting to join the platform. As many restaurants scrambled to set up rudimentary takeout infrastructure in March, Slice suddenly felt very prescient.  
The restaurant industry has been decimated by the pandemic, with at least 2.3 million jobs still lost, and many beloved neighborhood spots forced to shutter forever. But the pizzeria has proven especially resilient, thriving where others have not. While pizzerias have certainly suffered from many problems that all restaurants have faced—staff shortages, minimal guidance on safety protocols from the government—they have benefited from selling a product that is already widely known and beloved (there are more than 77,000 pizzerias in the United States alone, according to 2019 data), affordable (the median price of a pizza in the United States swings from $7.25 to $15), and is tailor-made for takeout—it's hardy, it's delicious even when it isn't piping hot, and it's portable.
And, finally, pizza is the rare food for which the economics make sense for both the seller and the consumer: it's a high-margin item—the ingredient cost is low relative to the price—yet for $13, you can feed a family of four with a 16-inch pizza. A rare win-win in a sea of Ls.    
Pizza is the rare food for which the economics make sense for both the seller and the consumer: it's a high-margin item—the ingredient cost is low relative to the price—yet for $13, you can feed a family of four with a 16-inch pizza.
Restaurants are fully capitalizing on pizza's wide appeal and healthy margins, modifying their recipes to be more takeout friendly, and offering pizza in many formats—frozen, part of an at-home assembly kit, and served on a mobile food truck in locations underserved during the pandemic. 
And this year, as pizzerias have become a pivotal part of feeding people stuck at home during lockdown, at hospitals, standing in voting lines, and participating in protests, the food item has become more than just a good business model. It's become a symbol of resilience and sustenance during a time of uncertainty. 
Mya Anitai saw firsthand the difference between owning a pizzeria and owning another style of restaurant during the pandemic. She runs Franny's Pizzeria in Highland, New Jersey, along with a more upscale spot called Dinamo in Richmond, Virginia (as pictured in all the photos with this story). While very little pivoting was required at Franny's when the pandemic hit—she was already doing a busy takeout-and-delivery business— the bottom line at Dinamo suffered.
"We tried it for a week, and nobody wanted a $42 steak delivered to their house," Anitai recalls. On the other hand, sales at Franny's doubled starting in March. Guests told her often that they were more amenable to eating pizza since it was cooked at 500ºF (the virus particles were shown to die at high temperatures) and required minimal handling by staffers. Some people even requested that their pizzas be more lightly cooked, so the crust stays chewy for longer. Grandma pies vastly outsold Anitai's thin-crust pizzas, since the former can keep for several days in the fridge. 
To supplement business, Anitai sold DIY pizza kits. But even if she hadn't done the kits, she says, "I don't doubt we would have continued to do well." 
In Dallas, ZaLat Pizza's six locations have performed so well this year that owner Khanh Nguyen opened three new ones since the pandemic hit, and he's now gearing up for his tenth, eleventh, and twelfth. "All our systems were already technologically integrated," he says, "so there was nothing for us to do from a business-model standpoint." There was no reason not to expand. 
Pizza is also a business that doesn't require a big kitchen or physical operation. That's how Timber Pizza in Washington, DC, was able to quickly pivot from brick-and-mortar pizzeria to food truck, using the mobile oven it brings to events. Executive chef Daniela Moreira even adjusted the dough recipe for the restaurant's signature Neapolitan pizza, cutting the amount of water to create a thicker dough that can hold up the cheese and sauce over a long time without getting soggy.  
"People are so happy to see us," Moreira says. The smell of the wood-fired oven beckons diners to the truck. Timber Pizza has been everywhere from Alexandria, Virginia, to Silver Spring, Maryland—sometimes people grab a pizza to have a picnic nearby, and other times, it's a quick pickup to take something home for dinner. While Timber hasn't been able to recover all its lost revenue from weddings, it has been able to make enough to keep all its staff employed. 
Pop-up pizza businesses have experienced a full-on renaissance during the pandemic—experiencing all the benefits of selling pizza without the fixed rent cost. In Brooklyn, Miriam Weiskind, a Paulie Gee's alumna, started the 'Za Report, baking more than 100 pies out of her apartment in Brooklyn to donate to anyone who can't afford a meal, as well as doing pop-ups around the city. She posts a menu in the lobby of her apartment building, and orders come in mainly through Instagram. Mohamed Wahiba, who owns Tripoli Events with partner Emily Welch, started doing pop-ups, too—first at Maison Yaki in Prospect Heights, and now at Bed-Vyne Cocktail Bar in Bedford-Stuyvesant. At Maison Yaki, Wahiba offered pizza in addition to salads, pasta, and sandwiches, but pizza accounted for 75 percent of sales. Now, at Bed-Vyne—where Tripoli collects 100 percent of the revenue—he focuses on pizza, sticking mainly to classic flavors like margherita and pepperoni, as he says these perform better than specials like gouda with roasted mushrooms and caramelized onions.   
Food that requires silverware, or holding a container, poses challenges not just for a nurse on the go, but also for a protester trying to get quick fuel before traversing the city.
"We don't need a lot of equipment," says Welch. "It's two tables and an oven." The ingredient list is short, a lot of prep work can be done in advance, and the pizzas cook in a minute or two. 
La Morra, a mobile pizza business in Los Angeles, pivoted from doing weddings and wine fairs to selling frozen pizzas online—and though the margins on frozen pizzas are slightly worse than the cooked product, co-owner Marlee Blodgett says La Morra sells out most weeks (she declined to specify numbers). 
Pizza is "nostalgia and comfort—it feels universal," she says. That's why it felt like the perfect dish for La Morra to donate to food-insecure families in South Central Los Angeles, which it does through an organization called Watts Community Core. Many other pizza businesses interviewed for this story donate food to hospital workers, protests, and now polling places. 
In the spring, Anitai started sending pizza to her local hospital for lunch. "I was talking to the nurses, and they were like, 'Nothing is better than when we get pizzas delivered, as we are running around. We can change our gloves, grab a slice, and move on,'" she says. Food that requires silverware, or holding a container, poses challenges not just for a nurse on the go, but also for a protester trying to get quick fuel before traversing the city. Pizza can sit out for a while and still taste good, too.  
These local initiatives are supported by bigger organizational efforts. Pizza to the Polls sent 66,089 pizzas to 3,267 polling places in 48 states, to encourage voters standing in long lines to wait it out. Slice Out Hunger recently partnered with Slice to deliver pizza to frontline workers, raising $600,000 to purchase and send pizzas from independent spots across the country. 
Still—as they say—winter is coming, and like every other restaurant, pizzerias will have to find ways to prosper during the cold-weather slump, with no end to the pandemic in sight. Blodgett plans to keep La Morra's frozen pizza business going. Anitai says at-home kits will become a permanent part of her restaurant. Wahiba and Welch are in the process of opening a location for Tripoli Events that will exclusively do takeout and delivery. 
But, fortunately for all of them, pizza is one of the most agile food items—it can be eaten in any environment, whether cold or hot, fresh or reheated, slightly overcooked or undercooked, for a birthday or a political crisis. For every pizza that emerges from an oven, glistening with hot oil, there is someone in a break room, dorm, or home kitchen that would be elated to receive it.     
"We were lucky," Nguyen says, with a somber chuckle. "We thank the pizza gods every day that we are in the pizza business."