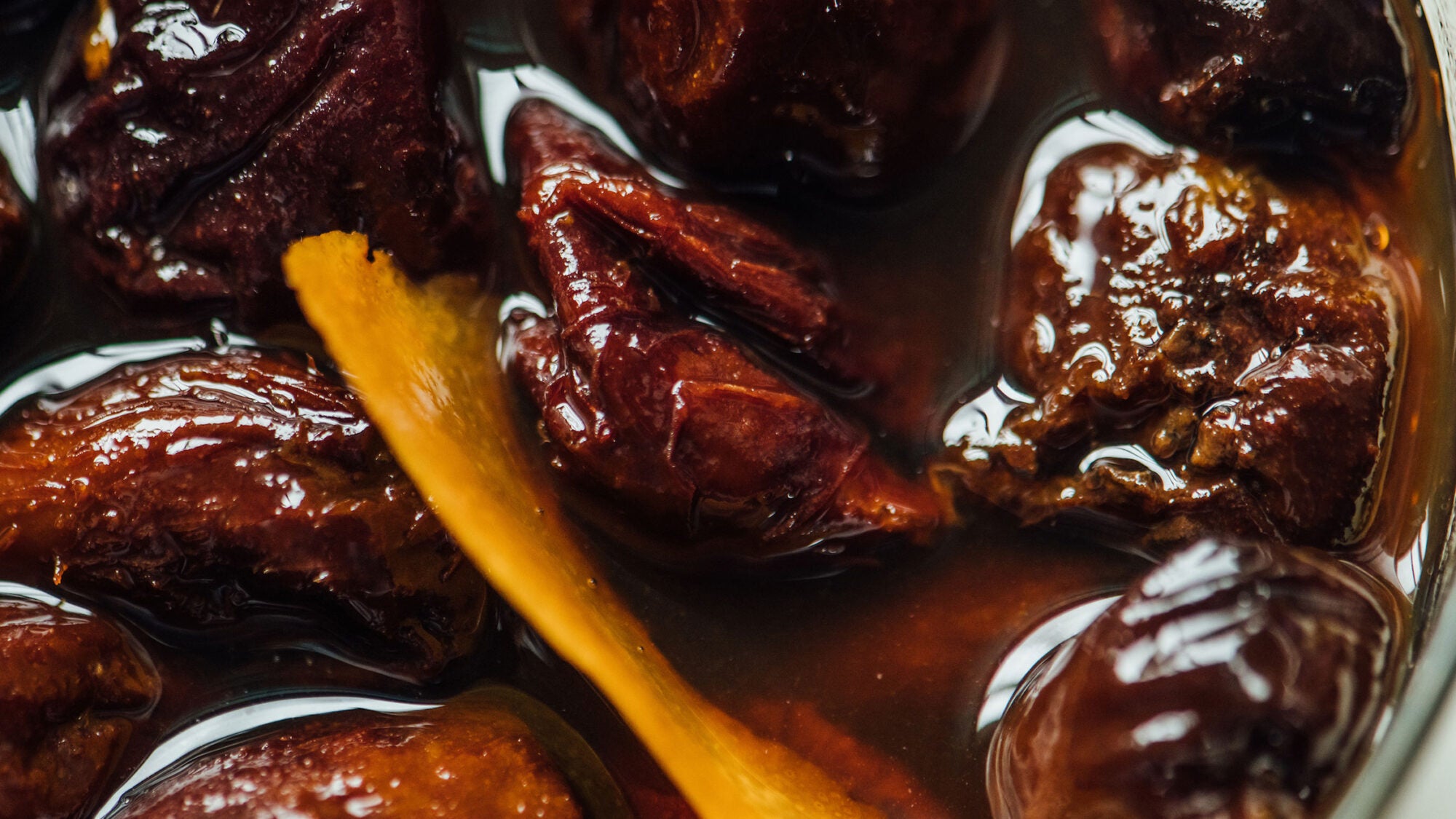 A trick from Zuni Café gives the maligned dried fruit a second life with tea.
Observe the prune to ascertain all that is good and right about one of the best cookbooks of at least the last 25 years: Judy Rodgers's The Zuni Café Cookbook. It's a mere four ingredients for the book's prunes in black tea: prunes, pitted or not; tea; sugar; orange or lemon zest. Okay, five ingredients if you count the water used to steep the tea leaves. And you should, because the water's temperature will vary depending on whether the employed prunes retain their pits. More heat for prunes with their pits; tepid water for pitted ones. The prunes go soft, luscious, extravagant with steeping. A flashy turn for a mousy fruit.
In the book, Rodgers suggests pairing the redolent prunes and their silky liquid with roasted duck, quail, or squab. She also notes they are "delicious for breakfast." I sprinted with this recommendation the first time I made the prunes, shortly after the book's release in 2002, and I've been plopping them on chewy steel-cut oatmeal since. Each time I pull a prune from its ongoing tea dip, I marvel at how an austere combination of ingredients, persuaded by rigorous instructions, elicits such a transformative result. Most recipes in the Zuni Café Cookbook operate the same way.
"Judy's book is a helpful guide to certain Zuni standards," says Christian Reynoso, sous chef at Zuni Café for the past two years. It has been more than five years since Rodgers, the restaurant's cofounder and chef, died. Reynoso met Rodgers but never worked with her. For him, "the book has so much detailed methodology about why we do things the way we do. As a younger menu writer, I refer back to the book all the time."
I ask him why and how the book's prunes are so good, so emblematic of the book's—and the restaurant's—point of view. "Lots of the book's recipes are lengthy. But they're based on the simple premise of using a few ingredients that serve a purpose." Reynoso likes his tea-infused prunes "with soft cheese and toast." He then tells me I should talk to Annie Callan, Zuni's pastry chef, who has worked at the restaurant off and on for ten years and has many a tea-prune thought.
"I used to make bergamot ice cream and squirrel in those prunes if they'd been steeping too long. They turned into this mushy, caramelly thing that was perfect for ice cream," recalled Callan. "Judy loved that ice cream." Callan has since snuck the prunes into an apple tart, suggests they would be great with roast pork, and proclaims their merit "with anything creamy. Make a panna cotta and place one luxurious-looking prune on top."
I ask her, as I did with Reynoso, how these prunes exemplify the Zuni way. "We ask ourselves, 'How can we make a beautiful fruit plate even in winter?' We always had prunes around, and there's a careful way to treat them. The water can't be super hot. Don't steep the tea for too long, or it gets tannic. You want the prunes and their orange zest–infused liquid to taste like the best cup of bergamot tea you've ever had."
I do not always have prunes around. You may not either. These days, I do often have tea-steeped prunes on a shelf in my fridge. They are a reminder of the metamorphic power of a sure-footed recipe, how any—and every—ingredient warrants a star turn.
A Kitchen in New Orleans. Many years of eating, cooking, and writing about food have left Scott Hocker with many stories to tell. In this occasional column, he re-creates a dish tied to a distant, or sometimes recent, food memory.