A Maximalist New Wave for Instant Noodles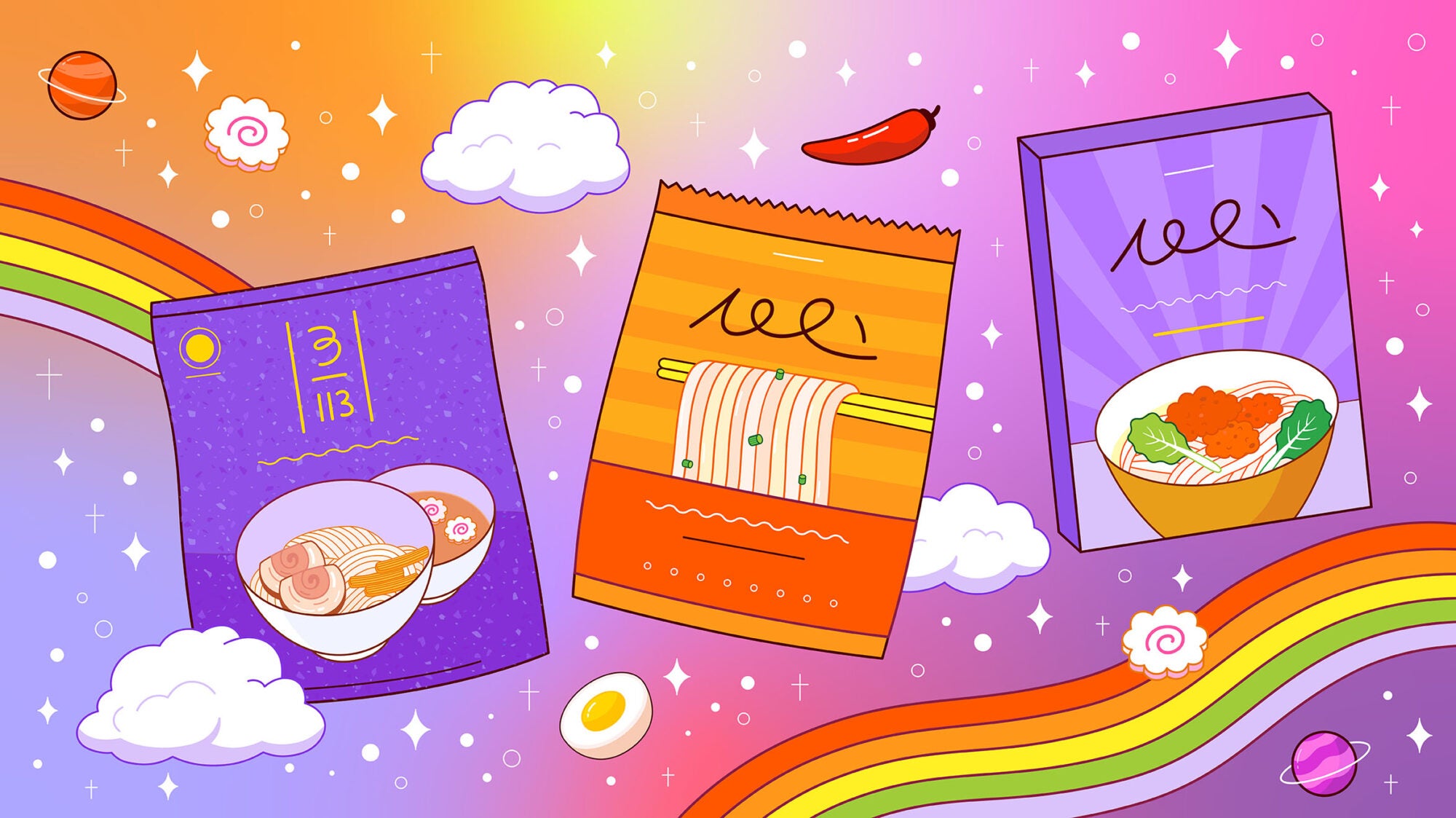 Head to the bursting instant ramen aisle for a cup-o freeze-dried lobster and high-quality, air-dried noodles.
In 2020, the chef and activist Jenny Dorsey spotted a video about a viral food trend in China: luosifen, affectionately known as "stinky" or "smelly" snail noodles. The rice noodle soup from the country's Guizhou province includes pungent pickled bamboo shoots, peanuts, tofu skin, and a spicy-sour snail broth. Eager to try a soup based on river snails, an ingredient that she loved to stir-fry with, but unable to find a restaurant serving the specialty where she lived in Northern California, Dorsey eventually first experienced luosifen like most people have over the last three years: through an instant noodle packet. While no stranger to the multiple seasoning sachets that Chinese instant noodles can include, this one took her by surprise—inside the noodles' mother plastic packet were eight individual sachets for the many components of the dish: the snail broth, the noodles, the toppings, and seasonings. "On one hand, I'm like, 'Wow, this is not very environmentally friendly,' but I was also just so impressed," Dorsey remembers. 
Translating the nuanced flavors of a complex regional specialty via instant seasoning packets might seem like an insurmountable task. But not by today's standards. Instant noodles have grown up a lot since entrepreneur Momofuku Ando created the first individual-size servings of "instant cook" ramen in 1958. In that time, the whole universe (yes, there are space noodles, so they're not just limited to Earth) has succumbed to the cheap and convenient necessity. The global instant noodle market is predicted to reach $38.5 billion by 2027, according to a Research and Markets report. 
It's clear that, cent for cent, there is no better value in terms of satiation and satisfaction than a bowl of instant noodles. And though the directions on packages are typically quick and straightforward, people around the world are constantly figuring out ways to twist instant noodles to their will, dressing them up with American cheese and SPAM, baking them into casseroles with cream of mushroom soup, crushing them uncooked in their packet with the seasoning to scoop up like chaat, or sprinkling them like chow mein atop salads. There's no wrong way to enjoy instant ramen, and its appeal escapes no one, regardless of race, economic status, or culinary prowess. Who hasn't stood over the stove, "Oriental"-scented sachet in hand, watching a bobbing briquette of noodles soften and spread out like telephone cords? 
It's clear that, cent for cent, there is no better value in terms of satiation and satisfaction than a bowl of instant noodles.
But something has happened in the world of instant ramen over the last decade. At the same time that customers have been zhuzhing up ramen to meet their particular tastes, brands have been stepping up their game in big ways. If you've been clinging contentedly to the same color-coded packets of ramen that you loved since you were a toddler, then you've been missing out on what the market has borne. Instead of that familiar (if one-dimensional) jolt of MSG, today's instant noodle world encapsulates not only esoteric dishes like luosifen and Okinawa soba but high-quality ingredients like freeze-dried lobster and traditional air-dried noodles, and even fresh noodles for a refreshingly refined—but no less convenient—experience.
Imagine a Willy Wonka factory right under your nose, gushing with snail broth, oozing chile and black garlic–infused oils, extruding, yes, oodles of noodle types from its porous walls, ready to lasso in anyone who comes close. Today's Asian grocery aisle is very online, making it easy to explore through e-commerce sites like Umamicart, Yami, and Weee. There are high-end brands of instant noodles from all over the world making inroads in US retail stores. And some of the most exciting instant noodles are made stateside, even available in big-box retailers like Walmart and Whole Foods markets, too.
"I've had some ramen from restaurants in the United States that was pretty good. There are instant noodle varieties that can top all of them," says Hans Lienesch, author of the cult website Ramen Rater. Lienesch has tried over 4,400 types of instant noodles and has reviewed 4,257 of them on his site. He's seen instant noodles retail for as much as $70 for a pack of eight and contain up to ten ingredient sachets per noodle pack. A recent trend he's observed is "flower pot" packages—cardboard cups that are a slight upgrade to the iconic Styrofoam Cup Noodles. And he has noticed many brands angling for a healthier, premium-positioned instant noodle product. 
"People want to get into Whole Foods, Trader Joe's. Especially overseas companies," says Lienesch.
Kenshiro Uki recalls that his parents sold kits of fresh noodles and soup base in Asian groceries in Hawaii as far back as he can remember. While their business, the pioneering and influential noodle manufacturer Sun Noodle, began in the late 1980s by customizing fresh noodles for restaurants in Honolulu, the retail side of operations always had a presence: "As a little kid, all the taste testing was done by my sister and me, and whatever we loved, they put on shelves," Uki recalls. 
His father, Hidehito, had traveled to Honolulu from Japan, originally planning to get his footing in the industry before returning to Japan to take over his father's noodle company. He ended up staying after meeting his wife, Keiko, who helped propel their business. Uki credits the fact that Sun Noodle was born in Hawaii for its rich selection of offerings: because they were catering to restaurant chefs who came to Hawaii from all over Japan, the Ukis learned to master many distinct styles of Japanese noodles from the north to the south. By the mid-2000s, when Uki joined the business, they were producing around 600 unique noodle styles for their various accounts. (Today, there are about 130 SKUs available in the mainland United States, made in three factories in Hawaii, California, and New Jersey; while Hidehito is still CEO, Uki is the company's President of North America, and is based in New Jersey.) 
"If you think about pasta, there are so many types—there's spaghetti, fettucine, et cetera. But in the ramen space, why is there only one?"
Once the COVID-19 pandemic hit, retail became more of a priority for Sun Noodle. In 2020, longtime restaurant customers closed overnight. Others began asking for help in figuring out takeout ramen. Suddenly, the business felt like a start-up, says Uki. "How do we serve our customers today?," he wondered. They had been selling fresh ramen kits in Whole Foods Market since 2015, the first non-Asian market to sell their product. In the summer of 2020, Sun Noodle launched an e-commerce site to sell ramen kits directly to consumers as well. Ultimately, it has been rewarding, as they've been able to share more noodle styles with more people all over the country, says Uki—like Okinawa soba, a highly region-specific thick wheat noodle; and Jiro ramen, from Yokohama, which envelops chewy wheat noodles in a rich, garlicky soup. 
Sun Noodle has collaborated with local business including Momofuku, Brooklyn Delhi, and chefs around the country on limited-edition noodles. Currently available with shoyu, miso, and spicy sesame soup bases, the fresh noodle kits take two and a half minutes to prepare and are priced at $5.99 for two servings. 
Recently, according to Uki, a customer complained that they could only order a maximum of eight kits at a time; it was all their kids wanted to eat.
"In Japan, where you started with craft ramen, then Momofuku Ando developed instant noodles for war times, here in the United States, it's the reverse—we started from instant, then went to fresh," says Uki. 
But in the past couple decades since non-instant ramen has become a culinary darling in the United States thanks to restaurants like Momofuku Noodle Bar, ramen bowls with fresh noodles came to be viewed as a luxury, unattainable for the average cook to reproduce at home. With fresh noodles instead of fried, and liquid broth instead of powder, Sun Noodle's instant kits enter the picture as a go-between. 
"For years, we were focused on restaurants. The pandemic showed us that people are not afraid to make ramen at home," says Uki. 
For some, it can be hard to separate the idea of instant noodles from cheap convenience food—of scraping by with it, or living in a college dorm and making it with a microwave. This was the association that Young Chang had always had with instant noodles growing up—a junk food that simply got you by. Growing up in the Midwest and California as a child of Taiwanese immigrants, he was happy to eat whatever instant noodles were priced lowest or on sale. That is, until his Taiwan-based brother-in-law became an investor in a 30-year-old noodle company, A-Sha, with a vision to expand it into an international brand. Chang left his corporate job in the entertainment business in the mid-2000s to help his brother-in-law scale up operations and launch outside of Taiwan; today, A-Sha is available in more than 15 countries. 
A-Sha's flagship product is its Tainan thin noodle, a dry or brothless noodle dish (gan mian) coated with either a soy sauce–based or sesame paste–based sauce. But today, the brand sells about 40 noodle styles, with and without broth, including a thick and squiggly knife-cut Hakka noodle, collaborations with brands like Hello Kitty and Momofuku, and a tendon noodle soup that's been on the top ten list at Ramen Rater for years.      
No matter what flavor, the key to A-Sha's brand—the name of which means "prestige," according to Chang—is keeping the ingredients pure and simple. A-Sha uses 99.9 percent finely sifted wheat flour with no filler, which yields each noodle serving about 11 grams of protein (compared to the typical 5 grams). Then the noodles are air-dried for 18 hours, rather than deep-fried like most dried instant noodle blocks. Chang says that this focus on the noodle itself leads to better flavor and texture as well as nutritional value. But the price point is low: a pack of five servings of the Tainan thin noodle usually retails for $12.99. And convenience is still the key ingredient—the raison d'être of all instant noodles with a soup or sauce included for one serving, ready to eat as a meal in minutes.
With no prior background in food and little exposure to high-end ramen brands before joining the company, Chang's attitude toward instant noodles changed, well, instantly.  
"We felt like if [instant ramen] were treated with more respect, then it could be a really elevated experience," says Chang. 
As an Asian American, Chang feels he's able to help bring the Taiwanese brand to new audiences, and part of that has been through collaborations as well as participating in AAPI initiatives and events. Currently, about 95 percent of A-Sha's business is in brick-and-mortar retail, but in addition to Asian supermarkets, the brand can be found in big-box stores including Costco, Walmart, and Target. 
While the brand is committed to retaining many of the same processes that have been in place to craft its noodles since 1977, Chang isn't afraid to experiment with new styles, too. A-Sha introduced a new blade-cut noodle that it calls "meteor noodle." It features a uniquely ridged texture that might resemble a star when cut through the middle, thanks to an additional blade applied to the sheet of noodle as it's cut through a machine.
"If you think about pasta, there are so many types—there's spaghetti, fettucine, et cetera. But in the ramen space, why is there only one? That's so backward," says Chang. "We feel the Asian noodle selection should be as wide and varied as that of pasta."
Shelve It explores the world of groceries, from the fluorescent-lit aisles to the nooks and crannies of your cupboard. We dive into why certain ingredients got pantry staple status, the connection between cookbooks and buying habits, the online-ification of grocery shopping, and what gets shelved along the way.