A Kitchen Full of Mac Salad and Mochiko Chicken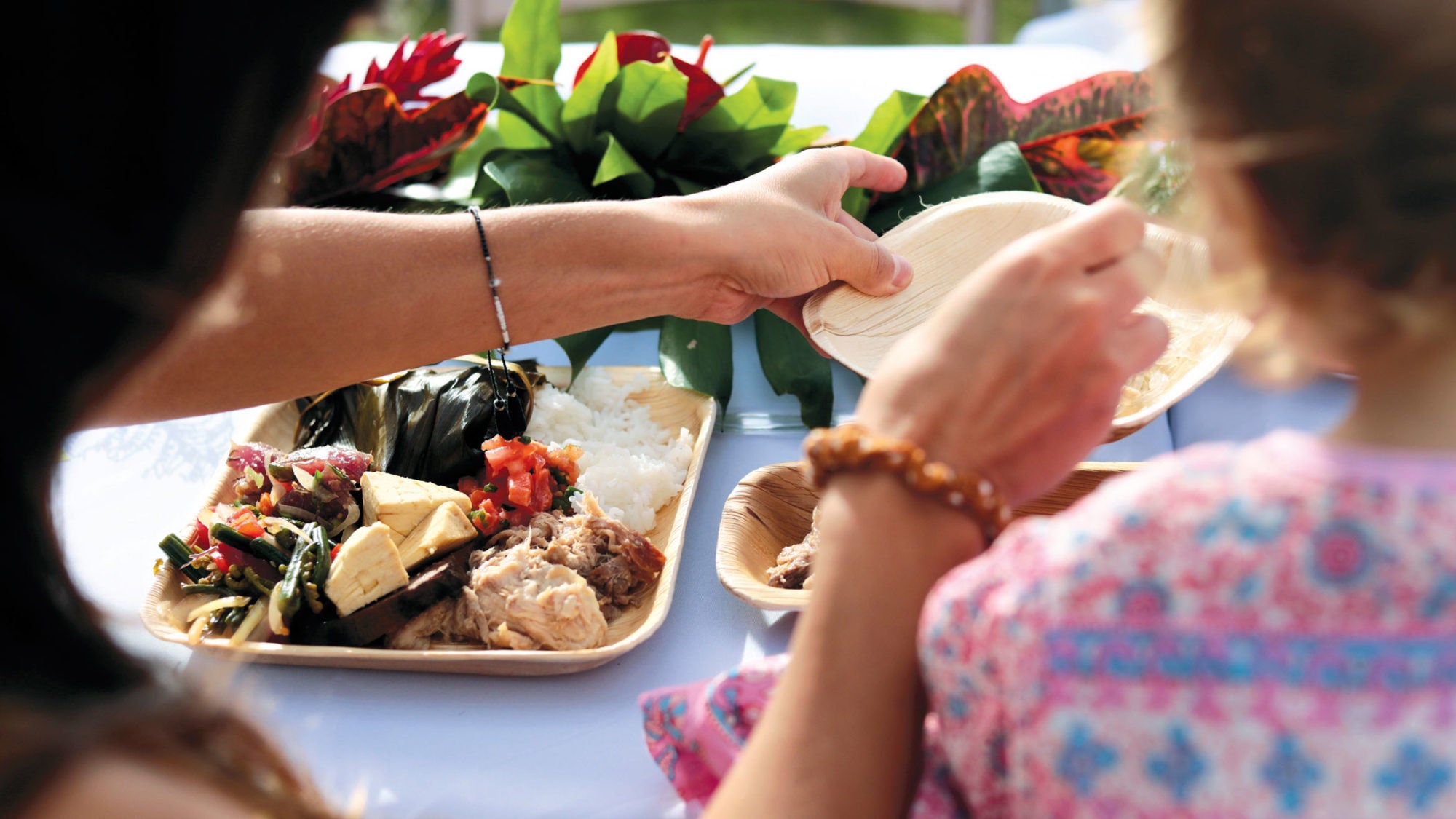 For cookbook author Alana Kysar, Hawaiian food is a state of mind.
There is no singular Hawaiian mac salad recipe—and the same can be said about molded pucks of Spam musubi, cubed shoyu ahi poke, and pork laulau bundled in taro leaves. Tackling the complex cuisines and varied culinary traditions of Hawaii is no easy feat, but the Maui-born, Los Angeles–based author Alana Kysar leaves it up to your interpretation in her influential cookbook, Aloha Kitchen.
Bound by the spirit of aloha as a way of life, Kysar notes that many of the iconic dishes we associate with Hawaii's local cuisine vary from island to island and household to household. As she puts it, "You can't just assign one ethnic group to local Hawai'i food; it's the combination that makes it what it is." The identity of the islands is a complicated one—they're home to native Hawaiians, but they also face a history of colonization and immigration that involves China, Japan, Portugal, Korea, the Philippines, and the mainland United States, just to name a few.
"When I set out to write this book, I wanted to capture the spirit of aloha through practice," she writes in the introduction, adding that the makeshift feasts she hosted for family and friends in Los Angeles on a near-weekly basis helped shape the recipes that would eventually become a part of Aloha Kitchen—like a steaming mass of kalua pig meant for a crowd and snackable squares of chewy butter mochi.
Whether you've spent your whole life in Hawaii or only experienced a cone of rainbow shave ice by scrolling through your Instagram feed, Aloha Kitchen captures the soul of a region as varied as the many islands that make it up. "People like to call Hawai'i the ultimate cultural melting pot, while others argue it's more like a salad bowl. I, however, believe that it's like a really good mixed plate," Kysar writes, referring to the ubiquitous plate lunches that hold a variety of grains, proteins, and vegetables, depending on the establishment. Though Aloha Kitchen was released last year, the book feels as relevant as ever, and I spoke with Kysar a few weeks ago to see what she's been up to since then.
How have you been doing these past few months, and what have you been cooking?
Thanks for asking—my partner and I are in good health, and we're navigating the times as best as we can. Work has definitely slowed down for me, which has been a challenge, but I've been finding lots of time to work in my garden and, like so many have finally made the time to master sourdough. Sourdough is such a salt-of-the-earth thing, so I feel like it's been really grounding. Aside from those two things, I've really been turning to a lot of cozy comfort food like shoyu chicken, beef stew, Portuguese bean soup, and things like that.
Tell me' what makes up your ideal plate lunch?
The cover shot of Aloha Kitchen is my ideal plate lunch: a mixed plate! A generous serving of white rice, a scoop of mac salad (potato mac, if you have it), a side salad, kalbi short ribs, and mochiko chicken.
What are the five Hawaiian pantry items you can't live without, and why?
Shoyu (soy sauce), sesame oil, Best Foods mayonnaise, rice, and rice vinegar. Oh, and sugar—sorry, can I have one more? I know you said five. You can make so many recipes with those six ingredients: everything from a main to a dressing! Shoyu chicken, creamy Asian dressing, namasu (rice vinegar–dressed cucumbers, radish, and carrot)—all these recipes can be made with the protein/veggie, some aromatics, and those pantry items.
We could all use a little island escapism right now. What's the one recipe from Aloha Kitchen that can transport you to Hawaii in a single bite?
I think that's going to vary from person to person. To me, the bite that transports you is the bite of food you most closely tie your Hawai'i experience to. So, for me, that's mochiko chicken, but for you, that might be shoyu ahi poke or a cone of powdery, fine shave ice. My mom makes the best mochiko chicken—it's a sweet-rice-flour-battered fried chicken that is sweet-salty and crunchy, and when it's paired with onigiri and some namasu, I feel transported.
As you mention in the book, the food of Hawaii is influenced by many countries, and preparation varies from family to family. How much of a challenge was it to balance the multiplicity of it all while writing it?
You know, the funny thing is that when I first set out to write Aloha Kitchen, I wanted to organize the recipes by countries of origin, but the minute I dove into the whole process, I realized that there's so much overlap. I grew up thinking about the dishes in the book as all "local food" versus Japanese or Chinese or Filipino. In the book, I've flagged the recipes with symbols that correspond with their country or countries of origin, and if you take a look, you'll notice many of the recipes have more than one symbol. As for varying from family to family, I'll admit, I did feel some pressure to get it right, but ultimately, I realized that this book is my interpretation of these dishes based on my family and friends, and I hope that I've done them justice.
This interview has been edited and condensed for clarity.
FOUR EXCITING RECIPES FROM ALOHA KITCHEN
Hawaiian Mac Salad
The plate lunch staple has many variations, but the secret to this one is grated onions.
Mochiko Chicken
These bite-size pieces of fried chicken are battered in sweet rice flour for a perfectly crunchy, salty snack.
Haupia
There's no better way to end a meal than these panna cotta–like cubes of chilled coconut.
Maui-Style Kalbi Short Ribs
Sweet and tangy, these short ribs are an ode to Azeka's Ribs and Snack Shop—a former local Maui favorite.
MORE COOKBOOKS TO READ, BUY, AND COOK FROM
Everybody who enjoys a refreshing cocktail at the end of a long workday should pick up Easy Tiki, a smart collection of recipes that bring the flavors of Hawaii and other tropical destinations to the home bar.
Random House has put together a free summer sampler of recipes from Ina Garten, Danny Trejo, Toni Tipton-Martin, Bryant Terry, Aaron Franklin, and more.
There's a book dedicated to Duke's mayonnaise, which is arguably a top-3 mayonnaise choice in the great cannon of mayos. The book includes 75 recipes, which makes us think—are we underutilizing one of the world's great condiments?
How to Drink Wine is a smartly illustrated guide that will teach readers how to drink wine, but also how to order it and talk intelligently about wine with friends who also like to drink wine.
The pitch for Eventide is to "turn your kitchen into your own personal seafood shack and oyster bar" and yes we are up for this task.
We recently caught up with chef and author Hugh Acheson about what he's been cooking, as well as some favorites from The Chef and the Slow Cooker and Sous Vide: Better Home Cooking.