A Cookbook Writer Daydreams in Fresh Pasta and Train Cakes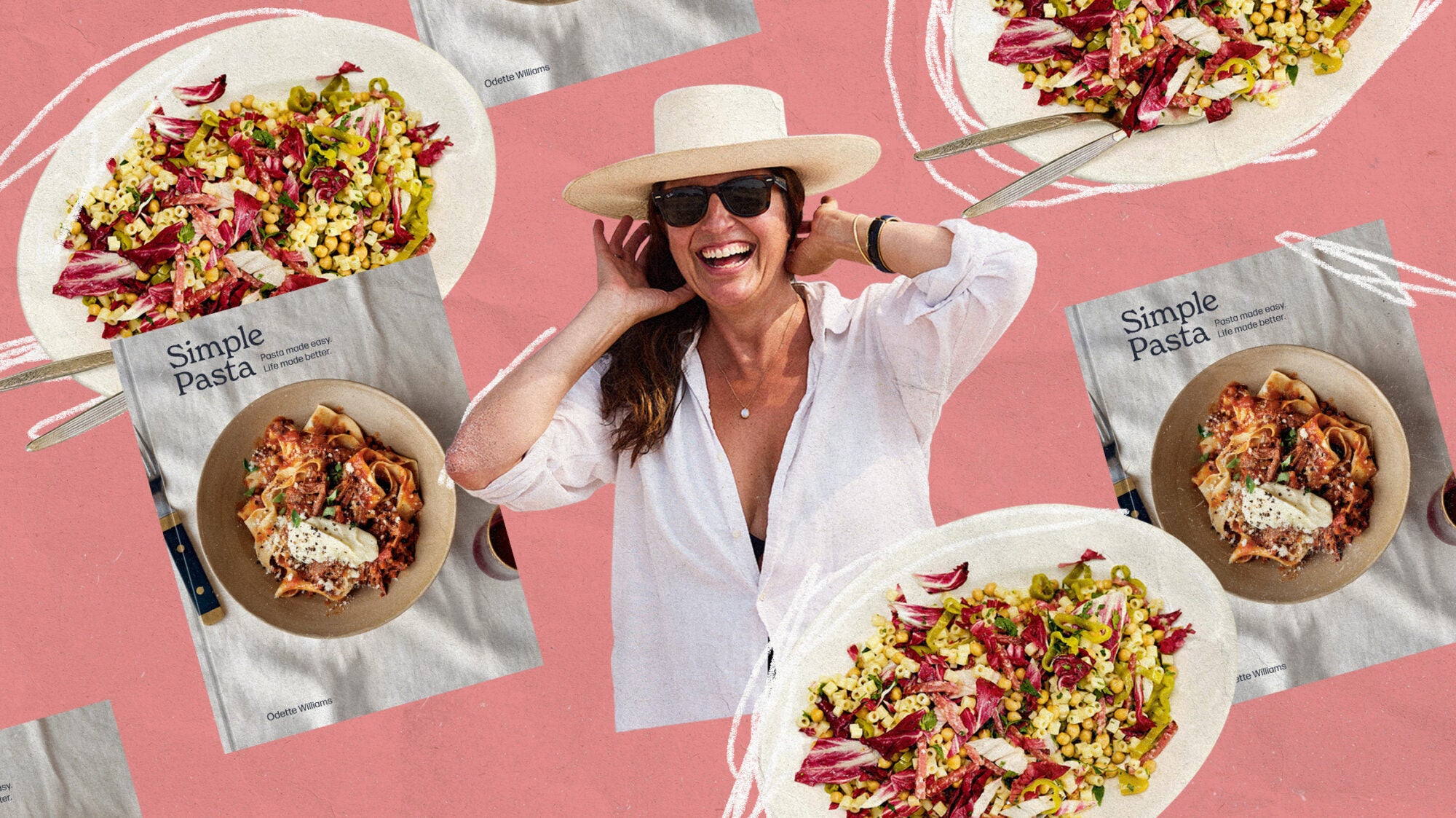 Odette Williams's new cookbook, Simple Pasta, is a reminder that it's never too late to learn how to make homemade noodles.
"It's hard not to feel like we've just become best friends," I blurted out to Odette Williams as we wrapped up our call. The author of the forthcoming cookbook Simple Pasta laughed as the words poured out. After all, we'd only met over Zoom an hour ago. But without missing a beat, Williams said: "That should be your opening line to this story." 
Everything about Williams feels fun, casual, and uncomplicated. Conversation with her flows like honey, enveloping you in her world of any-occasion spritzes and homemade cakes left for friends on their front porch. Williams's first cookbook, Simple Cake, explored basic cakes that can be dressed up and down for any event, from those simply sprinkled with confectioners' sugar to instructions on how to make cake cutouts and winter wonderland scenes of buttercream and fake trees. Her cakes range from elaborate birthday cakes and holiday showstoppers to undecorated cakes made for snacking and tea sipping. Her new cookbook focuses on another staple that might seem too ambitious for a random weeknight: pasta. 
Originally from Newcastle, a city two hours north of Sydney, Australia, Williams grew up visiting a neighborhood bistro regularly, but she had never made homemade noodles until she was 40. The home cook was an actress before moving to New York in 2006 and launching an eponymous apron brand for children—her apron photo shoots often featured food, which, combined with her background in screenwriting and playwriting during her acting days, led to the pitch for Simple Cake. Through writing her cookbooks, she realized that she had something to teach others who might feel intimidated about learning a new skill or who have only the guidance of books and tutorials written by professional chefs, who might not understand the pitfalls that home cooks face, like reminding readers to have a bench scraper on hand for the inevitable crack in your pasta well. 
I called Williams up on Zoom to talk about cooking with children, how Australian recipes are simpler than American ones, and the moments you remember in life. 
I ended up making a ton of the recipes from Simple Pasta before we chatted—I even ventured back to Simple Cake. I just polished off the last piece of the Milk and Honey Cake I made.
I would have paid a lot of money for a slice of that milk and honey cake when I was in quarantine for COVID recently. I was really craving a slice of that simple, unadorned cake and a cup of tea, but I realized I couldn't send my husband, Nick, out to get it. You can't buy a cake like that, you know? That's why I wrote that book, because money can't buy homemade.
I think that's the through line to Simple Pasta. I'm all for store-bought anything, but the actual experience of making something delicious—and the simplicity of it! It makes you very content.
It's funny that you mention the simplicity—I ended up making two cakes, and I dropped one off at a friend's house, kind of without telling them ahead of time. But it didn't feel weird, because it wasn't as if I was leaving a whole decorated cake on their doorstep.
That's the spirit of my books. People don't forget when you take the time to engage in those really kind gestures. That's how friendships go to the next level. I can remember when someone has gone and done something so lovely like drop a cake off for me—it cements friendships. 
I love the fact that you didn't decorate it. I joke in that book that we never really were big on buttercream in Australia, where I grew up, because it was still so hot it would have just slid off. So we'd simply dust it with powdered sugar, leave it on a friend's doorstep, and send a text message saying, "I left it in the shady part."
Speaking of Australia, you've mentioned The Australian Women's Weekly cookbook series as an influence in your cooking, specifically the birthday cake book. What were these cookbooks like?
It's iconic in Australia. Most Australians would tell you that's how they learned to cook! You'd buy it at the newsagent, and it was the most accessible, democratic way into cooking. It didn't have any barriers to entry, or airs and graces. Those cookbooks, and cooks like Bill Granger and Donna Hay, shaped my approach to cooking: You can tackle anything you want in the kitchen, and even if it's not perfect, it will still be delicious. 
The birthday cake one became beloved because so many families started making these cakes, and it became this ritual where the kid would get to choose the cake, and you'd show up at a friend's birthday and recognize the cake. Of course, everyone wanted this train cake—an upright, 3D train with wheels and a chimney with buttercream steam coming out—that was on the cover. And every parent grimaced at the thought that, once in their lifetime, they are gonna have to tackle that cake.
The cakes were easy enough that my divorced father, who was not a baker, could pull them off. It goes back to that kind gesture, how much love is in the act of baking or cooking for the people you love.
Speaking of that, you write in Simple Pasta that you had never made pasta dough until you were 40. Why was pasta the next topic you wrote about after cake?
The fact that I hadn't made homemade pasta until I was 40 made me think, "Why haven't I done this earlier? I can't be alone," and I realized I had something to teach. And that's when I went into the kitchen to start experimenting for myself. 
I was also taught by Mama Sordo, a sfoglina (a pasta making and rolling expert) in Italy who was the mother of an old college flatmate of mine. She instilled in me to remember that, at the end of the day, it's about getting food on the table to feed hungry mouths. So don't get intimidated, precious, or fuss about — just get a delicious dinner made. Homemade pasta is that easy, and it can happen on a weeknight.
I knew after Simple Cake that I wanted to do savory. I knew that I wanted my next book to feel like a killer blackboard menu—that feeling when you go to a beloved restaurant and you know all the menu options will be amazing. 
My family and I had moved out to San Francisco, and Kelly [my editor] had seen me on Instagram making a lot of pasta, because I was trying to ground us and settle us. She was like, "Odette, you make it look so simple, and I love that you're not a chef or restaurateur." Little did Kelly know, my second-favorite Women's Weekly cookbook was the pasta one!" She's my food kindred spirit.
I think the distinction that you have something to teach because you're not a chef and you're writing about a skill and cooking style you didn't grow up doing for years is pretty astute. Do you structure your recipes differently because you come from the perspective of home cooks?
I've walked in your shoes. I understand what you likely have in your kitchen. I've been there, and I think that's liberating for a home cook to hear the shared experience. I can predict that the first time you make a well for your pasta dough, the eggs are going to probably breach and run all over the place. Then you'll scurry to scoop them back in. Think of it as a rite of passage. I promise, the next time, you'll be off to the races. 
I always have to remind myself that the more you cook, the more you assume there's a base knowledge there that might not be shared. So I go back to the idea of, "If I'm starting from square one, will I feel confident enough to cook this recipe? Does it feel approachable and simple?"
If I think no, I'd try to figure out what in the recipe was the barrier. For example, I'm gonna encourage you to try to find guanciale for carbonara, because those Italian cured pork cheeks are packed with flavor, but I'll also let you know that pancetta is totally fine if that's all you can get your hands on. I also really debated whether or not agnolotti belonged in Simple Pasta. We had lots of simpler shapes, like pansotti (triangles) or pici (snakes), but we wanted to include something for the home cook who is a little more experienced or something you can shoot for once your confidence has grown. The great thing about cooking is that you learn quickly.
Visually, what were you hoping to achieve in this book?
My background is in theater, so I always come at things like, "What's the story here? What do these people want? What's going on in their life? What's the feeling that comes from this world, these recipes?" 
Before we started shooting, I shared with my photographers, Michael Graydon and Nikole Herriott, these photos of Arthur Miller and Marilyn Monroe in a hotel room having dinner with Yves Montand and Simone Signoret. They were taken by the Magnum photographer Bruce Davidson. When I saw these images, they became my guiding light. I knew I wanted to do black-and-white photography, and instead of all these perfect, polished tablescapes, I wanted the book to have more of a lived-in, documentary style—but with a touch of glamour. I wanted you to feel like you were at the party, like you were already sitting at the table. 
You wrote Simple Pasta during the early parts of the pandemic. You mention that you were meant to go to Italy early on in the process, but you couldn't, and then as the book was wrapping up, your daughter Opal said you had to go if you were writing a pasta book. Did going to Italy change anything for you?
Half of the book is shot in Fire Island with my family, but I went to Italy with only the crew. Italy was the first country I went to when I finished high school, and it was almost like I was 18 again. It goes back to that theme about a woman on her own, out in the world again, doing her work. You know that movie, The Lost Daughter? It's got that ephemeral element to it. What do you daydream about? What do you fantasize about? How do you go out into the world and make that happen? 
How great is it when you get those opportunities to step up and do that? To really extend yourself and go, "Okay, great. Let's make this happen," and it's completely connected to the food. Pasta makes good stuff happen. It never lets you down. It's full of joy and comfort. It's the ultimate low-lift luxury. There are things in life we haven't tried or done that we can and we will do. It's possible . . . especially with a spritz and pasta on board.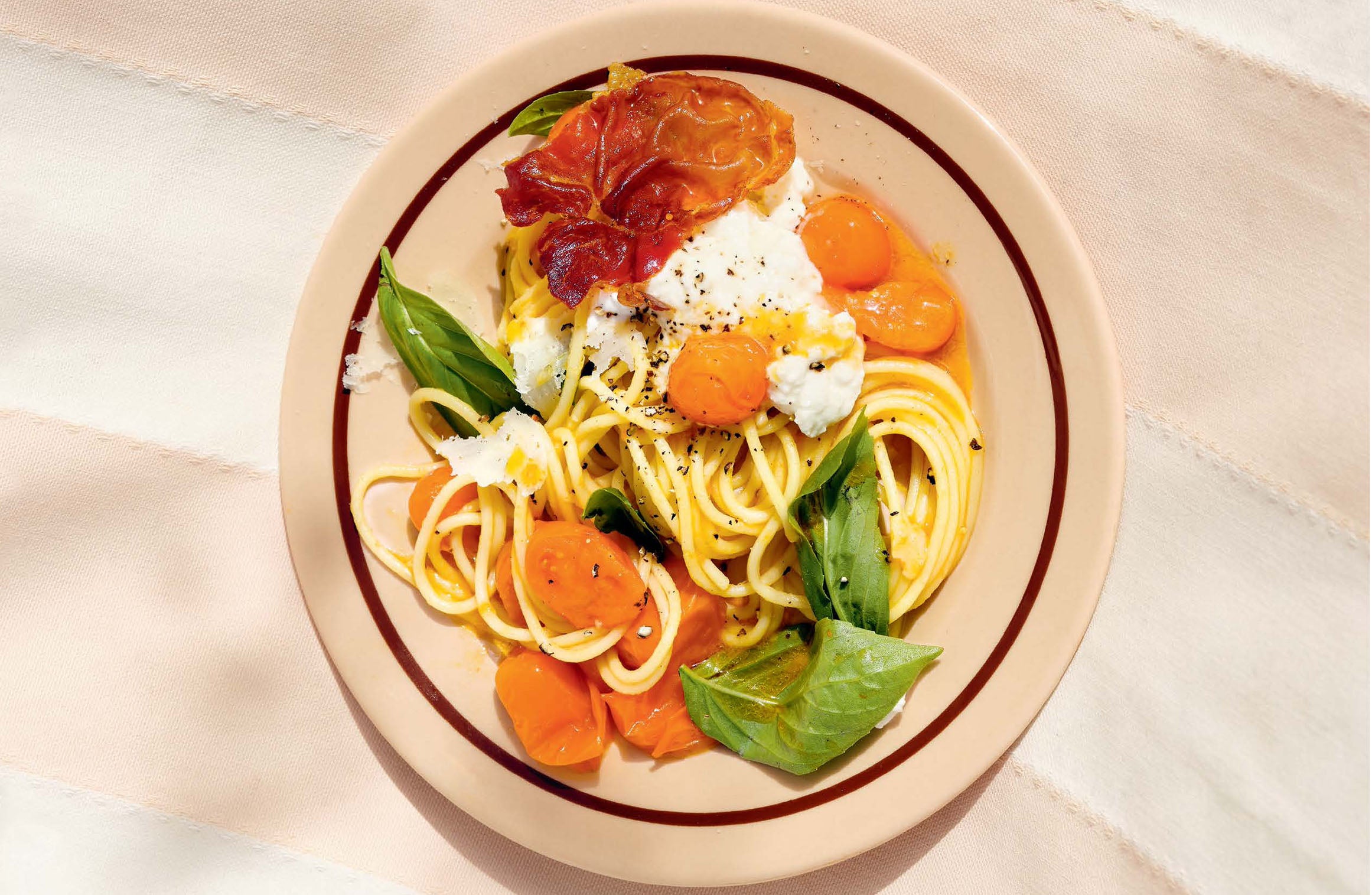 THREE EXCITING RECIPE FROM SIMPLE PASTA: