A Bull Market for the Spanish Burger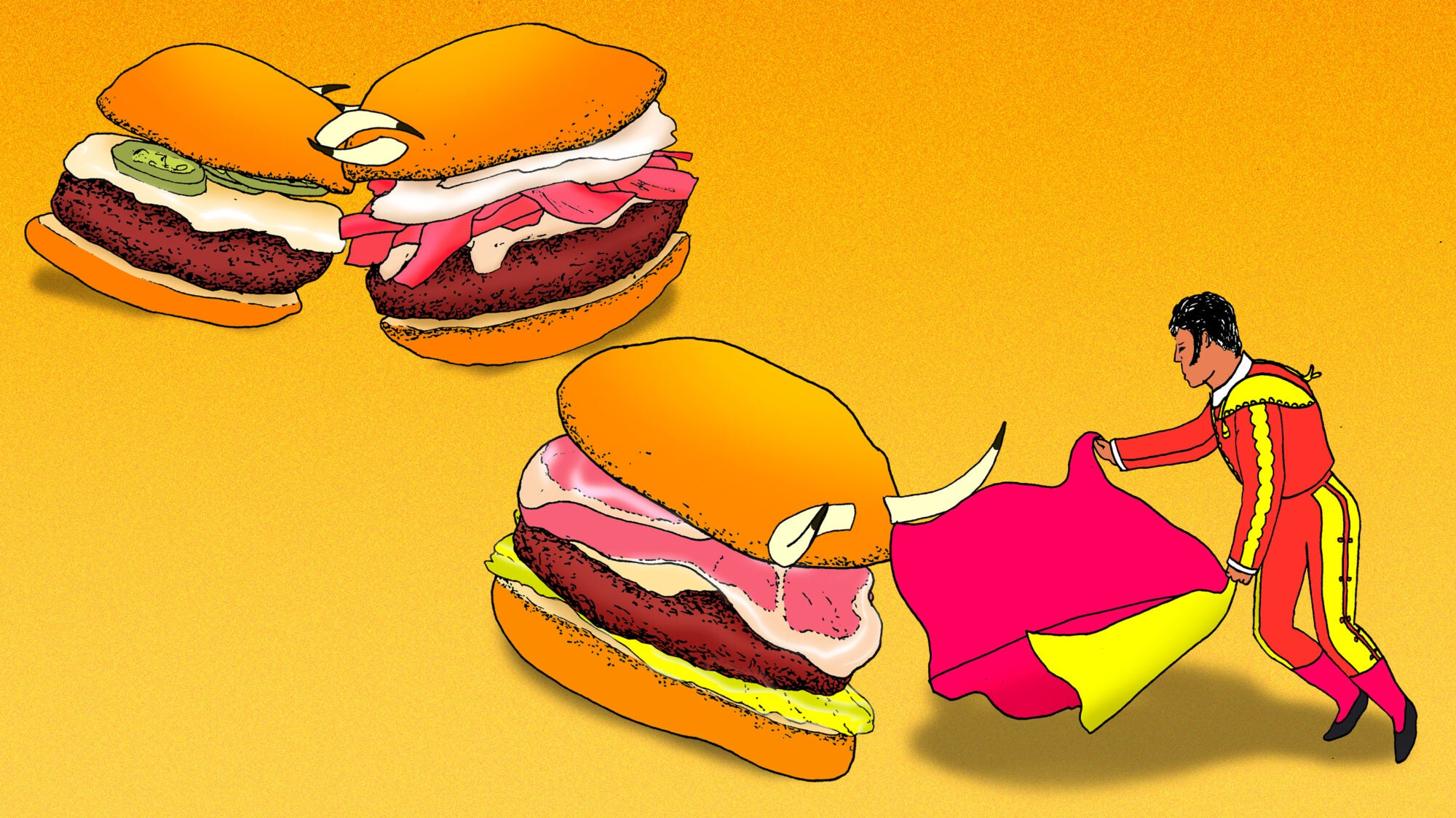 Like with cured meats and clay court tennis, the Spanish are winning in America
There was a recent post on the Spain message board of the website Reddit whose subject line read, "My favorite menu item at McDonald's in Spain," that included a photo of a McDonald's hamburger with a slice of jamón Ibérico sitting atop the patty. The slice of cured ham glistened in the light, adding some verve to a lifeless, dull burger. The top comment was, "Why would you destroy a perfectly good piece of ham like that?"
The post was clearly meant to be a joke, but my first thought was the opposite: that this person was taking a mediocre hamburger and making it better by adding a vastly superior ingredient to the mix. But slapping a slice of jamón Ibérico onto a McDonald's patty is just the beginning. 
Case in point: this summer, some of the best burgers I've eaten in years have been at Spanish restaurants or Spanish-owned restaurants in New York City. The common denominator wasn't necessarily that they were made by Spanish chefs. The burgers were accentuated, elevated, amplified, and garnished with Spanish ingredients. 
Sometime in the first decade of this century, the Spanish took the gin and tonic, a drink invented by the British and very much associated with British colonialism in India (where it was first created) and made it their own. Today, the "gin tonic," as it's called in Spain, is enhanced with Spanish culinary flair and skill, garnished with ingredients like peppercorns, juniper berries, and rosemary, among other things. The British would hardly recognize the drink in all its altered deliciousness. 
In the last decade in Spain, upscale burger restaurants have begun firing up grills in cities like Madrid and Barcelona, offering classic American-style burgers but also burgers with a particular Spanish bent. So, are the Spanish doing the same thing with the hamburger, taking the all-American burger and making it their own, just like they did with the gin and tonic? Based on the Spanishized burgers I've eaten lately, I hope so. I also plan to use these burgers as a guide to up my Spanish burger game at home. 
Arguably, two of the first chefs in New York to Spanishize the burger were Alex Raij and Eder Montero, who had a burger called "El Doble" on the brunch menu at their Basque tapas place Txikito in Chelsea in 2009. It went off the menu when the restaurant temporarily shuttered during the COVID-19 pandemic, but chefs Raij and Montero are thinking of bringing it back. "Spaniards have a reverence for sandwiches," Raij told me. "They also have a strong tradition of meatballs and seasoning meats. So it makes sense that Spanish chefs would gravitate to the burger." The burger at Txikito boasts two patties of chuck steak with an 80/20 meat-to-fat ratio. "What made it Spanish were the condiments," Raij said, which included pickled onions, cornichons, guindilla peppers (like the kind found in a Gilda, the popular Basque pintxo) and a secret sauce of crème fraîche and mayo (mayonnaise was first created in Spain, by the way). "It almost had a Gilda flavor profile to it," she adds. "Umami but with a touch of sweetness." 
From a culinary perspective, the pandemic gave chefs a lot of time to experiment and think of new approaches to old dishes. The hamburger did not escape this treatment, especially among Spanish chefs operating in New York. 
The chorizo burger at La Nacional, one of the last remnants of what used to be "Little Spain" on West 14th Street in Manhattan, was born during the pandemic because, as Robert Sanfiz, the restaurant's executive director, said, "We had so much time on our hands, we had time to experiment." He and Valencia-born chef Francisco Javier Parreño first made a patty that was 50/50 beef and chorizo. It didn't work. The flavor of the chorizo overwhelmed everything else. They tried others, reducing the chorizo each time, until they settled on a patty balanced with 25 percent chorizo. The thin double patties are garnished with bravas sauce (olive oil, smoked paprika, and tomato paste—the sauce you'd find slathered on patatas bravas), aioli, and Manchego cheese. "We were flirting with the idea of putting a slice of jamón Ibérico on it, but we decided it would be too rich," says Sanfiz.
"The fact is, in my opinion, there are not a lot of truly great burgers in the United States."
The burger has a smokiness to it, thanks to the chorizo, with a bit of a kick from the bravas sauce. "The concept of tapas was born out of the idea that, in Spain, we eat together. In America, if we have a communal food, it's the burger," Sanfiz told me. "So, the burger is the ideal menu item to marry Spanish and American culinary cultures." 
Black Iron Burger, a Spanish-owned chainlet with two outlets in Midtown Manhattan and one in Park Slope, Brooklyn, also has a chorizo burger on the menu. The meat ratio is 70 percent Black Angus ground beef and 30 percent chorizo, topped with scrambled eggs and pimiento pepper. "This pairing particularly will remind a Spaniard of their childhood, as chorizo and scrambled eggs is a common meal," says Ricardo Bordes, the Spanish-born executive chef at Black Iron Burger. 
Even better than the chorizo burger, though, is Black Iron Burger's Ibérico burger, which starts by rubbing tomatoes on the interior sides of the bun, as if you were making a pan tumaca in Catalonia. On top of the patty is an unctuous slice of jamón Ibérico and Manchego cheese, followed by a fried egg with the edges done in the puntilla manner, a Spanish technique in which the periphery of the egg is extra crispy. The runny egg, combined with the saltiness of the jamón, the creaminess of the Manchego, and the medium-rare ground beef all conspire to feel like there's a delicious umami-loaded casserole in your mouth. 
"It's true that Spanish ingredients might be very compatible with a burger, but in a way, we're just approaching the burger with our Spanish culinary instincts. Take, for instance, that we rub the inside of the bun with tomato, referencing the Catalan dish pan tumaca, or pan con tomate in the rest of Spain," says Bordes. "We're not doing this to intentionally make it more Spanish. We do it because it adds a refreshing strata to the flavor profile of the burger." 
Another superlative burger that was born during the pandemic was the Txuleburger at Leña, inside Chef José Andrés's Hudson Yards Spanish food hall, Mercado Little Spain. The burger is one of the best I've ever had, and it was created by Spanish-born chef Nicolás López. 
"During the pandemic, I went around the city and ate a lot of burgers," he told me. "The fact is, in my opinion, there are not a lot of truly great burgers in the United States. In New York, there are maybe five or six. Everything else is just average. It made me wonder: Do I dare try to make a truly great burger?" 
He did. The Txuleburger at Leña consists of 60-day dry-aged rib eye grilled over charcoal, topped with American cheese (simply because it melts so well), a slice of cured jamón Ibérico, a sauce made of mustard, Spanish olive oil, mayo, and salsa bravas, and a pickled green Basque piparra pepper. The brioche bun is light and soft and does its job of holding it all together while not being texturally or flavorfully intrusive to the real stars of the show. The burger managed to be so nicely balanced, with some umami from the meat, creaminess from the cheese, acidity from the pepper, and spice from the sauce. 
"Burgers are obviously not part of our culinary tradition," López said, "but the key here is that in Spain we have a proclivity to high-quality ingredients. It sounds like a cliché, but if we're going to eat cured ham, for example, it's going to be the best cured ham. And I think that's why burgers with Spanish ingredients are so good. They complement each other." 
Which is something home burger flippers can learn from. "When you're making a Spanish-style burger at home," López said, "garnish it with Spanish products like Manchego cheese, which melts really nicely, as well as cured jamón Ibérico. Instead of jarred mayo, make it at home, perhaps adding in some smoked paprika, which gives it a very Spanish flavor profile and some kick." 
Or, the next time you go to McDonald's, or any other fast food burger spot, BYOJI—bring your own jamón Ibérico. 
Photo: Ivana Larrosa