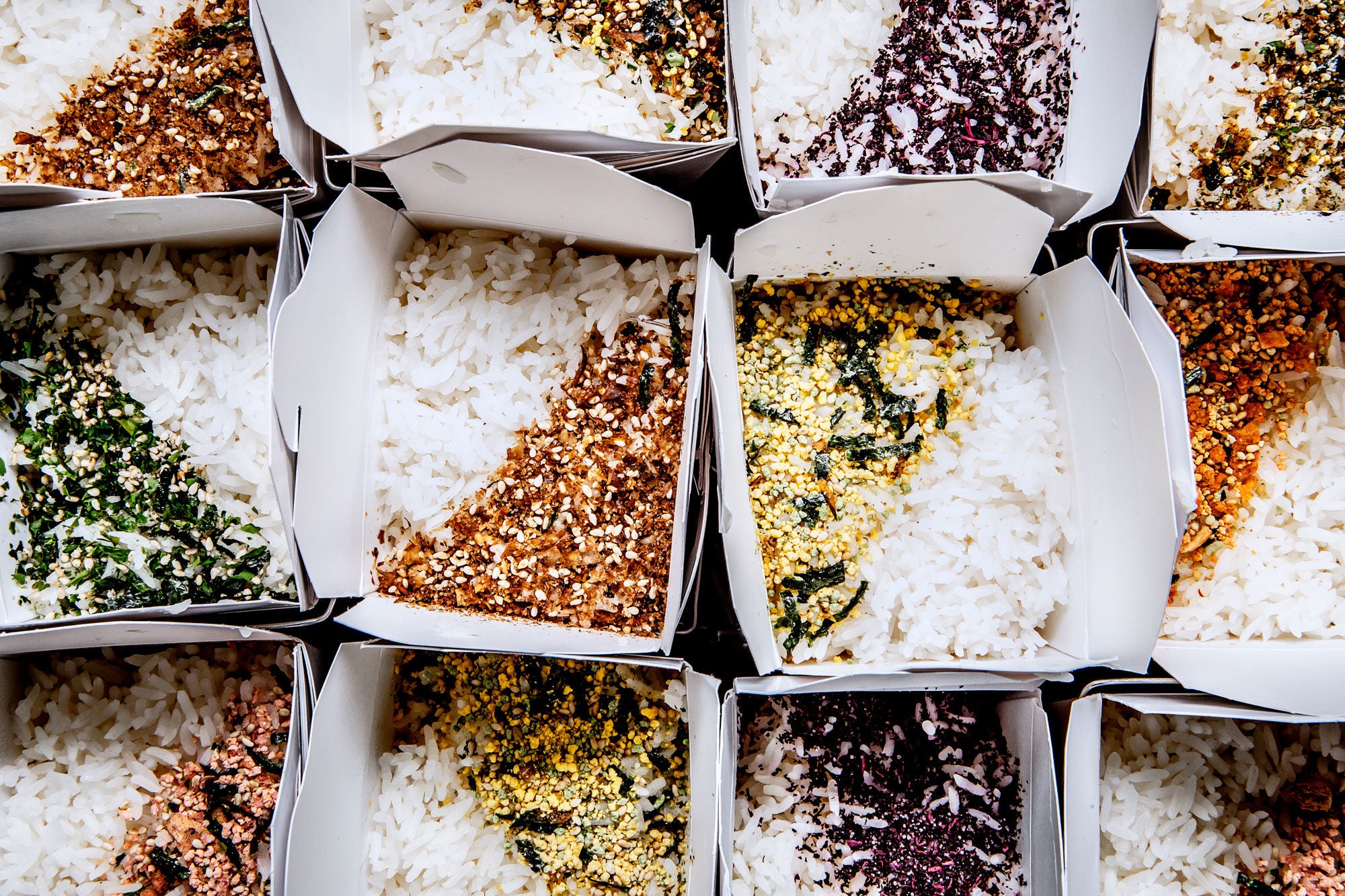 What started as a Japanese calcium supplement became a seasoning to supercharge everything from crudité to spaghetti.
In Japan, a simple shake of furikake transforms white rice into a stand-alone meal. In Hawaii, it's used liberally on everything from popcorn to spam musubi and baked salmon. Despite these differences, the textural mix of slivered nori, toasted sesame seeds, and dried fish has been a pantry staple in both places for decades.
The ready-made mix started as a way to sneak calcium into white rice during World War I. Originally created by pharmacist Suekichi Yoshimaru, furikake (which stems from the verbs "furi," to sprinkle, and "kake," to pour over) was initially called gohan no tomo, or "friend of rice." His early version contained ground-up iriko, or small dried fishes, with roasted sesame seeds, nori, and salt to mask iriko's pungent smell.
Wander into any Japanese grocery store today, and you'll find a whole color gradient of flavor combinations stocked on shelves. There's vibrant green wasabi (perfect for spicing up fried rice with egg); a violet-tinged shiso mixture, brimming with soft splinters of the herb (popular for white rice or onigiri); a kaleidoscopic salmon blend, flecked with the dried pink fish (great over buttery spaghetti); and, of course, the classic aji nori version, swimming with the original combination of shredded seaweed and sesame seeds (suitable for soba noodles or tossed green salads, in addition to plain white rice).
Hawaiian chefs and home cooks tend to take more of an anything-goes approach to the spice blend. "You can coat your meat or chicken with flour and egg and furikake for added flavor," says Hawaii-based cookbook author Muriel Miura. She's even seen furikake tossed into tempura batter. "It delivers an instant explosion of umami." In Honolulu, seafood spot Ahi Assassins uses it to top white rice in their poke bowls. Home cooks dust it over Chex party mix; some even sprinkle furikake over potato chips dipped in chocolate.
But this creative expression isn't confined to Japan and Hawaii. Shuji Hiyakawa of Wabi Sabi by Shuji in Miami has added furikake to homemade pasta aglio, olio e peperoncino, as well as mashed potatoes. At Olmsted in Brooklyn's Prospect Heights, chef Greg Baxtrom makes a seasonal "fallikake" with ingredients like nori, pepitas, and nutmeg, which he sprinkles over battered rounds of squash or onto watermelon and tomato salad. Lil Deb's Oasis in Hudson, New York, recently coated sautéed shishito peppers in furikake and cilantro for a weekday special.
But many of the best applications are the simplest—the ones that use furikake strictly as a condiment. At Bar Goto on New York's Lower East Side, celery sticks are coated in the mix for a crunchy snack.
"You don't 'cook' with furikake," instructs cookbook author Nancy Singleton Hachisu. "Since furikake is a ready-made seasoning, specifically made to be sprinkled on rice, it would have no place in a serious cookbook."
As an after-school snack as I was growing up in Hawaii, I regularly devoured hurricane popcorn—a salty mixture of popcorn, butter, furikake, and arare rice crackers. To this day, furikake remains a mainstay in my meals: I make furikake-encrusted salmon for dinner, and I cover white rice with furikake and some shoyu scrambled eggs for breakfast.
Miura remembers a simpler time when the most adventurous use for the ingredient was a mild bowl of ochazuke: a dish of white rice, furikake, and freshly brewed green tea. "Pretty soon, I think the population will be tired of fusion flavors and will go back to steak and salt and pepper." Or, in this instance, maybe plain old furikake and white rice.