389 Sprinkles and Counting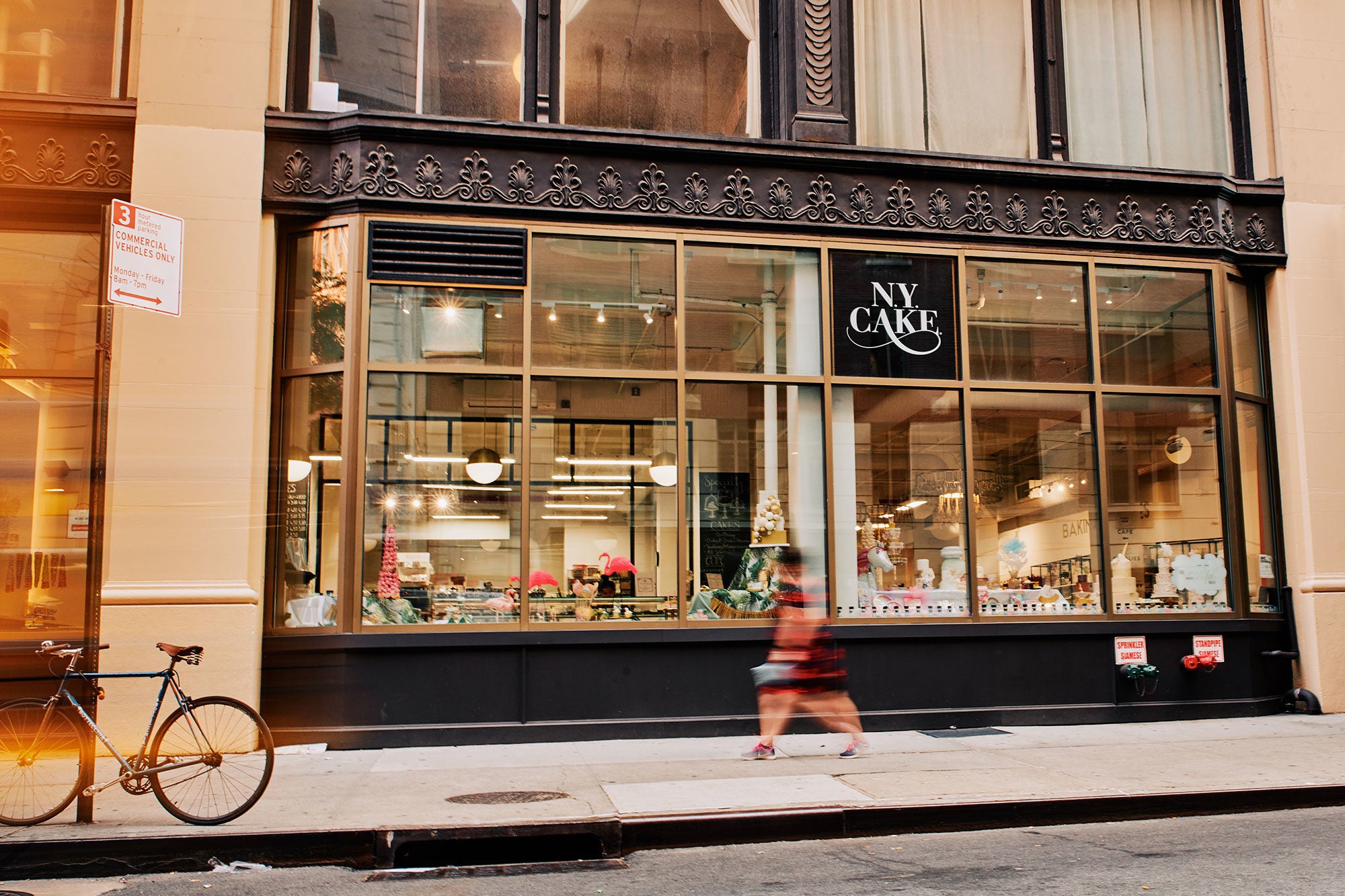 How one pastry supply shop survived cutthroat neighborhood development, and Amazon, by winning over thousands of home and professional bakers.
The first thing you'll see when you walk into NY Cake—the specialty baking supply store, café, and school—is a wall of sparkle colored every shade of the rainbow. Inside, you'll find nearly 400 types of sprinkles, including nonpareils, colored sugar, glittery blue Stars of David, edible sequins, mini footballs, pink llamas, tiny unicorns, and jumbo pearls the size of gumdrops. There are more than a hundred tubes of food coloring—liquid, gel, or powder—available in shades of Christmas red, metallic gold, Georgia peach, and pale eggplant. Bottles of flavorings line a shelf; they could double as potions: wintergreen, pumpkin, raspberry, rum, root beer, and one called, curiously, "princess."
Pastry chef Katherine Yang still remembers walking into the store for the first time in 1997. "It was magical," she recalls. "They had everything…pastry tips, sugar molds, you name it. There's no other place like it." Yang, the owner of Gigi Blue, a custom dessert caterer, uses wholesale suppliers for a lot of what she needs. "But when I forget to order something, I go to NY Cake because I know they'll have it," says Yang, who has been shopping at the store for 22 years.
An institution beloved by bakers of all ages, NY Cake was a happy accident born out of a love for baking—and a small marital tiff. Even before she married and had children, NY Cake founder and owner Joan Mansour loved to cook. "She taught herself how to bake so she could make our birthday cakes," recalls Jenny Kashanian, one of Mansour's daughters. In the Oceanside Parkway area of Brooklyn where they lived, Mansour quickly became the neighborhood baking expert, frequently doling out advice about decorating techniques and sourcing supplies. "When I get interested in something, I really kind of become obsessed," says Mansour.
"I started accumulating a lot of baking supplies, and my husband didn't like the clutter in the house, so he told me to store the stuff at his shop," Mansour recalls. In the 1970s, Joseph Mansour owned a small drugstore inside Rockefeller Center called Ultra Cosmetics. After Mansour brought her baking supplies to the store, people started to notice them and ask if they were for sale. Mr. Mansour allowed her one shelf. That turned into a whole section, and by 1980, she had nearly taken over the whole shop. When they lost that lease, Mansour's husband retired from retail. But she wasn't ready to quit.
The shop's second location, on West 21st Street, had a kitchen in the basement where Mansour, and later her daughter Lisa Mansour, taught classes like piping skills, chocolate molding, and fondant shaping. When asked about her former students, some of whom have gone on to own their own cake businesses or have built careers in television, Mansour is tight-lipped and shakes her head no. "She won't name names! She's old-school like that," Kashanian explains.
Since she started her namesake cakes business in 1975, Sylvia Weinstock has created cakes for countless celebrities, including Oprah, Billy Joel, and Mariah Carey. Weinstock never took classes at NY Cake, but she remembers Mansour's first shop in Rockefeller Center. Though she buys her supplies wholesale, she popped in whenever she needed something at the last minute. "We'd be dusting sugar flowers, and I'd run out of a color. That's when I'd go to NY Cake," Weinstock says.
In early 2018, news broke that NY Cake would close due to an unexpected rent hike. By then, many would-be clients were shopping online, and the shop, with its worn carpeting and broken shelving, was struggling to stay relevant. But an outpouring of dismay at the impending shutter forced the family to reconsider. "When we realized how many fans we had…we decided to see if we could build our dream store," says Kashanian.
Cake and candy making is a tactile, sensory experience, and the new store, which opened on West 22nd Street in late 2018, highlights that in a few ways. It's divided into three sections: a retail space, a baking classroom called NY Cake Academy, and a café. New, seasonal ingredients and tools are displayed on tables near the entrance. Past that is a café and pastry case of sweets made with decorations and molds for sale in the store. Behind the café is a baking classroom, with sturdy tables and stools for kids and adults who take classes in things like cookie decorating and chocolate tempering. Further back, ingredients and tools are lined up neatly in over a dozen aisles, each wide enough to accommodate a stroller.
Kashanian says regulars come back to see what's new, parents come in with their kids, and novice bakers and candy makers wander in looking for advice. "One of us is always here to answer questions or offer personal recommendations," says Mansour. That's the kind of tailored, expert service Amazon can't provide.
"The biggest change is seeing how many people, especially young people, come in after they see a baking show on TV. They come to us to ask us what to get and how to use it," Mansour says. Shows like the The Great British Bake Off, Kids Baking Championship, Nailed It!, and Cupcake Wars have encouraged a new generation of baking hobbyists.
Even bakers outside of New York City sometimes make pilgrimages to NY Cake to pick up supplies. Kat Ferraro, who works in labor law compliance in Rochester, New York, discovered NY Cake about five years ago. She now drives down to the city every six months. "I just love being in the store and end up finding things that I didn't know I needed. Usually that's a new kind of chocolate, or little things like sprinkles and cupcake liners," she says.
A short wall covered in every size and color and pattern of cupcake liners dovetails with the most famous wall in the whole store. "People come in just to take pictures with the cookie cutter wall," Mansour says. Over 700 cutters hang on a wall that's the height and length of a Hummer limousine. This is where to come if you want to cut cookie dough into the shape of a high heel, stick of lipstick, rooster, donkey, baby bottle, music note, electric guitar, margarita coupe, Corgi, Poodle, or one of 16 other dog breeds. (There are several cat shapes, too.)
The most popular one? "Lately, it's the unicorns. Everyone and their kid wants a unicorn horn," Kashanian says. When asked what might be popular next, Mansour laughs. "I have no idea!" she says. "But we'll have it in stock."