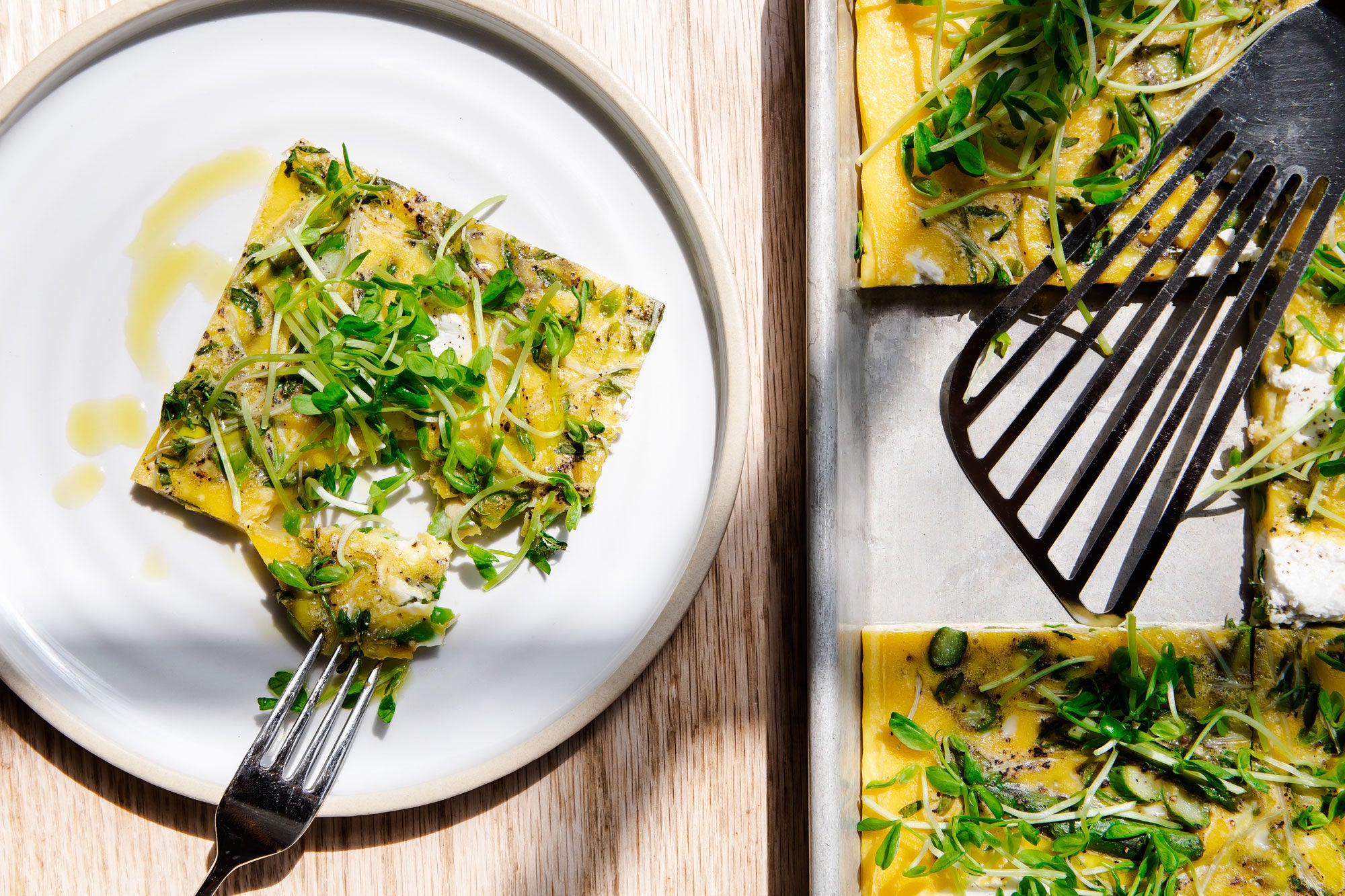 Baking eggs by the dozen is smart. Using a sheet pan is smarter.
What's not to like about brunch? Not brunch in the phoned-in, bottomless-mimosa, overpriced-eggs rigmarole way—the brunch held in restaurants that's always been more about the company than the food. But brunch, the "let's have some people over but not stress about it" tradition of entertaining at home. The best versions come together with unfussy grazing fare that's inherently a salve to the hosting anxieties we all experience. The daytime gathering that means being in bed watching Big Little Lies on Sunday night instead of washing dishes. Brunch, the easy button.
When my boyfriend and I decided to throw a housewarming party for 30 or so of our friends, brunch was the first detail we agreed on. We chose brunch because it would, of course, be easy. But as the date drew near, I found myself defeating the purpose of this and…fretting. Had we really invited 30 people? What on earth would we serve them?
The solution arrived in the form of an egg-biscuit sandwich at Bklyn Larder, a small, curated cheese-and-specialty-ingredients shop that also makes excellent baked goods. A biscuit is split and heated on a panini press—but rather than a scrambled or fried egg, it sandwiches a thick square of rich and custardy frittata. This frittata has both creamy density and lightness, and no trace of the dry, Styrofoam quality that can often plague a frittata.
But what really intrigued me about the frittata is that it had been made in a sheet pan—what home cooks may know as a rimmed baking sheet—then cut up into slabs. It struck me as a genius way to cook off a bunch of eggs, because I could do it before people showed up and all in one batch. And while a frittata is traditionally cooked first on the stovetop in a skillet, moving the uncooked eggs around to help them set uniformly and later transferring them to the oven to finish, this would be cooked fully in the oven. Making a traditional frittata in the skillet certainly isn't hard—it's one of my weeknight staples—but this sheet-pan method would be even easier. Even brunch-ier.
I did the math. A dozen and a half eggs, along with 2 to 3 cups of fillings (which could really be anything—blanched and chopped broccoli rabe, cubes of roasted kabocha squash, grilled zucchini, or blistered cherry tomatoes—rounded out with softened alliums, fresh herbs, and creamy or tangy cheeses), would yield frittata about ¾ inch thick, which is what I wanted. I'd cut it into 24 pieces, planning on one or two pieces per person, so I'd need to make two. It would be the centerpiece to a spread with a big leafy-grainy salad, some strawberries, nice bread, and a citrusy olive oil cake.
The greenmarkets in New York City had finally come to life, and so my sheet-pan frittata presented itself as a perfect place to cook with my market haul. I loaded each one with a whole pound of steamed asparagus, some buttery softened leeks, chopped tarragon, and crumbles of goat cheese. (In later months it might have been roasted tomatoes and chunks of zucchini or yellow squash along with the goat cheese and basil for a ratatouille vibe, or, later in the year, mashed butternut squash, some shredded Gruyère, and plenty of fresh thyme.) I added the beaten eggs with a little cream and a few tablespoons of olive oil for extra richness. I carefully divided the mixture between well-greased and parchment-lined sheet pans and slid them into the oven set to a low 300°F; after 30 minutes and a few rotations, brunch would be served.
I wanted to downplay it. It's just a frittata, Lukas. But it was genius, and it continued to wow me in the following weeks. I repeated the sheet-pan technique with new fillings: a pungent one with kimchi, spinach, scallions, and cubes of cheddar cheese, and another with diced leftover roasted sweet potato, a mess of caramelized onions, cilantro, and feta. Never did they disappoint, and armed with all this frittata knowledge, we always had easy grab-and-go meals on hand.
They naturally lent themselves to egg sandwiches, too. Not necessarily the breakfast-y types with melted cheese and hot sauce, but as enticing lunch and supper ones, where I'd pile on lightly dressed salad greens, pickled onions, and a smear of mayo and serve them inside nice slices of focaccia. How satisfying it was to perfectly match the rectangle of the bread with a rectangle of frittata!
While making a frittata traditionally, in a skillet, isn't hard, this was just so easy. Its chief success will always remain that first time, at our housewarming party—a casual invitation, 30 friends, no stress: a brunch proper.