300 Percent More Chile Crisp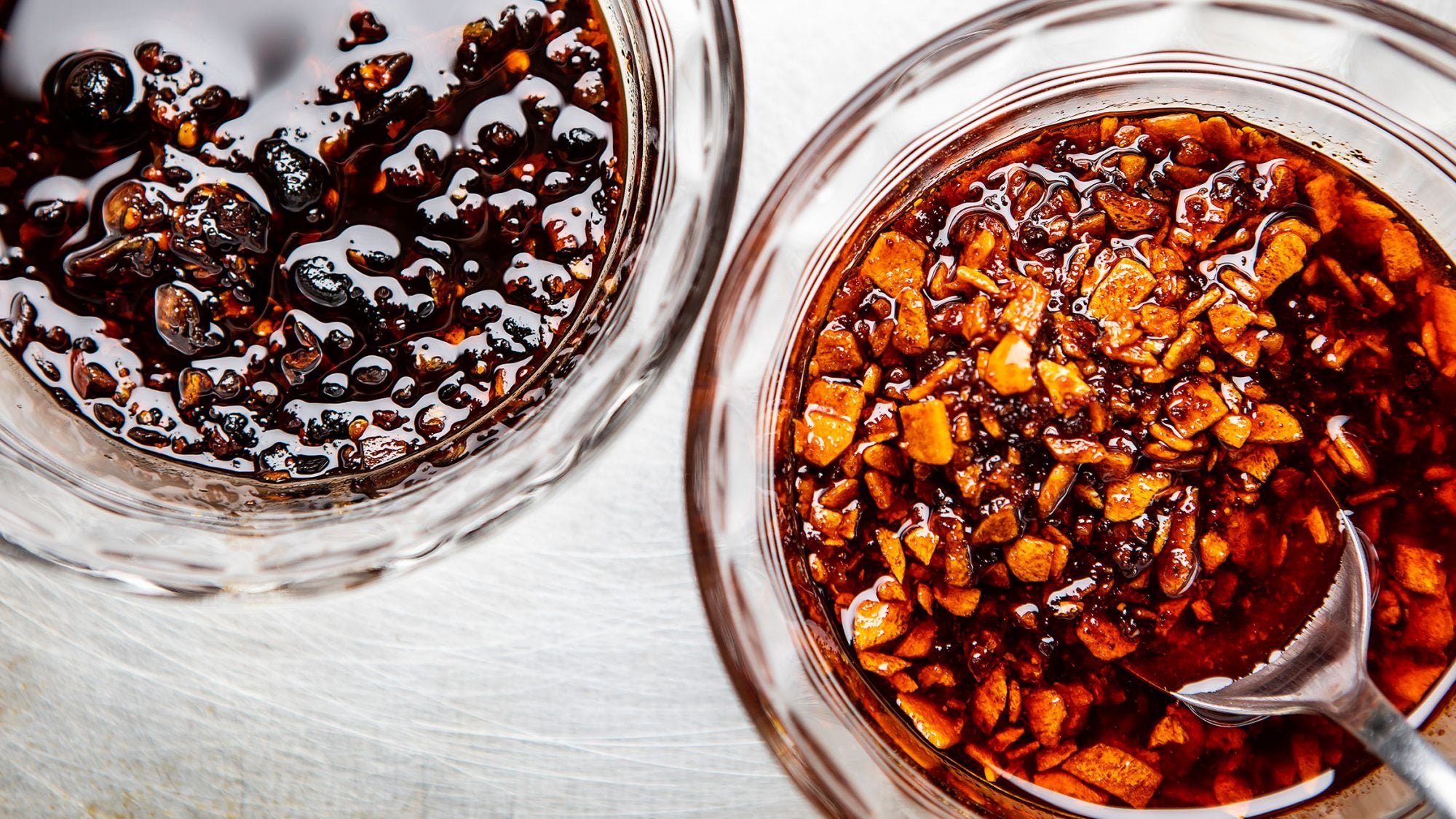 What to buy, cook, and read to find your next favorite jar.
"Knowing whispers. Rapt excitement. Swift proselytizing." This is how writer Cathy Erway describes the fervor that has bloomed around chile crisp in recent years. The invigorating condiment has it all: a fiery red vibrancy, the heat of chiles, the crunch of fried garlic, and, most important, a rich oil scented with the aroma of Sichuan peppercorns, cardamom, star anise, ginger, sesame seeds, fennel seeds, and anything else you happen to decide to add to your personal batch.
While many home cooks grew up with jars of Lao Gan Ma in their refrigerators (a brand that was founded in China's Guizhou province in 1997), there are endless permutations of the basic formula. Making your own jar can be as simple as heating some vegetable oil and then steeping some spices and aromatics in it. And because every iteration has its own slightly different flavor profile, the condiment has become an art form for chefs to riff on, with restaurants like Momofuku, Xi'an Famous Foods, Junzi Kitchen, Mister Jiu's, and 886 selling tubs, packets, and jars of their proprietary recipes.
The best part of this recent boom is that when you're trying to put together a hurried meal in your own kitchen with just a few ingredients, someone else has done the work of carefully sourcing and combining spices and layering those flavors into an oil. A bowl of Lucas Sin's tomato and egg noodle soup or a delicate pasta al limone may come together in just a few minutes, but adding a great chile crisp will transform it into something that tastes complex and looks camera-ready.
You might be loyal to one particular chile crisp brand or at-home recipe, but why not keep a whole collection on hand? Since they last for a few months in the refrigerator, I like to keep a jar of Lao Gan Ma handy for when I need a hit of salty umami, a jar of Fly By Jing for when I'm craving the slightly chewy texture of fermented black beans, and a homemade concoction with cinnamon and bay leaves for some fresh chile heat. Here's how to get started building your own collection and some ideas for what to cook once you have it.
STOCK UP
GET COOKING
READ MORE