The 10th Anniversary of the Kale Salad as We Know It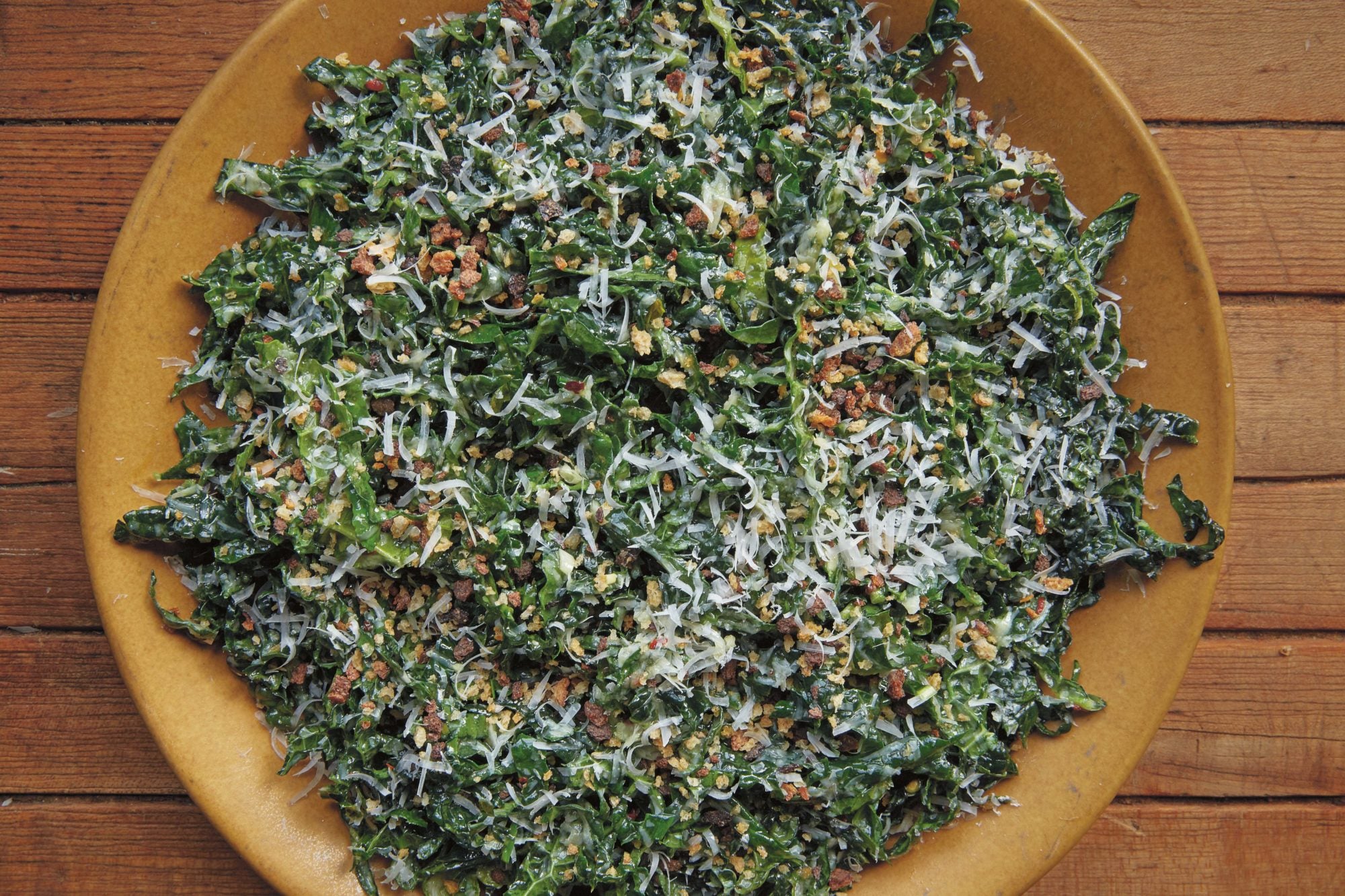 How a humble Italian braising green became an American reinvention story.
In the year of our lord 2016, McDonald's, America's most popular restaurant, unveiled its first kale salad—a salad with more calories than a Big Mac, but a kale salad nonetheless. It was an inflection point in American food culture. The iconic fast food giant was bending to the runaway popularity of a tough, fibrous green that had steadily—meteorically—grown from farmers' market exotica to, well, a McDonald's menu item. It marked a big shift away from the salty, fatty convenience-food revolution that took hold in the 1950s, when McDonald's was established. Kale salad wasn't exactly replacing burgers, but it was helping to redefine what American food could be for the masses. These days, Whole Foods alone sells 9 million bunches of kale each year—it's almost impossible to think that just ten years ago, practically no one in America had ever heard of a kale salad.
The start of this shift can, perhaps, be pinpointed to October 24, 2007. Melissa Clark, the author of the New York Times column A Good Appetite, had discovered a completely unfamiliar dish at the Brooklyn farm-to-table restaurant Franny's, and her column that week, entitled "If It Sounds Bad, It's Got to Be Good," was devoted to trying to convince readers that this alien dish was actually delicious. "There are some restaurant dishes that I order because they sound better than everything else on the menu, and there are some I order because they sound worse," she wrote. "My reasoning goes like this: If a chef dares to offer something as unappealing as, say, a raw kale salad, chances are it's fantastic."
This "challenging" dish was the creation of Franny's chef de cuisine at the time, Joshua McFadden, who a decade later has his own farm-to-table restaurant, Ava Gene's in Portland, Oregon. "I was trying to create a Caesar salad, and I was working with not-great produce," McFadden recalls of the slim pickings for lettuces in the Northeast autumn. "I fell in love with this kale in the fall and started playing around with it as a leaf lettuce."
In Italy, lacinato kale (also known as cavolo nero, Tuscan kale, or dinosaur kale) is a braising green, sautéed with onions or dunked into ribollita, the hearty bean-and-vegetable soup; it is not typically eaten raw in its country of origin. To break down its fibrousness for a raw preparation, McFadden removed the ribs and cut the leaves into thin ribbons. He dressed them with olive oil, lemon juice, garlic, shredded Pecorino, and chile flakes, and let the salad sit for five minutes so the acid of the lemon juice and moisture of the oil softened the tough leaves. He then showered it with more cheese, olive oil, and bread crumbs. Of course, Clark ended up loving it, too, calling it "a veritable raw foods epiphany," which she started to crave "the minute I left the restaurant." And she wasn't the only one to recognize the irresistibility of this newfangled salad. When Dan Barber, one of the original local, seasonal food masters, of Blue Hill at Stone Barns, dined at Franny's around the same time, he ran up to the kitchen to tell McFadden that the kale salad was the best thing he'd ever eaten.
McFadden's raw kale salad wasn't even the first in New York City. At Mario Batali's Lupa in Manhattan, the chef, Mark Ladner, had been turning out a lemony kale salad since around 2001 or 2002, but it didn't show up in print until 2007, in the January issue of Gourmet. "Ladner and I were working on using every cooked vegetable in a raw state at that time, and this was an easy, early fave," says Batali of the chiffonade marinated with lemon and olive oil and tossed with chopped shallots and ricotta salata.
So two different chefs at separate Italian-influenced restaurants in New York City had taken the traditionally cooked green and figured out how to render it delicious in its raw form. But Gourmet buried the kale salad in an issue full of recipes, while Clark's column later that year made it a headline. In some ways, the appeal of the kale salad could be seen as a rebuke to New York's meathead phase. After all those pork belly buns, charcuterie plates, and nose-to-tail feasts—or decades of burgers and fries—an actually craveable salad of hearty, healthy greens was a welcome break. "Right around then cauliflower started to explode as well," says Clark. "It was this particular moment when things were getting very vegetable-centric."
Raw kale, according to Nielsen, now generates $102 million in grocery sales, and Pinterest users pinned more than 3.5 million kale salad recipes in 2016. But back then, lacinato kale, as opposed to the plain curly kale, was hard to find, and Clark spent several weeks trying to track it down. After her article ran, something started to shift. Kale salads soon started appearing at other restaurants in New York and California, and then they were everywhere. "It's a convenient thing for chefs to make," says Clark. "Kale won't wilt, so it has a margin of error."
In 2010, the once obscure green starting creeping more into the mainstream when Sweetgreen, an upscale Washington, D.C.–based salad chain, debuted its first kale salad, a Caesar, albeit with curly kale, not lacinato. "We realized that we could source kale locally in most of our markets for the majority of the year since it is a hardy green," says cofounder Nicolas Jammet. "So we knew it was a win-win-win for the company, the customer, and our local growers." But its entry into chain restaurants didn't stop ambitious young chefs from trying to put their own stamp on the kale salad.
In 2012, the kale salad at another Brooklyn restaurant, Battersby, was named dish of the year by Bon Appétit. And New York magazine called the same dish the best salad of 2012, asking, "Is it too soon to proclaim kale the new arugula, or at least the new mesclun?" Inspired by a watercress salad at the Queens Thai restaurant Sripraphai, the Battersby take mixed Tuscan kale, some raw and some fried, with lime juice, fish sauce, garlic, Thai chiles, and a  mix of herbs. By then, Tuscan kale had broken out of its early days as Italian braising green swapped into an Italian-inspired American salad, and moved into the territory of new-American cooking that borrowed ingredients from everywhere.
That same year, kale arrived on a prestigious perch: the White House Kale Salad, made with baby kale and a global-hopping assortment of add-ons, including fennel, jalapeños, Parmigiano-Reggiano, and Marcona almonds, which appeared in The Washington Post. First Lady Michelle Obama and chef Sam Kass had been growing kale in the White House garden since it debuted in 2009, and Kass had steered the Obamas toward a real-food approach, even banning processed macaroni and cheese. It was quite the change from the previous Democratic White House, when one of Chelsea Clinton's favored meals was Kraft macaroni and cheese and Bill Clinton was housing Big Macs on the regular. Presumably, by the time the Obamas were settled in the White House, the Clintons were eating kale, too, especially after Bill went vegan in 2010. The trajectory of the kale salad, alongside the rise of farmers' markets and organic milk, was the direction of the new American palate.
It didn't take too long for the kale salad to migrate from fashionable Brooklyn restaurants and the White House to the rest of America. In 2013, Us magazine featured an article, Stars Who Love Kale, bordering on satire, with quotes from Kevin Bacon saying, "[It']s the age of kale…. A day without kale is like a day without sunshine" and Playboy bunny Holly Madison noting, "I love kale. Makes me poop." Jay Z and Beyoncé, who once sported a sweatshirt emblazoned "KALE" in the iconic Yale University typeface, launched a plant-based meal-delivery service. Buttons emblazoned with puns like "Kale Yeah" and "Kale Me Maybe" started showing up on Etsy.
In 2014, the popular U.K.-based sandwich chain Pret a Manger added kale to its Caesar salad in all its U.S. locations. Today the Cheesecake Factory and Ruby Tuesday serve their own versions, while Sweetgreen now has kale in five signature dishes, and they use 1.3 million pounds of it at their 76 restaurants annually. While grocery store kale sales have stagnated in the past several years, kale entrée salads on restaurant menus have grown by 47 percent over the last two years, according to Technomic MenuMonitor, and kale as an appetizer has grown by 60.7 percent.
For all the absurdity surrounding the kale salad, McFadden hasn't dropped it like a tired trend, or even changed his recipe. "No, it's delicious," he says. "Too bad I don't get royalties." McFadden still has his kale salad, called the Tuscan Calvary, on the menu of Ava Gene's, and it's in his first cookbook, Six Seasons: A New Way With Vegetables. Food writers no longer have to explain the appeal of a raw kale salad, like Clark once did. Food & Wine and Bon Appétit both have full slideshows for kale salads, featuring even more variations on the form, with massaged kale, smoked kale, kale Caesar slaw, sesame dressing, coconut rice, and prosciutto and figs. And yet ten years and many, many recipes later, kale salad is still, impossibly, on the rise.
"Finally, France is catching on," says Clark. "The French looked askance at our kale salads. But now you're starting to see it in the same places where you can get all-day service." No, the kale salad still hasn't replaced the burger. But if for many years, Europeans saw hamburgers and McDonald's as the emblems of American cuisine, they can now also look to the kale salad, an Italian braising green reimagined in America's new food culture. How far we've come.