1,000 Balls a Day at the Busy Tel Aviv Falafel Shop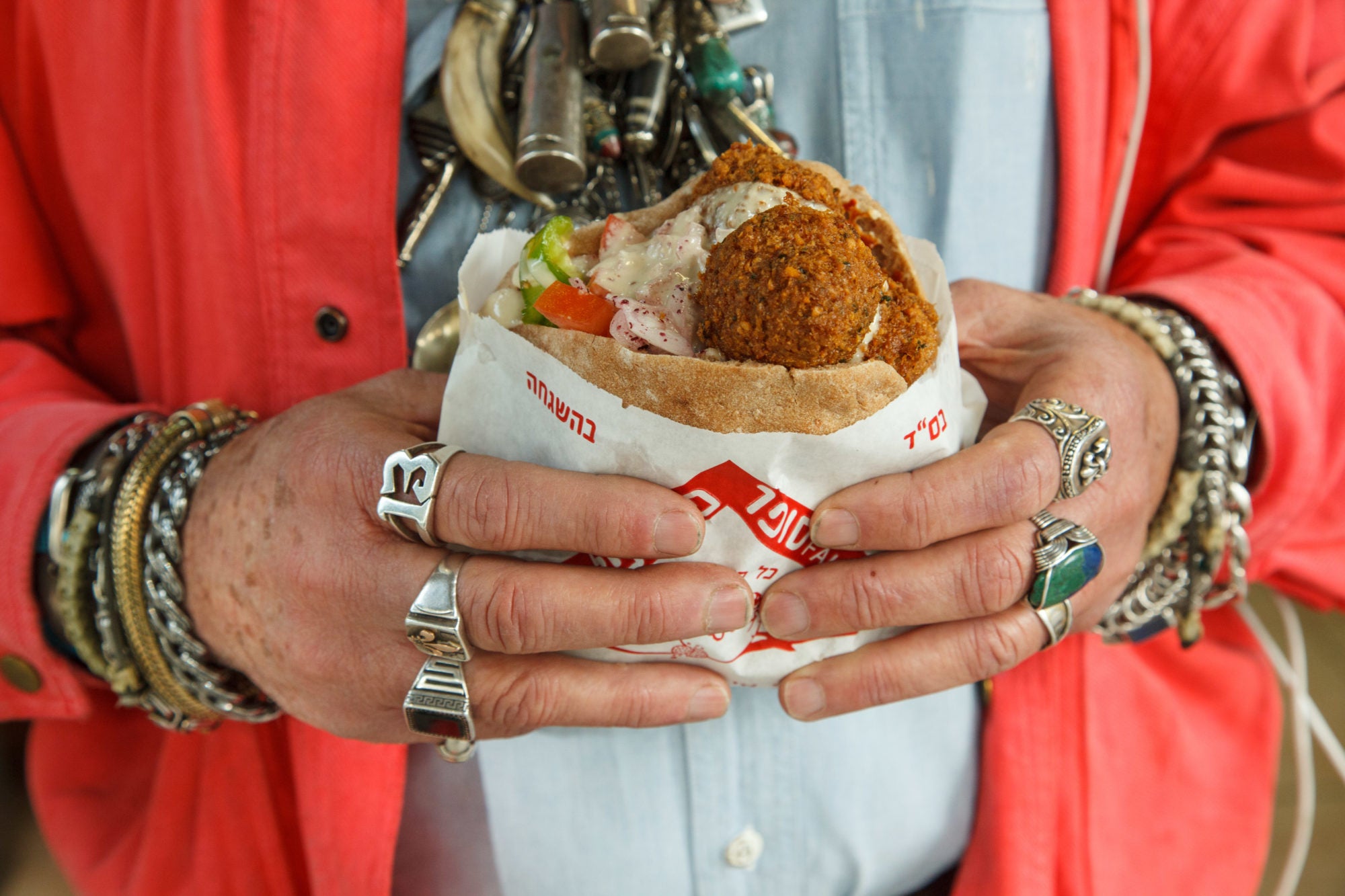 "You can't call it falafel in Israel if it isn't all chickpeas." Or so it goes one evening at a busy Tel Aviv shop.
"Ma lasim lecha, achi?" "What can I put in for you, my brother?" asks Daniel Zeidman from behind the counter at Super Falafel as he fills a fluffy, house-made pita using the short, octagonal-tipped steel tongs that are the professional falafel slinger's tool of choice. "Heaven or Hell?" he asks, referring to his two versions of hot sauce, one green (Heaven) and one red (Hell). "Harry Potter sauce? It's so good it's magical," he jokes as he hands a fresh orb of falafel over the counter to the customer, an edible thank-you-for-waiting.
Thin and sinewy, Zeidman, 58, looks as though he rarely partakes of the falafel balls he fries by the thousands from 10 a.m. to 8 p.m. most days (like most Jewish-owned falafel and shawarma joints, Super Falafel is kosher and closed for Shabbat). "For the first two years, pffff," says Zeidman, puffing out his cheeks and extending his arms to a girth twice his size. "But then I got it under control."
People begin lining up and everyone waits patiently, bucking the stereotype of the impatient Israeli. The free falafel balls help, as do the greetings. "Hello, my soul." "Welcome back, my friend." "I'll be right with you; I know you're hungry." Inside the deli display counter, amid multicolored salads and other condiments, is a set of three plastic models of cabbage salads in different colors. They gleam in the midday winter sunlight, an Israeli take on the fake food you see at restaurants in Japan.
"They attract attention," he says. Though 75 percent of his business is returning customers, he's always trying to maintain that edge to lure in the other 25. As he speaks he creates two defined, architectural layers of falafel and drizzles of amba, savory mango pickle with roots in Yemen and India, one on top of the other, with speed and precision. "I just built the second floor, and now I added a penthouse," he says as he plops a last falafel ball on the proverbial top floor, drizzles the whole thing with tahini, and hands it across the counter.
"Every order is different," says Zeidman. "Some people want every last thing we have in their pita, and I have one customer who eats hot sauce like his stomach is made of stainless steel." For some, making falafel is a job. For Zeidman, it was his salvation, rescuing him from a particularly trying time in his life. "I was unemployed, my parents both got sick and died of cancer in rapid succession, my wife divorced me, and I was left to support a two-year-old with nothing but rice to eat," he says. "I had no idea what I was going to do."
One night during this nadir he was sorting through the belongings in his late parents' attic when he came upon some Arabic writing scrawled on a piece of paper (his father was from Egypt, his mother from Hungary). He took it to his rabbi, who told him it appeared to be, of all things, instructions for making falafel. "It wasn't like we had a ton of falafel growing up," he says. "It was a mystery."
After paying someone 150 shekels to translate it into Hebrew, he followed the recipe verbatim, using his mother's hand-cranked meat grinder. "I brought the finished product down to my Ashkenazi neighbor," he says. "When she begged me for the recipe, I knew I had something." He opened in 2004. Fourteen years later, Super Falafel is an under-the-radar institution on a stretch of Allenby Street in south-central Tel Aviv, described by my friend and Haaretz journalist Dina Kraft as "in need of a paintbrush and a hug."
There are more famous falafel joints, like the excellent and Instagram-friendly Hakosem, whose owner, Arik Rosenthal, recently hosted Jerry Seinfeld, and Mifgash Ha'Osher, run by former fine-dining chef Benzi Arbel. Super Falafel occupies a more humble sphere, one that exists largely out of reach of social media but is top of mind for an extremely loyal clientele. There are no soups or fresh fruit juices or even fried eggplant to stuff into the pitas. Just falafel, all day, from morning till night, doled out by Daniel and his employee Shlomi, an irrepressibly enthusiastic, gracious, and friendly human being who has his three daughters' names tattooed on his forearm.
Shlomi arrives every day at 7:30, then sets about prepping all the salads and accouterments—the hummus, the purple-and-white cabbage salad, the chopped Israeli salad, the hot sauces, the pickles—so that by the time they open at 10 it's all about the customers and the falafel itself, which is ground fresh all day from soaked chickpeas, herbs, and spices in a contraption that extrudes excess liquid from the batter—perhaps one of the reasons it is so ethereally light and clean, leaving no discernible slick of oil in the mouth. It's perfectly spiced and perfectly crisp. It's perfect.
"A lot of these seven-shekel falafel places, they're putting bread crumbs and flour and who knows what else in their falafel," says Daniel, whose standard order costs 18 shekels (about $5.75). "You can't call it falafel in Israel if it isn't all chickpeas." (Palestinian falafel is also made from chickpeas. In other countries, falafel is different. Egyptian falafel is made from fava beans; in Yemen, according to Daniel, some added bread is OK.)
There's another bellwether of a falafel joint's quality in a town full of critics. "It's all about the oil," says Louis Roth, 75, holding his sandwich between two hands weighted down with silver bracelets. "Here they change it every day so you don't get stomachaches. The falafel is light as air, and the salads are fresh. It keeps me coming back."
Falafel joints are oddly quiet. Most people come by themselves, seeking a friendly interaction and a solitary lunch. It's alone time, together with others. This is not a place to while away an afternoon on your laptop. Beneath a Formica counter, its only decoration a couple of newspapers, a napkin caddy, and a card printed with the Jewish grace after meals, sit two highboy chairs. People eat, generally wipe up their own mess of oozing tahini and Harry Potter sauce, crumple up their paper lining, and leave.
But there is a true tenderness between Zeidman and his customers. They come for the sandwiches, but they come for him, too.
Anat Rom-Hertz, an event production designer who works in the neighborhood, explains falafel's appeal as she sits down with her order (pickles, tahini, parsley). "It's not heavy, but it's a craving you need filled immediately," she said. "Here the service is so nice. They take an extra second."
As the day winds down, the sun is flagging, but Zeidman isn't, his taut muscles flexing as he leans over to clean the deli display. "Just make sure you tell them," he says to me as I'm leaving, "that falafel saved my life."