Even Ina Gets Sick of Cooking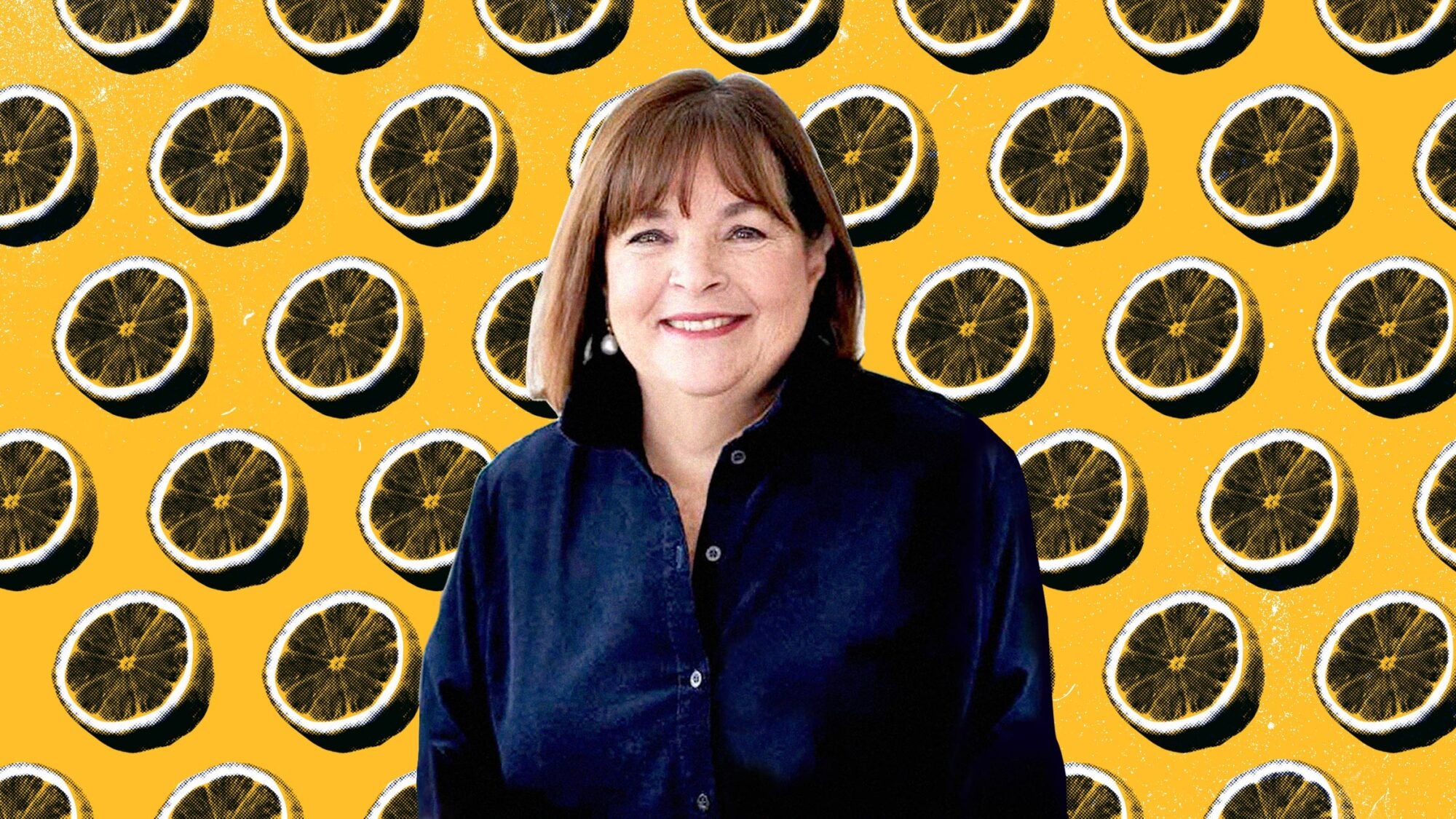 The path to Ina Garten's second cooking wind was paved in bagels and PB&Js.
Ina Garten is in the first-name class of cookbook authors, and she's has been one of the most consistent voices—and classiest—for more than two decades, since she first dropped The Barefoot Contessa Cookbook on us in 1999. In a fast-moving world of changing tastes, and with the pandemic altering the way we cook and think about food in general, Ina has been a steady and soothing figure. In early March, when the walls began closing in for many, she took to Instagram and started cooking immediately. It wasn't a move aimed to pick up more followers and increase social media engagement, but rather to legitimately help her nearly 3 million followers figure out what the hell they were going to cook that night. "I never worked so hard in my life," she tells me over Zoom from her home in East Hampton, New York.
Ina's latest book is called Modern Comfort Food, and it does deliver on the big promise—offering comforting recipes that have a modern point of view. This means simplified, one-page recipes for dishes like cheddar and chutney grilled cheese, or shrimp and linguine fra diavolo—with a headnote that admits that reaching for a jar of Rao's red sauce is perfectly okay. Bless you, Ina. Her recipes are informed as much by lavish nights out at Marie-Aude Rose's La Mercerie as they are by knowing her way around the frozen-foods aisle. And there are hacks—like melting a pint of vanilla Häagen-Dazs for back-pocket crème anglaise. Stop it, Ina! This was a fun talk about PB&J, sourdough exhaustion, and keeping the wheels on during these difficult times.  
We're writing about "second-wind cooking" on TASTE. That is, the hope of catching a second wind after a long six months. Have you been feeling a little burned-out yourself?
I think by the end of May, I got in bed and curled up in a little ball and said, "I'm never cooking again." [Laughs.] Not only was I making breakfast, lunch, and dinner for my husband and me, I was working on a cookbook. And I decided to do Instagram every day, pulling things and just cooking from the shelves. It was all cooking, and there was no relief from it. At the end of that is when I said, "There are two things I need going forward. One is takeout. And the second one is I need to see people, but socially distant." And so we've started inviting people for cocktails.
Distanced cocktail hour sounds nice.
I set up all these different places at my house, and at the barn, where you could sit six feet apart but didn't feel like your chairs were pushed apart. There was a big cocktail table put in the middle, and it felt more normal—you know, as normal as it could feel.
We're asking a lot of our friends, writers, and contributors, and I wanted to ask you: When you're at your wits' end and feeling super burned-out, what was something that you cooked that was almost out of desperation? Mine was honestly that I put really good mayonnaise on crackers and just ate that.
That's your thing? There was one thing. When we were having lunch, and I just couldn't make lunch anymore, Jeffrey said, "Just make something really easy." And I said, "You know what I really love? Peanut butter and jelly sandwiches." Good ones! When I was a kid, my mother wouldn't let me have them, so I have this non-childhood memory of peanut butter and jelly sandwiches. We've spent about two months having peanut butter and jelly for lunch. I don't think I ever need to see one again now.
So, tell me, what peanut butter type? Is it industrial, is it more organic? And then what about the jelly?
No, it's industrial. And I like raspberry—I like Eli Zabar's raspberry preserves. It's really just fabulous. Smooth peanut butter, and Eli Zabar E.A.T. raspberry preserves.
And is the bread soft, grainy, pre-sliced?
I actually had white bread from Poilâne, which is a bakery in France. Those three things together are just—it's really worth eating a peanut butter and jelly sandwich.
On the flip side, was there something that you made during quarantine that you had never tackled before?
Not really. I think the thing about quarantine is that you want something you know is going to be delicious and satisfying. It's not where you're experimenting with something new. But one thing I have done is—Missy Robbins is delivering to East Hampton, and sometimes I get a big bag of groceries, and it's like Iron Chef—you have to figure out what to do with it. Sometimes I just order her amazing pasta and pasta sauces, and, I mean, it's heaven. It's just the easiest thing in the world. In fact, I had some people over for socially distant dinner, and I made each person their own sautéed pan of Missy's pasta. I'm planning on doing that again; it was so good!
Her pomodoro—I've had that—is incredible.
Just incredible, all of them are incredible. Every single one of them. One of the things that I've done—and it never would have occurred to me to do otherwise, except that I can't move around—is we've started ordering bagels and smoked salmon from Russ & Daughters, and you know, it's delivered overnight, and it's the best Sunday dinner.
Oh, yeah. Completely agree. A dinner of lox and bagels from Russ & Daughters is dinner food to me.
Yeah! It's a great dinner, and it's like a real treat. So, it's not something I normally do, but I think you have to treat yourself now, and just really do stuff that makes you feel good, because it's hard. It's hard. And we have it as good as you can get, and it's still hard. Most people have it really hard.
In your new book's intro, you're very honest about the different times we live in, and about cooking as an act of love and freeing yourself from the world. Are you feeling at all like you're connecting with your readers in this way? Are you helping your readers?
Well, I think that's what the Instagram thing was about. Starting in—I can't remember, mid-March—I just thought, I wonder if I can help people figure out what to do. Everybody went out and shopped for things like white beans that they could store, because we didn't know if we were going to be able to shop. And so I thought, "Well, let me see what's in my pantry, and I'll make stuff with it." And it turned out that nobody knew what to do with white beans. And so I think, in that sense, I had a real conversation with people about what's in your pantry, and to let me see if I can make something that can help you with the lemon that you have in your refrigerator and the celery that's in your crisper. And we'll make something with it.
Do you feel that we've unlocked a lot of inner home cooks during the quarantine? Do you feel like there's going to be more home cooking when we come out on the other side of this?
I don't know. I actually don't know. I think some people have found that it was really satisfying to be home and cooking. But sometimes it's just about finding any way to cook, too.
It becomes a job, a chore.
It becomes a job, rather than the pleasure of cooking. I mean, everybody—I remember reading, the thing that was completely wiped out, besides toilet paper, was yeast. Everybody thought, "Well, I'm going to have all this time on my hands; I'll bake bread." But I don't know whether people actually A, baked bread, or B, really enjoyed it as much as they thought they would.
Yeah. That's a great perspective—I think people got burned out with sourdough, and that maybe they'll be moving on to the next thing this season. Who knows, maybe they'll be moving on to kimchi in October and sauerkraut in December, I don't know.
Well, I think you really have to separate out what happened early; we didn't know if we were going to be able to go grocery shopping. And so I had my team stock up on things so that we didn't have to shop for six months. And that just means you need a lot of white beans, and you're not buying a lot of bananas. [Laughs.] Because they go bad really fast. You buy a lot of white beans, and, of course, all you ever wanted was a grilled cheese sandwich.
You mention Häagen-Dazs a few times in the book. And I know you don't do this for any kind of money; it's like, you truly love Häagen-Dazs. Is there something that makes the Häagen-Dazs brand a really great, widely available ice cream brand?
Well, one of the things that I'm always looking for is ingredients that everybody can get. You can get them in San Francisco, Kansas City, and Charleston, South Carolina. Like Hellmann's mayonnaise. I just think it's great. And I think there are all kinds of specialty brands of vanilla ice cream, but I think Häagen-Dazs is really good. And the vanilla bean one particularly—it's just got great flavor and great texture.
It's like the vanilla gold standard. I totally agree.
I also use it as a sauce. If you melt a pint of Häagen-Dazs, it ends up being the crème anglaise that it was originally.
I'm sorry, come again? This has blown my mind.
Oh, it's not a recipe, I'm just telling you this. If you take a pint of Häagen-Dazs, and you leave it in the refrigerator, it melts, and then you can pour some—it's crème anglaise, basically, that had been frozen; you've just defrosted it. Pour it on a plate, and put a piece of chocolate cake on it, and you've got a great dessert.
This interview has been condensed and edited for clarity.
4 RECIPES WE LOVE FROM MODERN COMFORT FOOD
Roasted Broccolini and Cheddar
In the 1950s, cooks used to hide frozen vegetables under some mystery "cheese" sauce. The combination of green vegetables and cheese was a good idea, but Ina prefers roasting broccolini (it's sweeter and more tender than broccoli), and, instead of making a sauce, she simply melts good, sharp Cheddar on the broccolini.
Cheddar and Chutney Grilled Cheese
This isn't Wonder Bread with some random cheese inside—it's white bread from the bakery piled high with extra-sharp Cheddar and savory chutney to brighten the flavor.
Baked Rigatoni with Lamb Ragù
Instead of her usual lasagna, Ina made this baked rigatoni with a hearty ragù of lamb, tomatoes, and good red wine.
Applesauce Cake with Bourbon Raisins
Apples and raisins are great together in a cake, but Ina thought some bourbon would give it more depth, so she infused the raisins with bourbon before adding them to the batter. A splash of bourbon in the cream cheese frosting didn't hurt either.
MORE BOOKS TO BUY, READ, AND COOK FROM
We recently talked about the world of nonalcoholic cocktails with Julia Bainbridge, the author of Good Drinks. We also recently talked about the world of alcoholic cocktails with the King of Cocktails, Dale DeGroff.
Did you preorder Ottolenghi Flavor, the latest from Yotam Ottolenghi and Ixta Belfrage? If so, your receipt could earn you some pretty cool bonus recipes.
Eden Grinshpan's latest book, Eating Out Loud, reflects her Israeli heritage and her laid-back but thoughtful style. That means roasted whole heads of broccoli topped with herbaceous yogurt and crunchy things, and a toasted pita salad full of juicy summer peaches, tomatoes, and fresh herbs.
We recently made the bold (but correct) claim that it's never too early for stew season, and we included a recipe for Korean pork neck and perilla seed stew called gamjatang, from Koreatown: A Cookbook.
In Benjamin Lorr's The Secret Life of Groceries, the investigative journalist pulls back the curtain on the highly secretive grocery industry.
Here are a couple of great fall cookbooks roundups from Eater, Chowhound, Epicurious, and the New York Times.